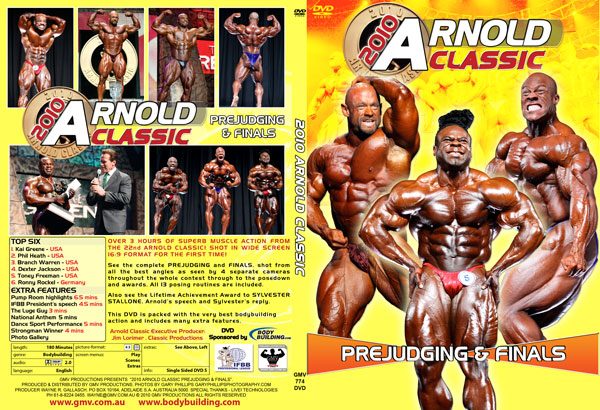 See the Download page for a video preview.

2010 Arnold Classic Prejudging & Finals.

THE PREJUDGING DOWNLOAD.

THE FINALS DOWNLOAD.
OVER 3 HOURS OF SUPERB MUSCLE ACTION FROM THE 22nd ARNOLD CLASSIC!! KAI GREENE REPEATS TO MAKE IT TWO IN A ROW!

SHOT IN WIDE SCREEN 16:9 FORMAT FOR THE FIRST TIME EVER!

Date & Place: March 6, 2010 Veterans Memorial Auditorium, Columbus, Ohio, USA.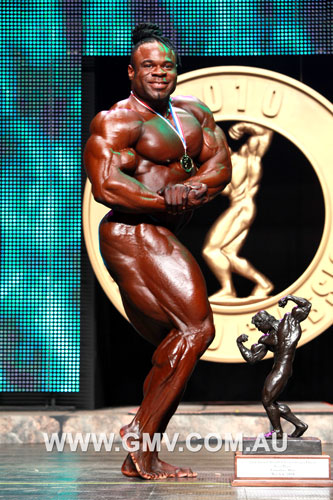 "Kai Greene Wins Again at the 2010 Arnold Classic.
Kai Greene of the United States won the Arnold Classic bodybuilding competition at the 2010 Arnold Sports Festival. A check for $130,000 was presented by Gerard Dente of MHP, a trophy was presented by Tim Bentley of GNC, an Audemars Piquet watch by Rhett Ricart, and a Tony Nowak jacket and congratulations from Governor Arnold Schwarzenegger.
Kai Greene also won the Most Entertaining Posing Award and a $10,000 check and trophy presented by Josef Kagerbauer of Joska Crystal. Branch Warren of the United States was awarded the Most Muscular Man Trophy presented by Rich Gaspari of Gaspari Nutrition."
In this massive DVD you will see the complete 2010 Arnold Classic contest from beginning to end. Plus lots of Extra Scenes.
Of special note, there were two cameras shooting spectacular closeups from different angles from the press pit!

CONTENTS:
See the complete PREJUDGING and FINALS, shot from all the best angles as seen by 4 separate cameras - continuing through to the posedown and awards. We include the special award to KAI GREENE for Most Entertaining Posing Routine and to BRANCH WARREN for the Most Muscular Man award.

Also includes the Lifetime Achievement Award to SYLVESTER STALLONE by Arnold Schwarzenegger, and Sylvester's entertaining reply.
The footage shot from Wayne's central camera position in the press pit is recorded from what is generally regarded as the best "hardcore camera position" in the house. His footage is edited and mixed with the program feed from the 3 house cameras of LIVE TECHNOLOGIES, producing the best ever coverage for an Arnold Classic DVD.

* All 13 competitors are individually selectable from the menu.
The DVD includes a massive Photo Gallery. All DVD cover and gallery photos are by Gary Phillips http://www.garyphillipsphotography.com/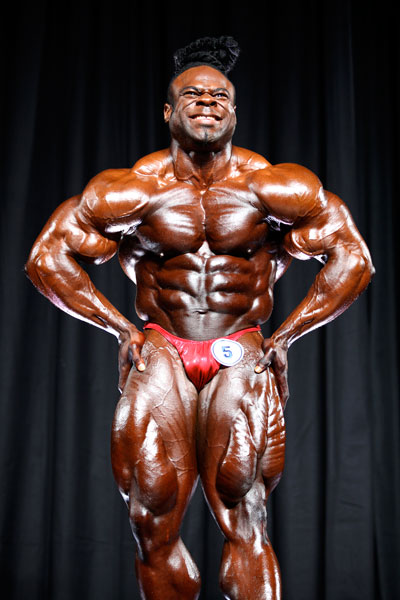 EXTRA SCENES:
Pump Room highlights 6.5 mins
IFBB President's speech 4.5 mins
The Luge Guy - Victor Paru 3 mins
National Anthem & Color Guard 5 mins
Dance Sport Performance 5 mins (the dancers are John Gaylan and Alexandra Gutkovich)
Arnold Strongman Winner and his proposal 4 mins
Massive Photo Gallery
TRT: 180 mins
RESULTS:
1 Kai Greene - USA
2 Phil Heath - USA
3 Branch Warren - USA
4 Dexter Jackson - USA
5 Toney Freeman - USA
6 Ronny Rockel - Germany
7 Roelly Winklaar - Holland
8 Hidetada Yamagishi - Japan
9 Melvin Anthony - USA
10 Robert Piotrkowicz - Poland
11 Tarek Elsetouhi - Egypt
12 Johnnie Jackson - USA
13 Sergey Shelestov – Russia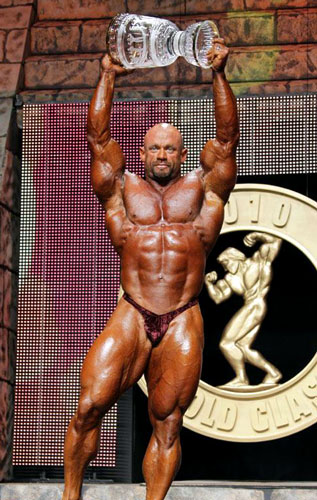 MOST MUSCULAR AWARD: BRANCH WARREN (pictured left)

MOST ENTERTAINING POSING ROUTINE: KAI GREENE
This DVD is packed with the very best bodybuilding action we have ever offered, and includes many exciting extra features.

Please click here to read A brief History on the Arnold Sports Festival.




Please click here to see KAI GREENE in his own DVD, OVERKILL, A-1341DVD.

See Kai in his brand new DVD, A NEW BREED - VOLUME 2 - REDEMPTION, A-1362DVD.






Please click here to see our brief 2010 Arnold Classic Contest Report.

Please click here to see Wayne's 2010 Arnold Classic Complete Event Photos and Results.

Please click here for full details on the 2009 Arnold Classic, GMV-737DVD.

Please click here for the Complete Arnold Classic DVD Collection - Men & Women including Strongman.

Please click here for the 2010 Arnold Classic WOMEN'S 2 DVD SET.

The 2010 Arnold Sports Festival - A Classic Productions, Inc event.
Arnold Classic Executive Producer: Jim Lorimer.
Classic Productions http://www.arnoldsportsfestival.com/
Camerawork by Live Technologies and Wayne Gallasch, GMV Productions.
Special thanks to Lorz Communications - Public Relations, Shawn Loevenguth - Live Technologies.

My personal thanks to the whole production crew at LIVE TECHNOLOGIES http://livetechnologiesinc.com/ and everyone connected with the 2010 Arnold Classic. Also my thanks to CNP Professional – the corporate sponsors of GMV. www.cnpprofessional.co.uk and www.cnp-professional.com
NTSC DVD, OPEN REGION