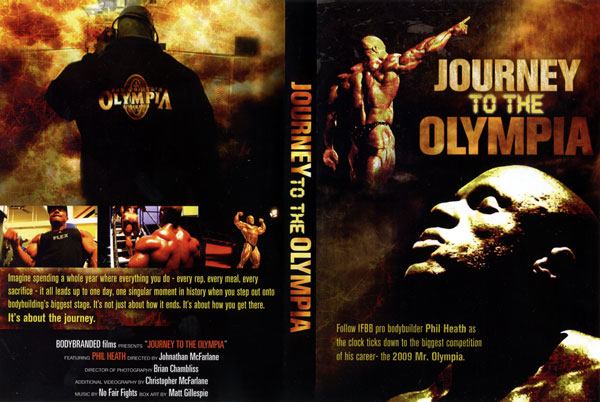 Click here for preview.
Phil Heath - Journey to the Olympia
Imagine spending a whole year where everything you do - every rep, every meal, every sacrifice - it all leads up to one day, one singular moment in history when you step out onto bodybuilding's biggest stage. It's not just about how it ends. It's about how you get there. It's about the journey.
Follow IFBB pro bodybuilder Phil Heath as the clock ticks down to the biggest competition of his career — the 2009 Mr. Olympia.

See Phil in our PHOTO GALLERY FROM THE 2016 OLYMPIA.

Running time: 126 mins



Also see Phil as he places a very close second to Jay Cutler in the 2010 Mr. Olympia, A-1358DVD.

Full Name: Phillip Jerrod Heath
Born: December 18, 1979, Seattle, WA
Height: 5'9"
Competition Weight: 240 lbs
Off-Season Weight: 275 lbs
Residence: Arvada, CO

STATS:
Arms: 22
Legs: 32
Calves: 20
Neck: 18.5
Waist: 29
CONTEST HISTORY:
2003
NPC Northern Colorado – 1st
Men's Novice & Open Overall Champ
NPC Colorado State – 1st Men's Light-Heavyweight
2004
NPC Colorado State – 1st Men's Heavyweight & Overall Champ
2005
NPC Junior Nationals – 1st Men's Heavyweight & Overall Champ
NPC USA's – 1st Men's Heavyweight & Overall Champ * (Awarded Pro Card)
2006
IFBB Colorado Pro Show – 1st
IFBB New York Pro – 1st
2007
IFBB Arnold Classic - 5th
2008
IFBB Iron Man Pro - 1st
IFBB Arnold Classic - Runner-up
IFBB Mr. Olympia - 3rd
2009
IFBB Mr. Olympia - 5th
2010
IFBB Arnold Classic - 2nd
IFBB Mr. Olympia - 2nd

2011
IFBB Mr. Olympia - 1st
2012
IFBB Mr. Olympia - 1st

2013
IFBB Mr. Olympia - 1st

2014
IFBB Mr. Olympia - 1st

2015
IFBB Mr Olympia - 1st

2016
IFBB Mr. Olympia - 1st


Phil Heath's" Journey to the Olympia". New DVD Review
Courtesy bodybuilding.com
"I have Phil's two previous DVDs and I really enjoyed this one. Its a combination of the two previous DVDs and more. The layout of the DVD reminds me of Jay's "All Access". There is plenty of blood pumping workout clips in the DVD for the hardcore fans. Phil's physique in the video is phenomenal. The full muscle bellies in the workouts make him look unreal. Its nice to see a top pro bodybuilder in today's day and age not working out his ego rather have the mind body connection. Furthermore it was nice to see a pro athlete use proper form in all of the performed exercises with no swinging and really concentrating on the contraction and stretch of the muscle.
You can see the drastic changes in his body as he starts to diet down for the Olympia. He goes deep in detail in describing the performance and reason of use for each exercise in his workouts. He also talks about his diet regimen and food choices for the O. There are clips of him getting alternative medicine therapy (chiro work, acupuncture), O press conference, O meet the Olympians, Pre contest backstage and onstage.
There is also Phil talking about his stomach issues at the O while getting emotional about reliving the whole ordeal. One thing that was nice to see is Phil giving back to the fans as he makes a surprise visit to one of his fans and takes him through a typical workout and also spends a day with him. Phil narrates the whole way through the lifestyle, workouts and stage prepping steps with emphasis on what was going through his head at the time.

The DVD is entertaining and inspirational for those who want motivation to change their physique on many levels, as well as getting a taste of what goes into contest prep and presentation for a pro bodybuilder. The video goes on with Phil's routine at last year's O and him breaking down after it, reflecting on the struggle he had to overcome with the stomach problem which shows the passion he had put into the contest prep for the show.
It also shows his reaction after the posedown and his placing. He gives props to the O competitors which we never hear in our sport as it is ego driven at most times. It really shows how much of a class act Phil is. The video ends with Phil's wife throwing a welcome back party 1 week after the O and him interacting with his family and fans. Overall this DVD is a definite keeper."

Please click here to see Phil as he places second at the 2010 Arnold Classic, GMV-774DVD.

Please click here for Phil's first DVD, THE GIFT, A-1194DVD.

Please click here for Phil's second DVD - THE GIFT: UNWRAPPED, A-1314DVD.

Please click here to see Phil winning the 2008 Iron Man Pro, V-210DVD.

NTSC DVD, OPEN REGION