Click here for preview clip.

Berry de Mey, Jim Gaubert and Jacques Neuville
Also available on Digital Video Download.
What a priceless treasure! A young ripped Berry de Mey, Mr. Universe Jim Gaubert and Mr. Olympia competitor Jaques Neuville of France. This is a classic old film to DVD transfer (with music added) - an all-time legends classic release. Absolutely priceless stuff.
This is GMV Legends Collection #15 starring: Berry de Mey, Jim Gaubert and Jacques Neuville.
This DVD is a composite edition consisting of our 2 separate 30 minute films featuring Berry de Mey.
Part #1 was originally released as video V-122 and stars de MEY and USA's JIM GAUBERT.
Part #2 was originally released as video V-123 and stars de MEY and JACQUES NEUVILLE from France.
Click here for Huge Photo Gallery for Berry de Mey, James Gaubert & Jacques Neuville.

The amazing BERRY de MEY was a star on the world physique scene for 20 years. When you see him as a young man in this DVD, you understand why he made such headlines as a bodybuilding star of the 80s and 90s.
In his early competing days, Berry swept all before him taking most of the top amateur titles, before going on to become a top IFBB professional, competing in the Olympia many times. His Olympia career culminated in a 3rd placing in 1988. In that year Berry proved throughout the year that he was definitely the World's #3 bodybuilder.

Berry was an all-rounder and was also a Couples champion. The first time I saw Berry was when he won the 1982 European Couples Championships which was held as part of the 1982 Mr Olympia event in London. I immediately booked him for this film session in the studio and shot it a day later, still in his top contest condition.

V-122 BERRY de MEY & JIM GAUBERT
You will see BERRY de MEY at about 20 years of age in this presentation. Being in top contest condition he is simply sensational! Young, handsome, rock hard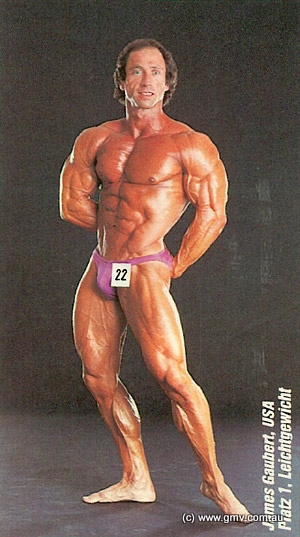 muscles, flawless symmetry - what more can you say. Berry displayed his star status here and as a regular guest poser at FIBO in Germany. Berry was born February 23, 1962.

In the second part of the video Berry is followed by JIM GAUBERT of USA in his segment, pictured right. Jim was a top USA and international champion for 20 years (1970-1990), - a man who had great personal charm to match his classic physique. He was a Mr. Universe winner who always displayed his flawless posing style, muscular symmetry, grace and elegance. He was a star turn indeed to complement the totally different style of physique as displayed by Berry.
Approximately 30 minutes.

V-123 BERRY de MEY & JACQUES NEUVILLE
In this segment featuring 2 outstanding Mr. Olympia competitors, BERRY de MEY poses in an incredible T-shirt in an oiling up and muscle pumping performance. This is definitely a MUST for all big arms afficinianados. Berry pumps, flexes and poses - biceps and triceps bulging from every angle.

You can tell that Berry is enjoying every moment as he displays his best assets to the camera - in closeup. It's a display of raw muscle in full screen closeup. An incredible moment we captured on video for bodybuilding history. All footage on de Mey is totally different.
This was shot on the night of the 1982 London Mr. Olympia. Sadly there is no known footage of Berry winning the 1985 World Games in London.

In this second part of the video we showcase the amazing French physique JACQUES NEUVILLE. This handsome star has smouldering good looks that turned heads all over the world! In this final segment Jacques is clad in a tank top and T-shirt as he prepares for his posing display. He flexes, oils and poses in an awesome muscle display. Famous for his symmetry, classic lines and great condition, this video displays super hard condition that is quite incredible. We booked Jacques immediately after he came off stage from the 1982 Mr. Olympia Finals and took him straight to our London studio for this shoot! It was actually filmed at around 1AM in the early hours of the morning!

All segments were shot on film by Wayne and transferred to broadcast video master tape with background music added. Then the master tape was transferred to DVD with no added features.
Approximately 30 minutes.

Total running time: 60 mins



See JACQUES NEUVILLE'S TRAINING DVD, MR. UNIVERSE GYM WORKOUT & POSING, V-015DVD.

I have recently learned from Berry de Mey that this is the correct way to write his name. He is variously listed on our GMV site as Berry DeMey, Berry De Mey or Berry deMey. The correct spelling of Berry de Mey will now be used in future.



Also see Berry de Mey in 1982 IFBB European Couples Championships, GMV-003DVD.






All 3 stars have had MASSIVE contest careers. See their SEPARATE CONTEST HISTORIES HERE.
NTSC DVD, OPEN REGION