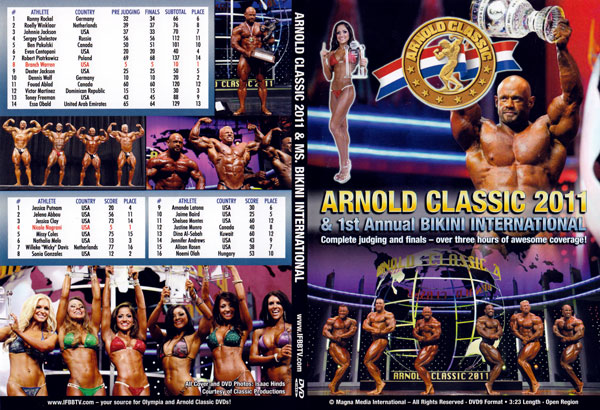 Click here for the PHOTO GALLERY.

2011 Arnold Classic & First Annual Bikini International

Columbus, Ohio March 4th & 5th, 2011

HIGHLIGHTS:
See Branch Warren finally have his big day in the sun at the Arnold Classic as he takes a thoroughly deserved victory.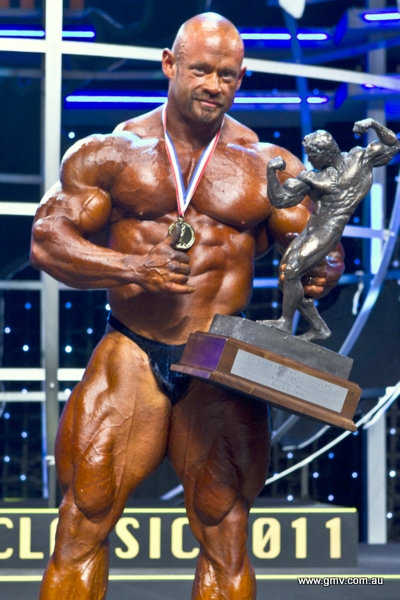 Nicole Nagrani is the inaugural winner of the Bikini International contest from a star studded field.
Branch Warren triumphs over sensational Dennis Wolf and former winner Victor Martinez, while huge Evan Centopani makes a stunning entry into the first comparison call-out to the delight of the fans! The stars are Branch Warren (1), Dennis Wolf (2), Victor Martinez (3), Evan Centopani (4), Dexter Jackson (5), Ronny Rockel (6), Johnnie Jackson (7), Roelly Winklaar (8), Toney Freeman (9), Ben Pakulski (10), Sergey Shelestov (11), Fouad Abiad (12), Essa Obold (13), Robert Piotrkowicz (14).
Also included, the first-ever Bikini International, won by the young and beautiful Nicole Nagrani over 15 other great competitors!
Ceremonies, speeches, presentations by Arnold Schwarzenegger and a tribue to Lou Ferrigno round out the contents of this great show.

3 hours 23 minutes on one DVD in Open Region, suitable for all DVD players worldwide. Photos courtesy jasonbreeze.com and garyphillipsphotography.com

Includes the COMPLETE PREJUDGING & FINALS for both the Arnold Classic and the First Ever Bikini International.
See our CONTEST REPORT here.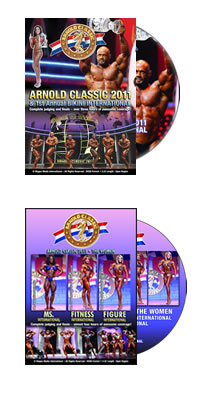 (Ms. International/Fitness International/Figure International has been released on disc #2, please click here for details.)
The copies are on DVD9 discs (same as the current Olympia DVDs)


(The remaining two discs coming out in a month or so will be Arnold Classic Amateurs and Arnold Classic Strongman, probably not till mid to late-July.)




Most Muscular Award: Branch Warren
Best Posing Presentation: Dennis Wolf
Lifetime Achievement Award: Lou Ferrigno
Running time: 2011 ARNOLD CLASSIC/BIKINI CLASS - 203 mins
The complete ARNOLD CLASSIC USA DVD COLLECTION.

Click here for some MORE PHOTOS & COMPLETE RESULTS ALL CLASSES.




RESULTS
for the
ARNOLD CLASSIC & BIKINI INTERNATIONAL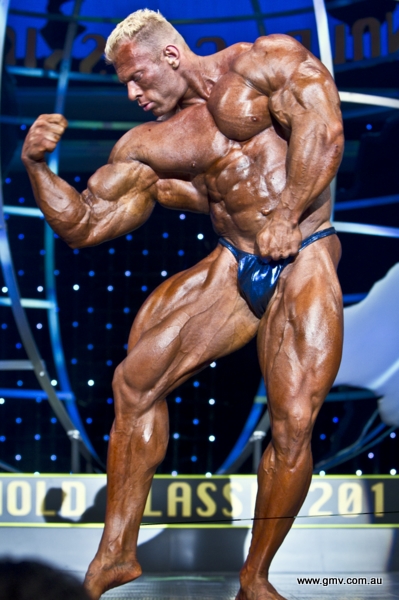 2011 Arnold Classic
1. Branch Warren - USA
2. Dennis Wolf - Germany
3. Victor Martinez - Dominican Republic
4. Evan Centopani - USA
5. Dexter Jackson - USA
6. Ronny Rockel - Germany
7. Johnnie Jackson - USA
8. Roelly Winklaar - Netherlands
9. Toney Freeman - USA
10. Ben Pakulski - Canada
11. Sergey Shelestov - Russia
12. Fouad Abiad - Canada
13. Essa Obaid - UAE
14. Robert Piotrkowicz - Poland
2011 Bikini International
1. Nicole Nagrani - USA
2. Sonia Gonzales - USA
3. Nathalia Melo - USA
4. Jessica Paxson-Putnam - USA
5. Jaime Baird - USA
6. Amanda Latona - USA
7. Alison Rosen - USA
8. Justine Munro - Canada
9. Jennifer Andrews - USA
10. Noemi Olah - Hungary
11. Jelena Abbou - USA
12. Dina Al-Sabah - Kuwait
12. Shelsea Montes - USA
14. Jessica Clay - USA
15. Missy Coles - USA
16. Willeke "Wicky" Davis - Netherlands


A-1327DVD
BRANCH WARREN
Train Insane


NTSC DVD, OPEN REGION