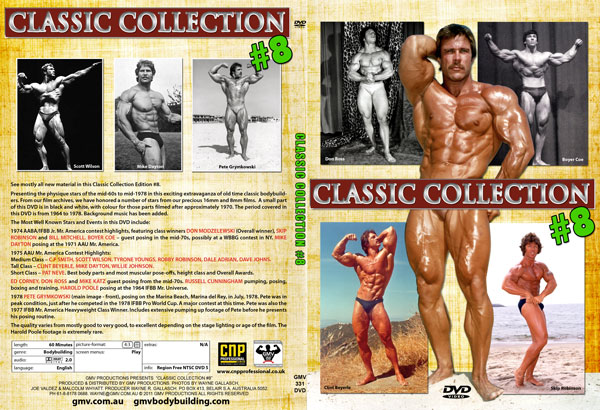 Click here for preview clip
Classic Collection # 8

Mid 60s to mid 70s.

Digital Download.
See mostly all new material in this Classic Collection Edition #8. Presenting the physique stars of the mid-60s to mid-1978 in this exciting extravaganza of old time classic bodybuilders. From our film archives, we have honored a number of stars from our precious 16mm and 8mm films. A small part of this DVD is in black and white, with colour for those parts filmed after approximately 1970. The period covered in this DVD is from 1964 to 1978. Background music has been added.
FRONT COVER PHOTOS: Centre photo Pete Grymkowski: Clockwise from top left - Don Ross, Boyer Coe, Skip Robinson and Clint Beyerle.
REAR COVER PHOTOS: From top left - Scott Wilson, Mike Dayton, Pete Grymkowski.

Click here for the DVD PHOTO GALLERY.
The Most Well Known Stars and Events in this DVD include:
1974 AABA/IFBB Jr. Mr. America contest highlights, featuring class winners DON MODZELEWSKI (Overall winner), SKIP ROBINSON and BILL MITCHELL.
BOYER COE – guest posing in the mid-70s, possibly at a WBBG contest in NY.
MIKE DAYTON posing at the 1971 AAU Mr. America.
1975 AAU Mr. America Contest Highlights:
Medium Class – C.F SMITH, SCOTT WILSON, TYRONE YOUNGS, ROBBY ROBINSON, DALE ADRIAN, DAVE JOHNS.
Tall Class – CLINT BEYERLE, MIKE DAYTON, WILLIE JOHNSON.
Short Class – PAT NEVE.
Best body parts and most muscular pose-offs, height class and Overall Awards. (Almost 30 mins from this classic contest.)
This is the only footage we have from the 1975 AAU Mr. America.
ED CORNEY, DON ROSS and MIKE KATZ guest posing from the mid-70s.
RUSSELL CUNNINGHAM pumping, posing, boxing and training.
HAROLD POOLE posing at the 1964 IFBB Mr. Universe.
1978 - PETE GRYMKOWSKI, posing on the Marina Beach, Marina del Rey, in July, 1978. Pete was in peak condition, just after he competed in the 1978 IFBB Pro World Cup. A major contest at this time. Pete was also the 1977 IFBB Mr. America Heavyweight Class Winner. Includes extensive pumping up footage of Pete before he presents his posing routine.
The quality varies from mostly good to very good, to excellent, depending on the stage lighting or age of the film. The Harold Poole footage is extremely rare.
Photographers: Wayne Gallasch, Clive Jaques, Malcolm Whyatt.
Running time: 60 mins
Special thanks for content research: David New, John Corlett.

See our Short Cut Index to all CLASSIC COLLECTIONS DOWNLOADS & DVDs.
Please click here for Classic Collection #1, GMV-019DVD.

Please click here for Classic Collection #2, GMV-179DVD.

Please click here for Classic Collection #3, GMV-285DVD.

Please click here for Classic Collection #4, GMV-286DVD.

Please click here for Classic Collection #5, GMV-328DVD.

Please click here for Classic Collection #6, GMV-329DVD.

Please click here for Classic Collection #7, GMV-330DVD.

**********************************************
Pete Grymkowski Contest History.
Height 5'10"
Weight 241
Pete was a joint owner of Gold's Gym from 1979-1999. He talks about those wonderful days in our DVD-674DVD.
--------------------------------------------------------------------------------

1970
Mr Eastern America - AAU, Winner
Junior Mr America - AAU, 9th
Junior Mr America - AAU, Most Muscular, 5th
1971
Mr America - AAU, Most Muscular, 5th
Mr America - AAU, 2nd
Junior Mr USA - AAU, Winner
Junior Mr USA - AAU, Most Muscular, 1st
1972
Mr America - AAU, Most Muscular, 1st
Mr America - AAU, 2nd
Junior Mr America - AAU, Most Muscular, 1st
Junior Mr America - AAU, Winner
1973
Mr America - AAU, Most Muscular, 2nd
Mr America - AAU, 2nd
1977
Mr America - AAU, Tall, 3rd
Mr America - IFBB, HeavyWeight, 1st
Mr World - IFBB, HeavyWeight, 1st
1978
Professional World Cup - IFBB, 4th
1979
Florida Pro Invitational - IFBB, 5th
Pittsburgh Pro Invitational - IFBB, 3rd

NTSC DVD,OPEN REGION