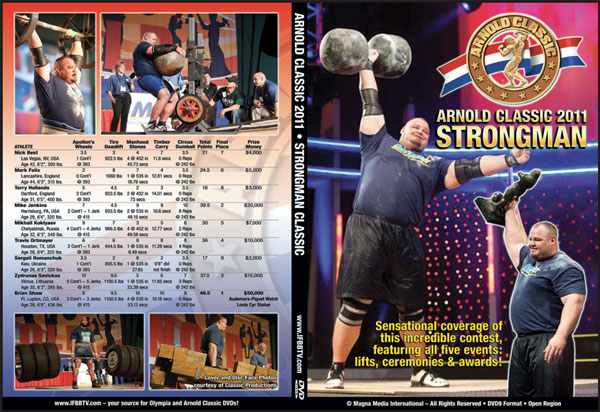 Complete coverage of this incredible display of skill and strength. Every Strongman fan will want this DVD as it covers each intimidating apparatus and the champions' skills in commanding its unique challenges with amazing determination and power.
Multiple world records were set, and then the exciting finals on stage in front of thousands of fans, and a humorous interview by Arnold Schwarzenegger with the towering 6'8" 436 pound winner, Brian Shaw of the USA. Pictured below with Arnold.

The DVD cover includes the complete scorecard from all five events: Apollon's Wheel, Tire (Hummer) Deadlift, Manhood Stones, Timber Carry, and Circus Dumbell. Amazing feats of power and stamina!

Click here for PREVIOUS YEARS OF THE ARNOLD CLASSIC STRONGMAN.

Running time: 145 mins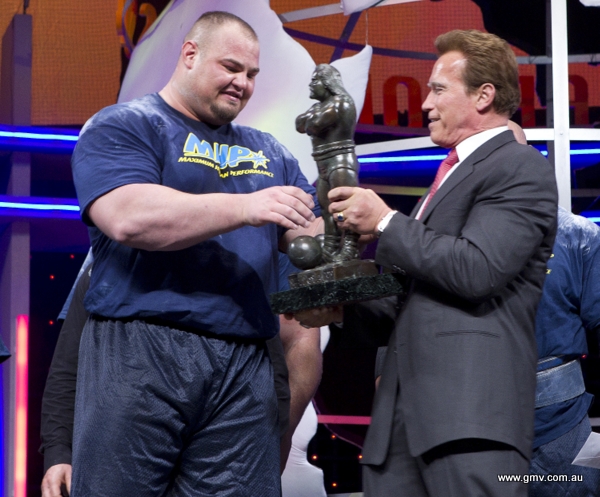 2011 Arnold Strongman Classic Results
1. Brian Shaw - USA
2. Mike Jenkins - USA
3. Zydrunas Savickas - Lithuania
4. Travis Ortmayer - USA
5. Mikhail "Misha" Koklyaev - Russia
6. Mark Felix - UK
7. Nick Best - USA
8. Terry Hollands - UK
9. Sergeii Romanchuk - Ukraine
Description of the 5 events to determine the winner of the 2011 Arnold Classic Strongman.
1. Timber Lift - In this event, also known as the Farmer's Carry, contestants lift 865 lbs. of barn timbers bolted together. They have 30 sec. to carry the 865 lbs load up a 32 ft. inclined ramp.
2. Manhood Stones - Contestants lift round stones weighing up to 525 pounds over a bar approximately 48 inches high.
3. Apollon's Wheel -This unique barbell was made famous by turn-of-the-century strongman Louis "Apollon" Uni. The barbell resembles two train wheels welded (weights do not rotate) to a thick bar (1.92 inches in diameter) for a total weight of 366 lbs. Contestants will lift the wheels from the floor to overhead as many times as possible in two minutes.
4. Tire Deadlift - Contestants will lift a specially designed 14 foot long bar weighted with tires. Each tire weighs approx. 100 lbs, and the beginning weight will be approx. 750 lbs.
5. The Circus Dumbbell - Contestants will lift a replica of a "Circus" dumbbell, which were used by professional Strongmen from the early 20th century. The dumbbell weighs 202 lbs. and has a very big handle 3 inches in diameter. The men will use one hand at a time and lift the dumbbell overhead as many times as possible in 90 sec.
"The Arnold Strongman Classic has been growing in popularity every year, and we are very excited that the world's best strong men are returning." said Jim Lorimer, Arnold Sports Festival co-producer.

NTSC DVD, OPEN REGION