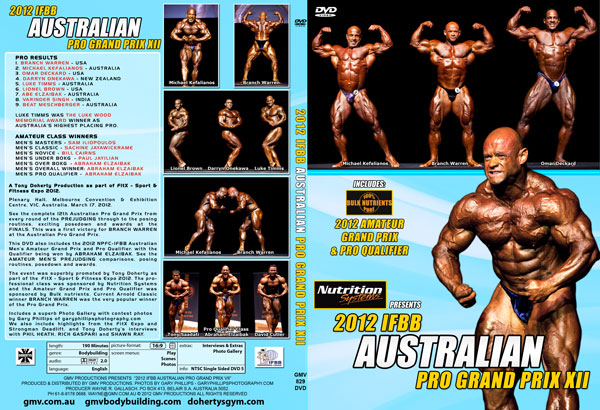 Click here for preview clip

2012 IFBB Australian Pro Grand Prix #12
Includes the IFBB Australia Amateur Grand Prix & Pro Qualifier

A Tony Doherty Production as part of FitX - Sport & Fitness Expo 2012.
Plenary Hall, Melbourne Convention & Exhibition Centre, VIC. Australia. March 17, 2012.
See the complete 12th Australian Pro Grand Prix from every round of the PREJUDGING through to the posing routines, exciting posedown and awards at the FINALS. This was a first victory for BRANCH WARREN at the Australian Pro Grand Prix.

This DVD also includes the 2012 NPFC-IFBB Australian Men's Amateur Grand Prix and Pro Qualifier, with the Qualifier being won by ABRAHAM ELZAIBAK. See the AMATEUR MEN'S PREJUDGING comparisons, posing routines, posedown and awards.
The event was superbly promoted by Tony Doherty as part of the FitX - Sport & Fitness Expo 2012. The professional class was sponsored by Nutrition Systems and the Amateur Grand Prix and Pro Qualifier was sponsored by Bulk nutrients. Current Arnold Classic winner BRANCH WARREN was the very popular winner of the Pro Grand Prix.

The DVD includes a superb Photo Gallery with contest photos by Gary Phillips of garyphillipsphotography.com
Click here to see a PREVIEW OF THE PHOTO GALLERY.

We also include highlights from the FitX Expo, Strongman Deadlift, KEVIN ENGLISH guest posing and Tony Doherty's interviews with BRANCH WARREN, PHIL HEATH, RICH GASPARI and SHAWN RAY. Mike Jenkins was winner of the 2012 Giants Live Australia - Strongman event.
Click here for the FITX EXPO PHOTO GALLERY.

EXTRAS
Photo Gallery
A Wide Screen 16:9 production
RUNNING TIME: 190 mins

See RESULTS & SOME PHOTOS BELOW.

See here for the Women's DVD from this event.



GMV-830DVD
2012 Australian Pro Figure Classic & Amateur Women's Grand Prix & Pro Qualifier
MEN'S RESULTS:

2012 IFBB Australia Pro Men's Bodybuilding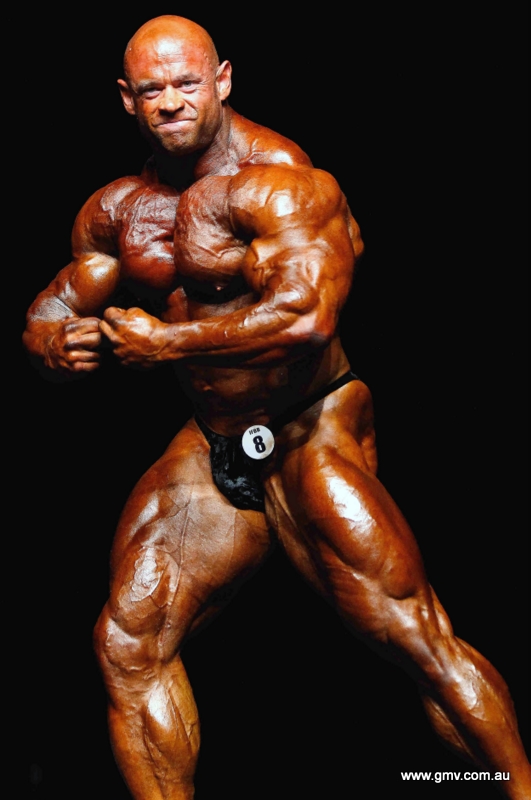 1. Branch Warren - USA (Pictured top right)
2. Michael Kefalianos - Australia (Pictured right)
3. Omar Deckard - USA
4. Darryn Onekawa - New Zealand
5. Luke Timms - Australia
6. Lionel Brown - USA
7. Abe Elzaibak - Australia
8. Varinder Singh - India
9. Beat Meschberger - Australia
Luke Timms was the Luke Wood Memorial Award Winner as Australia's Highest Placing Pro.

2012 Giants Live Australia Strongman at FitX
Final placings and points:
1. Mike Jenkins 57.0 - USA
2. Nick Best 48.5 - USA
3. Michael Burke 42.0 - USA
4. Ed Hall 38.0 - UK
5. Frankie Schuen 36.0 - South Africa
6. Gerhard Van Staden 35.0 - South Africa
7. Eben Le Roux 30.5 - Australia
8. Jeremy Hogg 20.5 - NZ
9. Mike Vrljic 15.5 - Australia
10. Jordan Steffens 3.5 - Australia
2012 IFBB Australia Amateur Grand Prix - Men
Men's Masters
1. Sam Iliopoulos
2. Perry Venakis
3. Peter Simpson
Men's Novice
1. Bill Cairns
2. Chris Jarvis
3. Michael Ford
Zac Roydhouse
Michael Hayes
Phillip Thornber
Afa Wilson
Brian Emerson
Anthony Finn
Men's Classic
1. Sachine Jayawickrame
2. Takis Venios
3. Neil Stallbaum
Greg Moxham
Rocky Ng
Andrew Psomadellis
Shaun Stringer
Alex Tayler
Jason Drivas
Daniel Fletcher
Trent Badger
Men's Under 80kg
1. Paul Jayilian
2. Alhan Jaberyzadeh
3. Tim Thongsrinoon
Philip Meerding
Andrew Moore
Peter Wilde
Men's Over 80kg
1. Abraham Elzaibak
2. Mike Nysten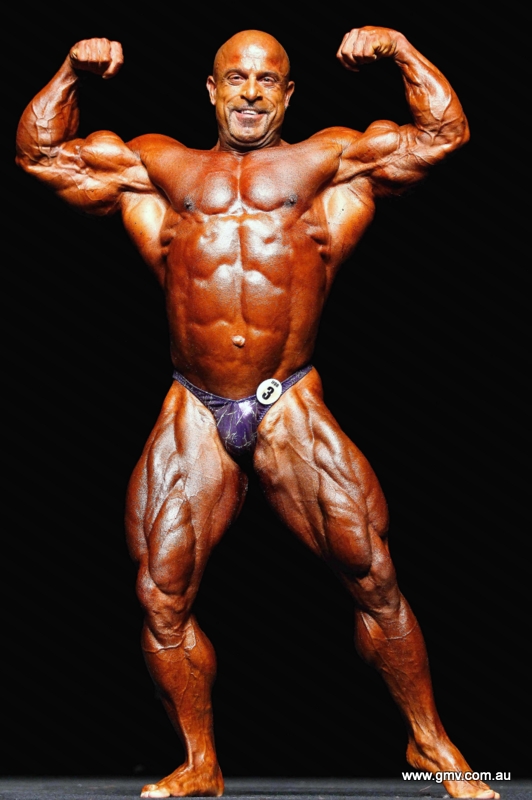 3. Mark Grech
Shayne Smith
Daniel Ritossa
Brendan McLean
Christian Caldwell
Ariel Dencio
Eric McEntyre
Alastair White
Adam Powell
Men's Overall Winner: Abraham Elzaibak
Men's Pro Qualifier
1. Abraham Elzaibak - Pro Card
David Cutler
Tony Saadati
(There is a separate DVD from the Women's Sections of this event including the PRO FIGURE CLASS & AMATEUR WOMEN, GMV-830DVD.)
*************************************************************************

A Tony Doherty Production
As part of FitX - Sport & Fitness Expo 2012
fitx.com.au

Nutrition Systems Presents
2012 IFBB Australian Pro Grand Prix VII
And
Bulk Nutrients Presents
2012 IFBB Australia Amateur Grand Prix
The Men

********************************

THIS EVENT IS OFFICIALLY SANCTIONED
BY THE IFBB PROFESSIONAL LEAGUE
IFBB CHAIRMAN: Jim Manion
IFBB AUSTRALIA PRESIDENT: Paul Graham
PRODUCER & MC:
Tony Doherty
dohertysgym.com

HEAD JUDGES:
Bev Francis IFBB Pro League
Neil Gardner IFBB Amateur

EVENT COORDINATOR: Nina Grootz

MAJOR NAMING SPONSORS:
Nutrition Systems (Men's Pro GP)
Bulk Nutrients (Amateur GP)
Global Fitness Institute (FitX Expo)
GOLD LEVEL SPONSORS:
AAA SUPPLEMENTS
BIOFLEX
BLACK AND BLUE
DYMATIZE
ELITE DISTRIBUTORS
FLEX MAGAZINE
GNC
INTERNATIONAL PROTEIN
IRON MAN MAGAZINE
MAX'S
MR SUPPLEMENTS
PHILIPS
SAM'S FITNESS

PHOTOGRAPHER
Gary Phillips
garyphillipsphotography.com
flexonline.com
Thanks to Darren Burns for additional photos

VIDEOGRAPHY: Wayne Gallasch

EDITING, GRAPHICS & AUTHORING: Ollie Parke

SPECIAL THANKS:
Tony Doherty
Rob Szabo
Gary Phillips
Darren Burns

GMV's OFFICIAL SPONSOR
CNP Professional
cnpprofessional.co.uk

NTSC DVD, OPEN REGION