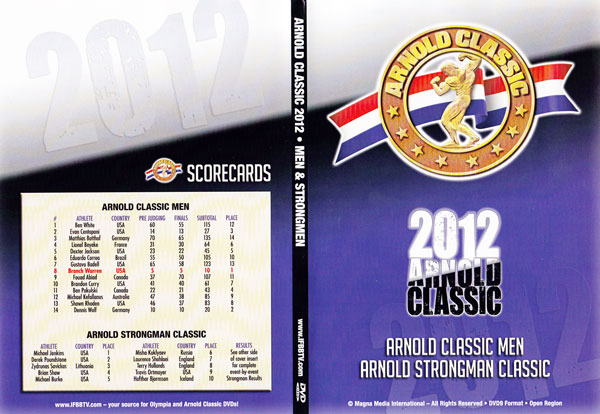 Click here for preview.
2012 Arnold Classic & Arnold Strongman
Columbus, Ohio March 2nd & 3rd, 2012.
This year we are again offering a FOUR HOUR DVD of the Arnold Classic and Strongman.

HIGHLIGHTS:
See Branch Warren make it two victories in a row at the 2012 Arnold Classic as he triumphs over sensational Dennis Wolf and Evan Centopani.
The top 6 were 1. Branch Warren, 2. Dennis Wolf, 3. Evan Centopani, 4. Ben Pakulski, 5. Dexter Jackson, 6. Lionel Beyeke.
The DVD includes ceremonies, speeches, presentations by Arnold Schwarzenegger and a tribue to Bob Kennedy to round out the contents of this great show.
4 massive hours on one DVD in Open Region, suitable for all DVD players worldwide.
Includes the COMPLETE PREJUDGING & FINALS for the Arnold Classic and approximately 2 hours of ARNOLD STRONGMAN.

The 8 hours 2 DVD set on THE AMATEURS is also available, see details below.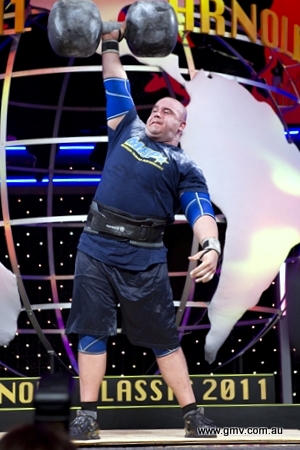 Click here for the COMPLETE 2012 ARNOLD AMATEUR RESULTS.

Running time: 240 mins
2012 Arnold Classic Results
1. Branch Warren
2. Dennis Wolf
3. Evan Centopani
4. Ben Pakulski
5. Dexter Jackson
6. Lionel Beyeke
7. Brandon Curry
8. Shawn Rhoden
9. Michael Kefalianos
10. Eduardo Correa
11. Fouad Abiad
12. Ben White
13. Gustavo Badell
14. Matthias Botthof
Most Muscular Award: Branch Warren
Most Entertaining Routine: Branch Warren
Lifetime Achievement Award: Bob Kennedy
Click here for the COMPLETE 2012 ARNOLD CLASSIC EVENT RESULTS.

See the COMPLETE COLLECTION OF ARNOLD CLASSIC DVDs.

2012 Arnold Strongman Classic

World records were set, and then the exciting final event was held on stage in front of thousands of fans on Saturday night. See all five events.

Michael Jenkins of Hershey, PA won his first Arnold Strongman Classic contest over an international field. This new star captured the 11th Annual Arnold Strongman Classic title. Mike is pictured above right.

Mike Jenkins also set three world records, in the Circus Dumbbell, Timber Carry and the Austrian Oak Lift.
Events included: Shouldering Apollon's Wheels, Circus Dumbbell, The Austrian Oak, The Deadlift and the Timber Carry.

RESULTS
1 Michael Jenkins - USA
2 Derek Poundstone - USA
3 Zydrunas Savickas - Lithuania
4 Brian Shaw - USA
5 Michael Burke - USA
6 Mikhail "Misha" Koklyaev - Russia
7 Laurence Shahlaei - UK
8 Terry Hollands - UK
9 Travis Ortmayer - USA
10 Hafthor Bjornsson Kópavogur - Iceland
2012 Arnold Classic Amateur 2 DVD Set

Over 600 athletes from more than 50 countries competed in 29 separate divisions for this amazing international festival of strength and fitness! This is our second Amateur offering in many years, and we are very proud to give the fans almost NINE HOURS of coverage in this Double-DVD set featuring Men's Bodybuilding, the new Men's Classic Bodybuilding, Women's Bodybuilding, Women's Fitness, Women's Figure, Women's Bikini, and highlights (the final 15 athletes) of Masters Figure.
2012 Arnold Classic - The Women

This disc contains complete coverage of all WOMEN'S prejudging AND finals, plus awards presentations of these contests featuring the IFBB's diverse competitive divisions for professional femaleathletes. The 4 winners were: Ms. International: Yaxeni Oriquen Garcia, Fitness International: Adela Garcia, Figure International: Nicole Wilkins, Bikini International: Sonia Gonzales.



See A-1407DVD
NTSC DVD, OPEN REGION