Click here for a DVD preview clip
Frank Zane – Physical Perfection
3 x Mr Olympia 1977 – 1979
On Download Part 1. Preview clip.
On Download Part 2. Preview clip.
Early Years – Contests - Posing - Award - Olympia Reunions - Career Highlights - Interviews

Part 1 - 1965 to 1982.
Part 2 - 1982 to 2010.
This remarkable DVD is our tribute to FRANK ZANE and his outstanding life and career in bodybuilding. Frank is regarded as having the most desirable physique of all time. His physical perfection, symmetry and condition is representative of what bodybuilding truly stands for. Frank is still in great shape today.
The opening section of the DVD features all of the contests and guest posing we have of Frank, transferred from the original film footage (111 mins).
In the second half of this feature, see Wayne's historic footage of Frank posing for him in London on the very day he won the 1972 Professional Mr. Universe title. Plus many other highlights of Zane incredible career. (54 mins)

Learn the art and artistry of posing by watching the Master Poser - Frank Zane. Frank is 5'9" tall and his Olympia competition weight was 187-195 pounds when he had his Mr Olympia victories.


FRANK ZANE POSTER #1 - Large A2

This second poster released in our LEGENDS COLLECTION is a classic shot of FRANK ZANE taken by Wayne in 1972 in Hyde Park Square, London, England on the day he won the NABBA Professional Mr. Universe title.

Only 100 posters have been printed and each poster will come with a Certificate of Authenticity with a unique number, signed and dated by Wayne Gallasch.


Other champions also seen in some scenes:

Arnold Schwarzenegger, Bill Pearl, Sergio Oliva, Reg Park, Robby Robinson, Ed Corney, Boyer Coe, Ken Waller, Dennis Tinerino, Chris Dickerson, Carlos Rodriguez, Steve Davis, Al Beckles, Tom Platz, Danny Padilla, Mike Mentzer, Roy Callender, Roger Walker, Tony Emmott, Samir Bannout, Casey Viator, Roy Duval, Mohamed Makkawy, Lee Haney, Bertil Fox and Jusup Wilkosz.
Total running time: 165 mins

Extras:
Photo Gallery
Train with Zane.
Learn the exact form of all the exercise movements and stretches Frank uses in his own workouts and teaches in the Zane Experience program. It's almost as good as being there. Here is how you can Train with Zane. "I have captured the way to do each of the exercises I use in my 3 way split routine. Books, printed photos and descriptions can only tell you what the exercise is, they can't show you exactly how to do it. That's what this DVD is all about: developing good form in your movements. It's exact and concise.
FRANK ZANE - PHYSICAL PERFECTION: DVD Contents: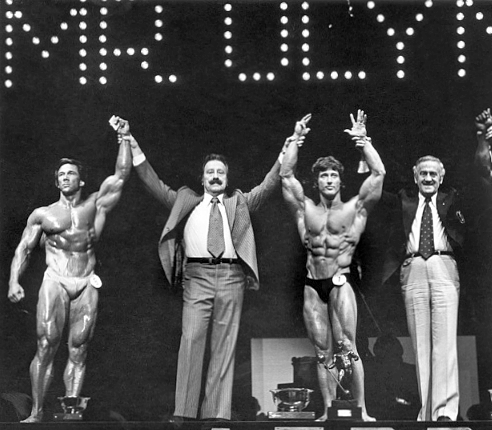 FRANK ZANE - THE CONTEST YEARS

1965 IFBB Mr Universe
1966 IFBB Mr America
1968 IFBB Mr America
Guest posing in USA early 70s
Guest Posing at 1970 IFBB Mr. Europe (Germany)
1970 NABBA Universe
1970 Mr Olympia guest posing
1971 NABBA Universe
1972 NABBA Universe
1975 Mr Olympia
1975 IFBB Mr. USA guest posing
1977 Mr Olympia – Frank Zane and the top competitors (Photo right)
1978 June - Guest posing in USA
1978 Mr Olympia
1979 Mr Olympia - Frank Zane and the top competitors
1980 Mr Olympia
1980 Mr Olympia Camera # 2
1980 Mr Olympia - Frank as seen in ''The Comeback'
1982 Mr Olympia Prejudging
1982 Mr. Olympia Finals
1983 Mr Olympia Finals
FRANK ZANE - HIS LIFE IN BODYBUILDING
1972 Posing in Hyde Park Square, London
1975 Studio Posing - Sydney, Australia
1975 Beach Posing – Sydney, Australia
Ivan Dunbar's 'History of the NABBA Universe', comments on Frank Zane
1995 Mr. Olympia Winners' Reunion
2002 Mr. Olympia Expo Interview
2003 Arnold Classic 'Lifetime Achievement Award'
2003 Mr Olympia Expo Interview
2010 Mr Olympia Winners' Reunion
2010 Olympia - Backstage & Interview
Photographers:
Front cover by Wayne Gallasch
Robert Nailon
George Greenwood
Richard Rossan

Special Note
All footage used is owned by GMV or has been licensed to GMV for use in this documentary. Copyright free background music has been used for the older footage transferred from film. Some of the early film footage was shot under extremely difficult conditions when 8mm film was the technology of the time. We have digitally enhanced this oldest footage where ever possible. We know that all true Zane fans will treasure this rare material from almost 50 years ago.
This is our complete footage on Frank Zane. Some of the material is first time ever on DVD, while some has been seen in other DVDs we offer.
This special feature has been over 2 years in the making. We salute a great champion.

Unsolicited Testimonial
One word to describe your Zane DVD: EXCELLENT!
Love the "never before seen" footage, included. With the bombardment of "Mass Monsters" these days, it's refreshing to see a beautiful physique... that seems… attainable?
Steve Speyrer
July 29th, 2012
Classic Anatomy Gym
Mr. Olympia – The Golden Years: 1971, 1974, 1975, 1979.

In this historic Olympia DVD presentation, we have gathered together our rare and mostly previously unseen Olympia segments that were shot on super 8 film in the Golden 70s. As each segment seemed too short to release at the time, nothing happened till we obtained the wonderful and fantastic quality 20 minute film from the 1979 Mr. Olympia. This shows Frank Zane in his all time best condition defeating Mike Mentzer to win the Overall 1979 Mr. Olympia crown in Columbus Ohio. These are not complete Olympias but consists of the only known footage shot on film at these famous contests. All of the 3 1979 contests are exceptional quality.


V-214DVD.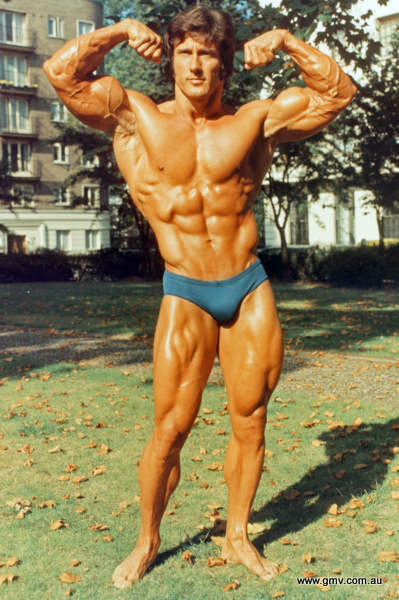 Frank Zane's Contest History

1964
IFBB North American Championships - Medium, 3rd

1965
IFBB East Coast - Tall, 3rd
IFBB Junior Mr America -Medium, 1st
IFBB Universe - Medium, 1st

1966
IFBB Mr East Coast - 1st & Overall
IFBB Mr Eastern America - Medium, 2nd
IFBB North American Championships - 1st & Overall

1967
IFBB Mr America - Medium, 1st
IFBB Universe - Tall, 3rd

1968
IFBB Mr America - 1st & Overall
IFBB Mr International - 1st & Overall
IFBB Universe - Winner

1969
IFBB Mr World - 1st & Overall

1970
NABBA Mr Universe - 1st & Overall Amateur

1971
NABBA Pro Mr. Universe - Short, 1st

1972
Mr. Olympia - 4th
NABBA Pro Mr. Universe - 1st & Overall

1974
Mr. Olympia - Light Weight, 2nd

1975
Mr. Olympia - Light Weight, 4th

1976
Mr. Olympia - Light Weight, 2nd


1977
Mr. Olympia - 1st

1978
Mr. Olympia - 1st

1979
Mr. Olympia - 1st & Overall

1980
Mr. Olympia - 3rd

1982
Mr. Olympia - 2nd

1983
Mr. Olympia - 4th
Special Thanks:

Frank Zane frankzane.com
Joel Fletcher
Robert Nailon
Richard Rossan
Norm Komich
Andy Olson - IFBB.TV
Arnold Classic & Live Technologies
Ivan Dunbar
NABBA
IFBB
Mr. Olympia LLC
Paul Graham
Kit Laughlin
Weider UK
Peter Fasching
Alan Sievewright
Interviewers:
Clive Jaques
Shawn Perine
NTSC DVD, OPEN REGION