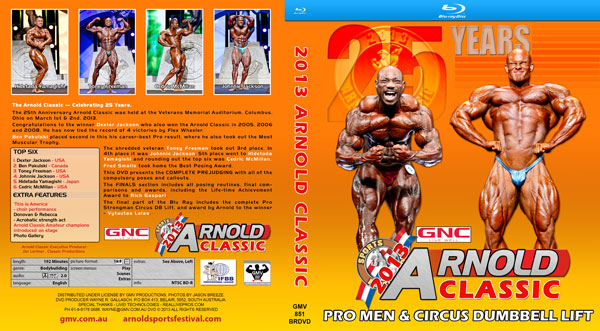 Click here for preview.
2013 Arnold Classic on Blu-ray – Celebrating 25 Years



Pro Men & Circus Dumbbell Lift
(Dual price US$44.95, A$54.95)
The 25th Anniversary Arnold Classic was held at the Veterans Memorial Auditorium, Columbus, Ohio on March 1st & 2nd, 2013.
Congratulations to the winner Dexter Jackson (pictured below) who also won the Arnold Classic in 2005, 2006 and 2008. He has now tied the record of 4 victories by Flex Wheeler who won this event in 1993, 1997, 1998 and 2000. See bottom of this page for a PHOTO of the titanic battle between JACKSON and PAKULSKI.
Ben Pakulski placed second in this his career-best Pro result, where he also took out the Most Muscular Trophy.
Toney Freeman from Atlanta, Georgia was 3rd, same as his previous best placing in 2007.
In 4th place it was Johnnie Jackson, 5th place went to Hidetada Yamagishi and rounding out the top six was Cedric McMillan.
Fred Smalls took home the Best Posing Award.
See the ARNOLD CLASSIC PHOTO GALLERY. Thanks to Jason Breeze for the great photos.
DVD CONTENTS:
PREJUDGING
The DVD presents the COMPLETE PREJUDGING with all of the compulsory poses and callouts.
FINALS
IFBB President's speech
All competitors introduced
Individual posing routines
Some Comparisons
25 years of the Arnold Classic video presentation, followed by the 12 past winners on stage with Arnold.
2013 Arnold Schwarzenegger Lifetime Achievement Award, presented to Rich Gaspari by Arnold.
Top six introduced - comparisons and posedown
Arnold's speech
Most Muscular Award to Ben Pakulski
Most Entertaining Poser award to Fred Smalls
Top six results and final award to 4 time winner Dexter Jackson
PRO STRONGMAN
The last part of the DVD includes the Final Event of the Pro Strongman, the Circus DB Lift. See this complete Circus Lift contest, along with the winner's award by Arnold to Vytautas Lalas of Lithuania.
EXTRAS
Opera Columbus presents 'This is America' - choir performance
Donovan & Rebecca - Acrobatic strength act
Arnold Classic Amateur Champions introduced on stage - men and women
Arnold Classic Photo Gallery
Lifetime Achievement Award.
The 2013 Arnold Schwarzenegger Liftetime Achievement Award was presented to Rich Gaspari, winner of the inaugural Arnold Classic in 1989, and founder of the supplement company Gaspari Nutrition. Gaspari was inducted into the IFBB Hall of Fame in 2004. In addition to the 1989 Arnold Classic, Rich Gaspari also won the Mr. America and Mr. Universe amateur titles and the Professional Mr. World contest.
Celebrating 25 Years of the Arnold Classic.
In recognition of the 25th Anniversary of the Arnold Classic, promoters Arnold Schwarzenegger and Jim Lorimer honored on stage the event's previous champions: Rich Gaspari (1989), Mike Ashley (1990), Shawn Ray (1991), Vince Taylor (1992), Flex Wheeler (1993, 1997, 1998, 2000), Michael Francois (1995), Ronnie Coleman (2001), Jay Cutler (2002, 2003, 2004), Dexter Jackson (2005, 2006, 2008, 2013), Victor Martinez (2007), Kai Greene (2009, 2010) and Branch Warren (2011, 2012).
Kevin Levrone (1994 & 1996)) and Nasser El Sonbaty (1999) were not present.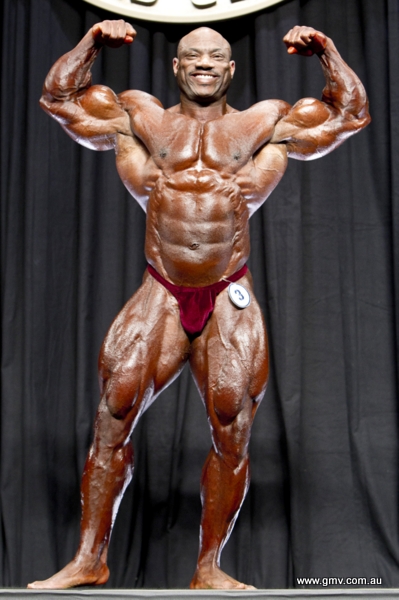 RUNNING TIMES:
Prejudging - 40 mins
Bodybuilding Finals - 100 mins
Strongman Final Lift - 34 mins
Extras - 18 mins
Total Running time: 192 mins
The 2013 IFBB Arnold Classic & Arnold Sports Festival are Presented by Classic Productions.
Celebrating the 25th Anniversary of the Arnold Classic.
www.arnoldsportsfestival.com

Pro Men Official Placings:

2013 Arnold Classic
1. Dexter Jackson - USA
2. Ben Pakulski - Canada
3. Toney Freeman - USA
4. Johnnie Jackson - USA
5. Hidetada Yamagishi - Japan
6. Cedric McMillan - USA
7. Fred Smalls - USA
8. Edward Nunn - USA
9. Darrem Charles - USA
10. Fouad Abiad - Canada
11. Marcus Haley - USA
12. Michael Kefalianos - Australia
13. Ronny Rockel – Germany
Most Muscular Award: Ben Pakulski
Most Entertaining Routine: Fred Smalls
Lifetime Achievement Award: Rich Gaspari

2013 Arnold Strongman Classic
1. Vytautas Lalas - Lithuania: 35 points
2. Brian Shaw - USA: 34 points
3. Mikhail Koklyaev - Russia: 31 points
4. Krzysztof Radzikowski - Poland: 26 points
5. Mike Burke - USA: 21 points
6. Mark Felix - UK: 20.5 points
7. Jerry Pritchett - USA: 18.5 points
8. Hafþór Júlíus Björnsson - Iceland: 17 points
9. Derek Poundstone - USA: 11 points
10. Adam Scherr - USA: 1 point


2013 Arnold Strongman Classic

Enjoy the complete coverage of this incredible display of skill and strength from Days 1 and 2. This DVD covers every moment of each of the 5 events. You will see the world's greatest Strongmen in action as they pit their skills against each other in these unique challenges of strength, power, stamina and determination. The events are designed to test brute strength and determine which competitor is the strongest man! New world records were set, and the exciting final event, the Circus Dumbbell Lift, was held on the Veterans stage in front of thousands of fans. The first time winner, VYTAUTAS LALAS of Lithuania was presented his award by Arnold Schwarzenegger.
2013 Arnold Classic - The Women

This year we are offering a massive DVD of over FOUR HOURS from the Prejudging and Finals of the Arnold Classic Women's Events. This disc contains the complete coverage of all rounds from the 4 WOMEN'S CONTESTS, plus awards presentations from each of these contests, featuring the IFBB's top professional female athletes. The 4 International winners were: Ms. International: Iris Kyle Fitness International: Tanji Johnson Figure International: Candice Keene Bikini International: India Paulino.

2013 Arnold Classic – Celebrating 25 Years - SD Version

The 25th Anniversary Arnold Classic was held at the Veterans Memorial Auditorium, Columbus, Ohio on March 1st & 2nd, 2013. Congratulations to the winner Dexter Jackson who also won the Arnold Classic in 2005, 2006 and 2008. This DVD presents the COMPLETE PREJUDGING with all of the compulsory poses and callouts, plus the complete FINALS and the Final Event of the Pro Strongman, the Circus DB Lift. See this complete Circus Lift contest, along with the winner's award by Arnold to Vytautas Lalas of Lithuania.
2013 Arnold Classic Amateur Men

This massive contest DVD of over 4 hours has something for everyone. There are world class athletes in every category from lighter style Men's Physique through to the super heavyweight Men's Bodybuilding stars. This is an international event with the top amateur guys from around the world. See all of the lineups, key comparisons and callouts plus posing by the top guys, and all awards and posedowns.


For a list of all available Arnold Classic DVDs, and Past Winners, please click here.
www.arnoldsportsfestival.com
www.arnoldclassicbrasil.com.br
www.arnoldclassiceurope.es
This Event is Officially Sanctioned by the IFBB Professional League.

International President
Rafael Santonja-Gomez

Chairman
Jim Manion

Event Promoters
Jim Lorimer
Bob Lorimer
Classic Productions

Meet Director
Arnold Schwarzenegger

Video footage
LIVE! TECHNOLOGIES
Columbus, Ohio
www.reallivepros.com

2013 Arnold Sports Festival Crew List

Veteran's Memorial

Event Producer Shawn Loevenguth
Production Assistant Sarah Joyce
Stage Manager Adriana Berger
Stage Manager Carrie Chew
Stage Manager Maxine Mendelson
FOH Audio Engineer Steve Jones
Audio Engineer Scott Robinson
Audio Engineers for
Amateur Events John McKown
FOH Lighting Technician Michael Hesmond
Lighting Technician Nathan Martin
Video Director Tim Jarmain
Tape Operator James Lewis
Camera Operator Ron Caruso
Camera Operator Randy Silcott
Camera Operator Eric Obert
Head Carpenter Dave Steinmetz
Carpenter Marce Righthouse
Set Design Jocelyn McDaniel

Expo Stage

Site Supervisor Andrew Stever
Audio Technician Gus Caulk
Lighting Technician Dayna Schlefstein
Video Director Brandon Mendenhall
Tape Operator Jerry Jack
Camera Operator Ryan Scott
Camera Operator Matt Gault

IFBB Professional League Official Judging Panel
Head Judges
James Rockell
Sandy Williamson
Judges
Debbie Albert
Juliette Bergmann
Tyrone Felder
Bev Francis
Vicki Gates
Ron Hache
Erich Janner
Mike Katz
Benedetto Mondelo
Victor Prisk
Lee Thompson
Steve Weinberger
Linda Wood Hoyte
Masters of Ceremony
Lonnie Teper
Clint Richards
Photography for DVD
Jason Breeze www.jasonbreeze.com
Sponsors:
Major Sponsor - GNC
National Sponsors:
Hollywood Casino
MHP
EAS
Bodybuilding.com
MET-RX
BSN
Universal Nutrition
Probiotica
MusclePharm
Gaspari
Justice & Brothers
Ricart
BPI
Optimum Nutrition
MRI
Vitamin Shoppe
All American EFX
Infinite Labs
Allmax
American Airlines
AEP
JanTana
Subway
Ten.1
Fight Magazine
GMV would like to thank:
Bob Lorimer
Brent LaLonde
Jerman Abney
Sarah Joyce
Jason Breeze
NTSC DVD, OPEN REGION
Important GMV Dual pricing policy.
*All customers outside of Australia/New Zealand will be charged in US dollars. If the item has dual pricing (that is in Australian and US dollars), all customers outside of Australia and New Zealand will only be charged the US dollar price.
Unfortunately, our site cannot cope with dual pricing and will default to the US dollar price. Regardless of this, all customers will be charged the correct price. Please refer to our FAQ section for any other questions, click here.