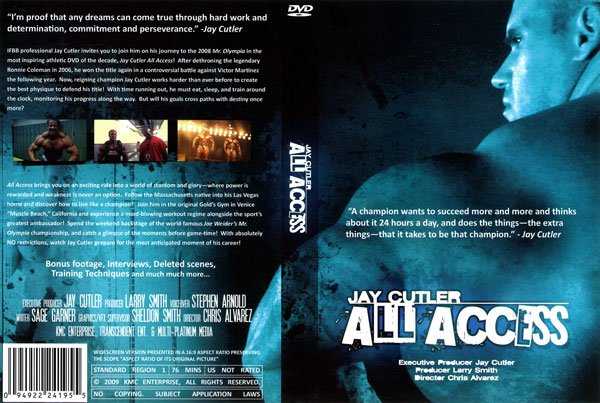 Click here for preview clip
Jay Cutler - All Access

(Note Dual Price: Regular Price outside of Australia/New Zealand is US$39.95; Australia and New Zealand A$49.95: Shopping cart defaults to US$ price.)
"I'm proof that any dreams can come true through hard work and determination, commitment and perseverance." - Jay Cutler.
"A champion wants to succeed more and more and thinks about it 24 hours a day, and does the things - the extra things - that it takes to be that champion." - Jay Cutler.
IFBB professional Jay Cutler invites you to join him on his journey to the 2008 Mr. Olympia in the most inspiring athletic DVD of the decade, Jay Cutler Alt Access*. After dethroning the legendary Ronnie Coleman in 2006, he won the title again in a controversial battle against Victor Martinez the following year.
Now, reigning champion Jay Cutler works harder than ever before to create the best physique to defend his title! With time running out, he must eat, sleep, and train around the clock, monitoring his progress along the way. But will his goals cross paths with destiny once more?
All Access brings you an exciting ride into a world of stardom and glory - where power is rewarded and weakness is never an option. Follow the Massachusetts native into his Las Vegas home and discover how to live like a champion! Join him in the original Gold's Gym in Venice "Muscle Beach," California and experience a mind-blowing workout regime alongside the sport's greatest ambassador!
Spend the weekend backstage of the world famous Joe Weider's Mr. Olympia championship, and catch a glimpse of the moments before game-time!
With absolutely NO RESTRICTIONS, watch Jay Cutler prepare for the most anticipated moment of his career!
Bonus footage: Interviews, Deleted scenes, Training Techniques and much much more...
Exec. Producer: Jay Cutler
Producer: Larry Smith
Director: Chris Alvarez
Running time: 123 mins including Extra Scenes


Jay Cutler - The Ultimate Beef: A Massive Life in Bodybuilding - 2 DVD set

This mega DVD set of 7 hours traces the career of Jay Cutler from his teenage years through to his 2009 Mr. Olympia victory. At the time of release, Jay Cutler is a 3 time Mr. Olympia winner and a 3 time winner of the Arnold Classic.

With footage mostly from the GMV copyright archives and short additional segments licensed by GMV, this massive personal history of Jay traces his career in contest posing highlights, behind the scenes, seminars and much more.
NTSC DVD, OPEN REGION