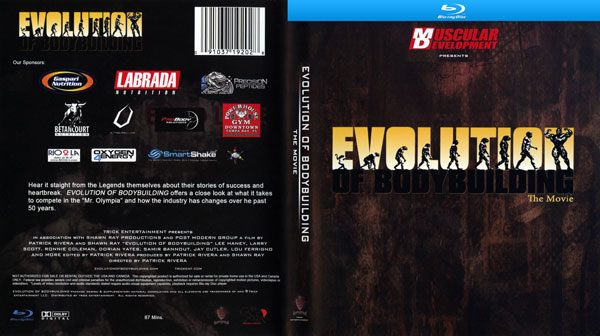 Preview clip

Evolution of Bodybuilding - The Movie on Blu-ray
IFBB Hall of Famer Shawn Ray, together with his business partner, Patrick Rivera from Trick Entertainment, have now released their long awaited Bodybuilding Documentary, "Evolution of Bodybuilding – The Movie".

EVOLUTION OF BODYBUILDING offers a unique and closeup look at what it takes to compete in the 'Mr. Olympia', and how the industry has changed over the past 50 years. Hear it straight from the Legends themselves with their stories of success and heartbreak.
Featuring: Frank Zane, Lee Haney, Dorian Yates, Ronnie Coleman, Jay Cutler, Phil Heath, Larry Scott, Boyer Coe, Rich Gaspari, Bill Dobbins, Joe Weider and Peter McGough.

Shawn is the one who actually conducted all of the interviews in which most of the past winners of the Mr. Olympia title tell us the story and their views on what happened at the time. These are the guys who actually lived the Olympia history!

As Shawn said.. "We've been gathering interviews with some of the world's best bodybuilders past and present to get their views on what it was like during their competitive years, as well as how the industry has changed. This is the first documentary of its kind - the first to gather this type of talent in one film, to tell the story from its humble beginnings, where Mr. Olympia won $1000 and a crown, to the four-time Mr. Olympia (Jay Cutler) winning $200,000 paychecks and then some.
Hall of Fame icons of the industry, like JOE WEIDER, LARRY SCOTT, FRANK ZANE, LEE HANEY, DORIAN YATES, RICH GASPARI, LEE LABRADA, RONNIE COLEMAN and JAY CUTLER, have been interviewed, along with magazine editors, gym owners, photographers and writers who cover the sport."
This DVD takes you on a magic journey from Larry Scott explaining the origin of the Mr. Olympia contest, through many of the past winners such as Frank Zane to Lee Haney, Dorian Yates, Ronnie Coleman and Jay Cutler to the current Mr. Olympia Phil Heath.

Includes insightful comments from Boyer Coe, Rich Gaspari, Bill Dobbins, Joe Weider etc, and the historic Olympia history thread superbly woven by Peter McGough. He is a living treasure - providing much inside information on the past history of our great sport.
Co-Produced by former Arnold Classic Winner, Shawn Ray & Patrick Rivera. Shawn has had a long association with the Olympia as a many times competitor.
See our COMPLETE INDEX OF MR.OLYMPIA DVDs.
Running time: 87 mins
ASF25 - A Documentary: Official Film Honoring 25 Years of the Arnold Sports Festival

"25 Year Anniversary DVD Special" with interviews of Past and Present Champions of the Arnold Classic and Ms. International Championships! Experience the stories of its grass roots beginnings and its present and future endeavours. Take an in-depth look into the legendary promoting career of James "Jim" Lorimer and his partner Arnold Schwarzenegger and how they built the foundation of one of the most prestegious events in sports history.