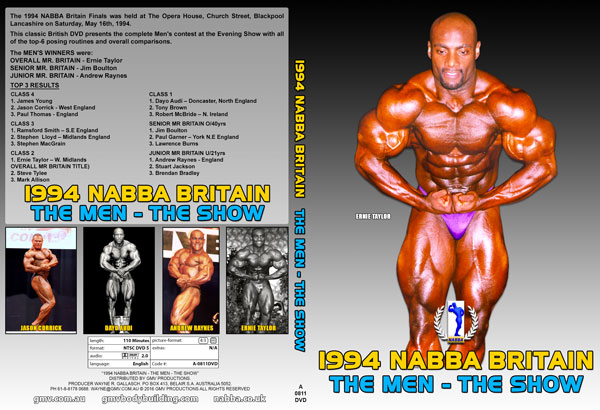 Preview clip.

1994 NABBA Britain: The Men - The Show

Also on Digital Download.
The 1994 NABBA Britain Finals was held at The Opera House, Church Street, Blackpool Lancashire on Saturday, May 16th, 1994.

This classic British DVD presents the complete Men's contest at the Evening Show with all of the top-6 posing routines and overall comparisons. Overall Men's Winner Ernie Taylor went on to have a most successful Professional Career.
The MEN'S WINNERS:
OVERALL MR. BRITAIN - Ernie Taylor
CLASS 4 - James Young
CLASS 3 - Ramsford Smith
CLASS 2 - Ernie Taylor
CLASS 1 - Dayo Audi
SENIOR MR. BRITAIN O/40 - Jim Boulton
JUNIOR MR. BRITAIN U/21 - Andrew Raynes
Running time: 110 mins
THE MEN'S RESULTS:
1994 63rd NABBA MR BRITAIN FINALS

CLASS 4
1. James Young
2. Jason Corrick - West England
3. Paul Thomas - England
4. Mark Turvey
5. Stevie Wright - England
6. Barry Lockwood - England
7. Stephen Clews
8. Mike King - South England
9. William Howard
10. Alan Carnegie
11. David Bollman
CLASS 3
1. Ramsford Smith – S.E England
2. Stephen Lloyd – Midlands England
3. Stephen MacGrain
4. Andrew Punshon - England
5. Michael Davies
6. Derek Saunders
7. Philip Wadman
8. Gary Slater
9. Danny McLean
10. Robert Bell
11. Steve Waghorn
12. Lee Davie
CLASS 2
1. Ernie Taylor – W. Midlands (OVERALL MR BRITAIN TITLE)
2. Steve Tylee
3. Mark Allison
4. Derek O'Brien
5. Marty Monaghan
6. Colin Thomas
7. John Lee
8. James Murphy
9. Dave Tomlinson
10. Paul Megwa
Also competed
Alex Anderson
Peter Cranswick
Dave Fox
Graham Madderson
Shaun Smith
CLASS 1
1. Dayo Audi – Doncaster, North England
2. Tony Brown
3. Robert McBride – N. Ireland
4. Andrew Muir
5. Simon Cohen
6. Gordon Drummond
7. Andy Leslie
8. Mark Lines
9. Nial Morgan
10. Robert Beardsmore
11. Paul Xenos
SENIOR MR BRITAIN O/40yrs
1. Jim Boulton
2. Paul Garner - York, N.E England
3. Lawrence Burns
4. David Clark
5. Bob Hills - North England
6. Graham Lakey
7. Patrick Collard - England
8. Dave Richards
9. Roy Cox
10. Thomas Surtees
11. Bob Gregory
12. David Selcon
13. Charles Oliver
Also competed
Robby Dunn
Mervyn Redfern
Stuart Sharp
Peter Shephard
JUNIOR MR BRITAIN U/21yrs
1. Andrew Raynes - England
2. Stuart Jackson
3. Brendan Bradley
4. Daniel Shiels
5. Aaron Guard
6. David Swain
7. Jason Thomas
8. Billy Swan
9. Ollie Beard