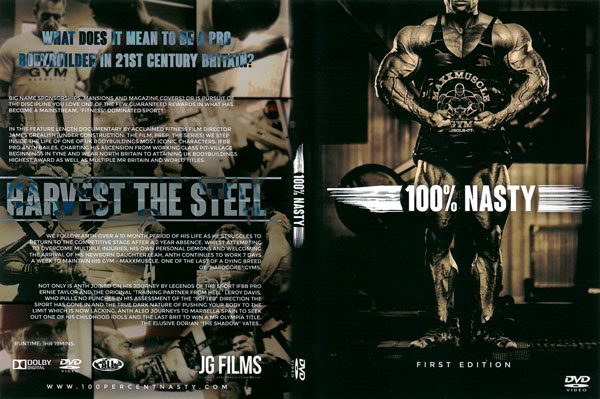 Preview clip.

ANTH BAILES "100% Nasty"

A DVD that fully lives up to its title!

What does it mean to be a Pro Bodybuilder in the 21st Century in Britain? Is it pursuit of the discipline you love, chasing one of the few guaranteed rewards in what has become a mainstream fitness dominated sport?
We step inside the life of one of UK bodybuilding's most iconic characters, IFBB Pro athlete Anth Bailes. This DVD charts his ascension from working class Pit-Village beginnings in North Britain to attaining UK's highest bodybuilding award. He has also won multiple Mr Britain and World titles.
We follow Anth over a 10 month period of his life as he struggles to return to the competition stage after a 2 year absence from injuries sustained in the gym. Whilst attempting to overcome multiple injuries, as well as his own personal demons, Anth continues to work 7 days a week, maintaining his gym – MAXXMUSCLE. It is one of the last of a dying breed of hardcore gyms.
Not only is Anth joined on his journey by legends of the sport such as Ernie Taylor but also the original "training partner from hell" Leroy Davis. Leroy pulls no punches in his assessment of the "softer direction the sport has gone, and in the true dark nature of pushing your body to the limit, which is now lacking".
Anth also journeys to Marbella to seek out one of his childhood idols and the last Brit to win a Mr. Olympia title, the elusive Dorian "the Shadow" Yates.
A fascinating documentary by acclaimed fitness film director, James Grealish.

Running time: 79 mins




V-213DVD
Dorian Yates Blood &
Guts The DVD - 15th
Anniversary Edition -
2 DVD Set