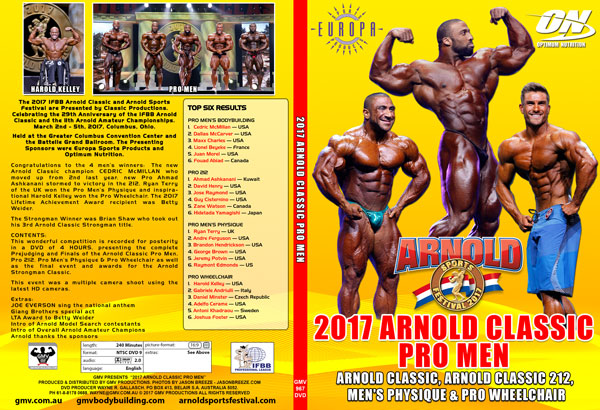 Preview clip.

2017 Arnold Classic Pro Men - 2 DVD Set
Arnold Classic, Arnold Classic 212, Men's Physique & Pro Wheelchair.
The 2017 IFBB Arnold Classic and Arnold Sports Festival are Presented by Classic Productions. Celebrating the 29th Anniversary of the IFBB Arnold Classic and the 11th Arnold Amateur Championships. March 2nd - 5th, 2017, Columbus, Ohio.
Held at the Greater Columbus Convention Center and the Battelle Grand Ballroom. The Presenting Sponsors were Europa Sports Products and Optimum Nutrition.
Congratulations to the 4 men's winners: The new Arnold Classic champion CEDRIC McMILLAN who moved up from 2nd last year, new Pro Ahmad Ashkanani stormed to victory in the 212, Ryan Terry of the UK won the Pro Men's Physique and inspirational Harold Kelley won the Pro Wheelchair.
The 2017 Lifetime Achievement Award recipient was Betty Weider.
The Strongman Winner was Brian Shaw who took out his 3rd Arnold Classic Strongman title. The DVD of the Arnold Strongman Classic will be available shortly.
CONTENTS:
This wonderful competition is recorded for posterity in a DVD of 5 HOURS, presenting the complete Prejudging and Finals of the Arnold Classic Pro Men, Pro 212, Pro Men's Physique & Pro Wheelchair as well as the final event and awards for the Arnold Strongman Classic. (See separate ARNOLD STRONGMAN CLASSIC DVD below.)

Disc 1 - 146 mins
Opening
Men's Physique
Pro Wheelchair
Pro 212
Disc 2 - 149 mins
Pro Men
Strongman - The Austrian Oak and awards
Credits
Extra scenes
This event was a multiple camera shoot using the latest HD cameras. Also available on Blu-ray, GMV-972BRDVD, as well as on regular DVD.
EXTRAS:
Joe Everson sings the national anthem
Giang Brothers special act
LTA Award to Betty Weider
Intro of Arnold Model Search contestants
Intro of Overall Arnold Amateur Champions
Arnold thanks the sponsors
The 4 Men's Winners were:
ARNOLD CLASSIC: Cedric McMillan - USA
PRO 212: Ahmad Ashkanani – Kuwait
PRO MEN'S PHYSIQUE: Ryan Terry - UK
PRO WHEELCHAIR: Harold Kelley - USA
TOTAL RUNNING TIME: 295 mins

THE COMPLETE COLLECTION OF ARNOLD CLASSIC USA DVDs & DOWNLOADS.
DVD Photos: Jason Breeze jasonbreeze.com


2017 Arnold Strongman Classic

DVD CONTENTS: Enjoy the full coverage of this incredible display of skill, power and strength. Split over two days, the competitors battled it out over five incredibly heavy and stressful events to see who would be the Arnold Strongman champion for 2017.

This year is was BRIAN SHAW who came out on top in a convincing victory over Hafthor Bjornsson. It was Brian Shaw's third Arnold Strongman Classic title, winning in dominating fashion.


2017 Arnold Amateur USA Championships: DVD #1 - MEN'S PHYSIQUE & MEN'S MODEL SEARCH

More than 500 top amateur competitors from around the world competed in 10 divisions at the 11th Annual Arnold Amateur USA IFBB / NPC International Championships. See all of the lineups, comparisons and callouts for each class, and all awards through to the OVERALL MEN'S PHYSIQUE title won by GEDER GOMES of Brazil. The video includes the ARNOLD MEN'S MODEL SEARCH presented by Mike Davies Fitness Universe, and won by RAFAEL FERREIRA, also from Brazil.


2017 ARNOLD CLASSIC (USA) PRO RESULTS - MEN, WOMEN & STRONGMAN.
2017 ARNOLD AMATEUR (USA) MEN'S RESULTS .
2017 ARNOLD AMATEUR (USA) WOMEN'S RESULTS.

2017 Arnold Classic Pro Men's Results:

PRO MEN'S BODYBUILDING
1. Cedric McMillan – USA
2. Dallas McCarver – USA
3. Maxx Charles – USA
4. Lionel Beyeke – France
5. Juan Morel – USA
6. Fouad Abiad – Canada
7. Michael Lockett – USA
8. Luke Sandoe – UK
9. Vitaly Fateev – Russia
10. Will Harris – USA
PRO 212
1. Ahmad Ashkanani – Kuwait
2. David Henry – USA
3. Jose Raymond – USA
4. Guy Cisternino – USA
5. Zane Watson – Canada
6. Hidetada Yamagishi – Japan
7. Charles Dixon – USA
8. Kyung won Kang – South Korea
9. Quincy Winklaar – Trinidad
10. Mitchell Staats – USA
11. Manual Manchado – Spain
PRO MEN'S PHYSIQUE
1. Ryan Terry – UK
2. Andre Ferguson – USA
3. Brandon Hendrickson – USA
4. George Brown – USA
5. Jeremy Potvin – USA
6. Raymont Edmonds – USA
7. Xavisus Gayden – USA
8. Michael Mperey – USA
9. Tonnell Rodriguez – USA
10. Long Wu – China
11. Duane Brickhouse – USA
11. Michael Ferguson – USA
11. Charlie Francis – UK
11. Jeph Gabriel – USA
11. Gerardo Gabriel – USA
11. Brent Guillory – USA
11. Benyamin Jahromi – Iran
11. Henry James – USA
11. Laquan Jones – USA
11. Leon McCall – USA
11. Otto Montgomery – USA
11. David Odom – USA
11. Geobanny Paula – USA
11. Luis Andy Perez – USA
11. Hygor Ponchet – Brazil
11. Khali Quartey – USA
11. Bax Rysaac – USA
11. Kaunaoa McGee-Sharp – USA
11. David Thorpe – USA
11. Alexander Woodson – USA
11. Hussin Almutawa – Kuwait
11. Mohammed Buqambar – Kuwait
11. Tony Tirado – Mexico
11. Francesco Montuori – Italy
11. Sunny Akhigbe – USA
PRO WHEELCHAIR
1. Harold Kelley – USA
2. Gabriele Andriulli – Italy
3. Daniel Minster – Czech Republic
4. Adelfo Cerame – USA
5. Antoni Khadraoui – Sweden
6. Joshua Foster – USA
7. Johnny Quinn – USA
2017 ARNOLD STRONGMAN CLASSIC
1. Brian Shaw – 47.5 – USA
2. Hafthor Bjornsson – 41.5 – Iceland
3. Jerry Pritchett – 39.5 – USA
4. Mateusz Kieliszkowski – 31 – Poland
5. Mikhail Shivlyakov – 29 – Russia
6. Vytautas Lalas – 25 – Lithuania
7. Dimitar Savatinov – 22.5 – Bulgaria
8. Martins Licis – 20.5 – USA
9. Zachary Hadge – 12.5 – USA
10. Krzysztof Radzikowski – 3 – Poland

***************************************************

The 2017 IFBB Arnold Classic & Arnold Sports Festival are Presented by Classic Productions.
www.arnoldsportsfestival.com
www.arnoldclassicbrasil.com.br
www.arnoldclassiceurope.es
www.arnoldclassic.com.au
www.arnoldclassicafrica.com
www.arnoldclassicasia.com
This Event is Officially Sanctioned by the IFBB Professional League.
International President
Rafael Santonja-Gomez
Chairman
Jim Manion
Event Promoters
Jim Lorimer
Bob Lorimer
Classic Productions

Meet Director
Arnold Schwarzenegger
Amateur Contests
Bob Lorimer
Mike Davies
Expo & Events Coordinator
Paul Nagle
Expo & Events Director
Kathy Nagle
Director of Communications
Brent LaLonde
Strongman Contest
Dr. Terry Todd
Steve Slater
MC Strongman Final Event
Bill Kazmaier

Public Relations
Lorz Communications
Masters of Ceremony
Lonnie Teper
Clint Richards
Head Judge
Steve Weinberger
Photography for Pro DVDs
Jason Breeze jasonbreeze.com
Video footage
LIVE! TECHNOLOGIES
Columbus, Ohio
www.reallivepros.com
The Arnold Amateur
Masters of Ceremony
Shawn Ray
Natalie Calland
Head Judges
Gary Udit
Armando Marquez
On Stage Expeditors
Frank Thomas
Rick Bayardi
Sam Wilder
Back Stage Expeditors
Cory Elzey
Evette Cano
Photographer for Amateurs
Carl Wade
2017 Arnold Sports Festival Crew List
Event Producer
Shawn Loevenguth

Assistant Event Producer
Alyssa Messner
Carrie Chew

Stage Managers
Ashley Harbison
Beth Siracuse
Michelle Blank

FOH Audio Engineer
Steve Jones

Audio Engineer
Kevin Brown

FOH Lighting Technician
Michael Hesmond

Lighting Technician
Josh Bowers

Video Director
Michael Dickson

Tape Operator
Ian Martin

Camera Operators
Ron Caruso
Eric Obert
Jim Miller

Head Carpenter
Dave Steinmetz

Carpenters
Rick Scholz
Bill Cecil

Head Rigger
Steve Quinn
Set Design
Jocelyn McDaniel

Expo Stage

Site Supervisor
Doug Maynard

Audio Technician
Gus Caulk

Lighting Technician
Patrick Fitzgibbons

Video Director
Stewart Williams

Camera Operators
Dave Love
Matt Gault

ENG Team
Jerman Abney
Grant Lawhorn
Tyler Chapman
Kelsey Reef
Jared Zajac
Jon Ebright
Jeff Martin
Ledion Isufaj
Catherine Quamme
Alexandria Ferst

General Technician
Patrick Hinson
Schehera McKissack
Arnold Sports Festival Sponsors
Presenting Sponsors
Europa Sports
Optimum Nutrition
Diamond Sponsors
Rogue Fitness
Midway Labs USA
Gold Sponsors
Animal
BSN
JAN TANA
MHP
Muscle & Fitness Magazine
Ultimate Nutrition
Silver Sponsors
ALLMAX
American Electric Power
Bana Sports
Blackstone Labs
Blender Bottle
Body Fortress
Complete Nutrition
Cytosport
EAS Abbott Nutrition
GAT
Gold's Gym
Laura's Lean Beef
Monster Energy/Muscle Monster
Muscle Egg
Nutrex
OhYEAH! Nutrition
Performix
Quest Nutrition
Ricart
Rivalus
Rule One Proteins
SBD Apparel USA Distributor
Sweet Sweat by Sports Research
VPX Sports
Bronze Sponsors
Athletic Elite 10
BPI Sports
Bodybuilding.com
Carnosyn
Concept2 CTS Inc.
Dymatize
iSatori, Inc.
Jaybird
Magnum Nutraceuticals
MRI Performance
MuscleSport
Mutant
Nationwide Realty
N.V.E. Pharmaceuticals
ProMera Sports
Sling Shot
Tianqi Shaker Bottle
GMV would like to thank:
Bob Lorimer
Brent LaLonde
Shawn Loevenguth
Jason Breeze
Matt Lorz
Jerman Abney
Carrie Chew
Carl Wade
Editing
Wayne Gallasch
Ollie Parke
Authoring & Cover Design
Ollie Parke
DVD & Blu-Ray Produced by
GMV PRODUCTIONS
Australia
WEB:
GMV.COM.AU
GMVBODYBUILDING.COM
© WORLD COPYRIGHT 2017