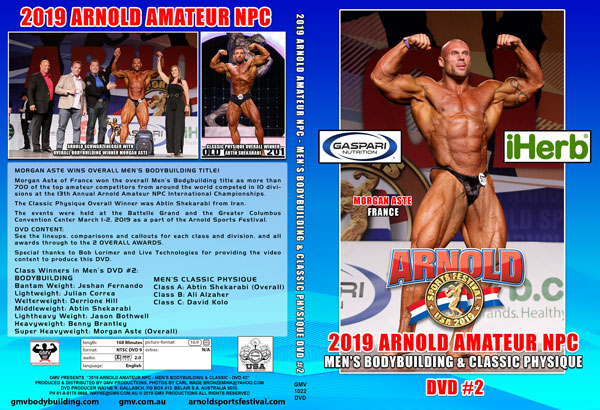 2019 Arnold Amateur NPC Bodybuilding & Classic
Men's DVD #2.
FRENCHMAN MORGAN ASTE WINS OVERALL MEN'S BODYBUILDING TITLE! .
Morgan Aste of France won the overall Men's Bodybuilding title as more than 700 of the top amateur competitors from around the world competed in 10 divisions at the 13th Annual Arnold Amateur NPC International Championships.
The Classic Physique Overall Winner was Abtin Shekarabi from Iran.
The events were held at the Battelle Grand and the Greater Columbus Convention Center March 1-2, 2019 as a part of the Arnold Sports Festival.
VIDEO FILES:
YOU MAY ALSO ORDER AN HD VIDEO FILE OF ANY CLASS OF YOUR CHOICE INCLUDING THE CLASS AWARDS, TO BE EMAILED TO YOUR INBOX, US$40 PER CLASS.
Or EMAIL tina@gmv.com.au for a PayPal invoice.
******************************************************
2019 Overall Men's Winners - DVD #2:
Men's Bodybuilding: Morgan Aste - France
Classic Physique: Abtin Shekarabi - Iran
Class Winners in Men's DVD #2:
BODYBUILDING
Bantam Weight: Jeshan Fernando
Lightweight: Julian Correa
Welterweight: Derrione Hill
Middleweight: Abtin Shekarabi
Lightheavy Weight: Jason Bothwell
Heavyweight: Benny Brantley
Super Heavyweight: Morgan Aste (Overall Winner)
MEN'S CLASSIC PHYSIQUE.
Class A: Abtin Shekarabi (Overall Winner)
Class B: Ali Alzaher
Class C: David Kolo
Running time: 168 mins


THE COMPLETE COLLECTION OF ARNOLD CLASSIC USA DVDs & DOWNLOADS.
See the COMPLETE 2019 ARNOLD AMATEUR NPC MEN'S RESULTS FOR ALL CLASSES.
DVD CONTENT:
See the lineups, comparisons and callouts for each class and division, and all awards through to the 2 OVERALL AWARDS.
Special thanks to Bob Lorimer and Live Technologies for providing the video content to produce this DVD.
THE MEN'S RESULTS AS SEEN IN THIS DVD.
Men's Bodybuilding Overall Winner – Morgan Aste - France.
Men's Bodybuilding – Bantam Weight
1. Jeshan Fernando
2. Persad Vishnu
3. Matt Keith
4. Ibrahim Aljoilan
Men's Bodybuilding – Lightweight
1. Julian Correa
2. Enkh-Erdene Doljinsuren
3. Karanjit Singh
4. Mario Alberto Marcel Ortega
5. Pineda Hernandez Felix
6. Rafael De Guzman
7. Tony Yeatts
8. Erick Ramirez
9. Ahmad AlAdawi
10. Rene Aldape
11. Hunter Shovelton
Men's Bodybuilding – Welterweight
1..Derrione Hill
2. Muntathir Al Rubh
3. Adrian Arroyo
4. Abdul Malik
5. Todd Forkell
6. Zack Magdich
7. Mohamed Bouissi
8. Mohammed Alomran
9. Raymond Maclin
Men's Bodybuilding – Middleweight
1. Abtin Shekarabi
2. Ali Alzaher
3. Ignacio Torres
4. Ali Alzaher
5. Carl Taylor
6. Javier Ramirez
7. Rubén Mahecha
8. Wael Alshaikh
9. Mauro Zotti
10. Chad Pfenninger
Men's Bodybuilding – Light-heavy Weight
1. Jason Bothwell
2. Lenny Wicks
3. Hissun Albagshi
4. Freddy Marquez
5. Nicolov Nikola
6. Rushdan Powell
7. Kevin Machado
8. Brian O'Neil
9. Denny Guemos
10. Pushpinder Bharti
11. Carlos Mendoza
12. Peter Mancini
13. Mustafa Almahasnah
14. Manuel Bauer
Men's Bodybuilding – Heavyweight
1. Benny Brantley
2. Brandon Medak
3. Pavlo Prontenko
4. Taylor Mclaughlin
5. Jair Espino
6. Yang Zhao
7. Antti Jarvansuu
8. Gursewak Singh Virk
9. Frank Meekins
10. Travis Adams
Men's Bodybuilding – Superheavyweight
1. Morgan Aste
2. Robert Wilmote
3. Anthony Spencer
4. Thierry (Danega) Afandonougbo
5. Joseph Waterhouse
Classic Physique Overall Winner – Abtin Shekarabi - Iran
Classic Physique – Class A
1. Abtin Shekarabi
2. Derrione Hill
3. Miguel Sánchez
4. Ali Alzaher
5. Hassan Alkhafa
6. Dean Annett
7. Aleksei Rudenko
8. Ben Chimoski
9. Hamzah Saeed
10. Adrian Arroyo
11. Phillip Scipho
12. Mauro Zotti
13. Kob Yan
14. Billy Heck
15. Lawrence Bell
16. Kyle Lougheed
17. Zack Magdich
18. Ayman Alibrahim
19. Dalton Boggs
20. Munkh Erdene
Classic Physique – Class B
1. Ali Alzaher
2. Rohan Duncan
3. Dilshod Niyazov
4. Freddy Marquez
5. Artem Piari
6. Lenny Wicks
7. Jared Feather
8. Dawid Geler
9. Luis Picanes
10. Radu Brylnskei
11. David Taylor
12. Denny Guemos
13. Pushpinder Bharti
14. Tourville Thomas
15. Andrew Marchegano
16. Rene Aldape
17. Bob Patrick
18. Ageal Musa
19. Jones Kevin
20. Mustafa Almahasnah
21. Wael Alshaikh
22. Leonardo Culetta
23. James Elmer
24. Mehdi Emam
25. Kirill Geyt
26. Kevin Machado
27. Ronald Morris
28. Evan Shoemaker
29. Will Sloan
30. Austin Swann
31. Michael Washington
32. Justin Williams
33. Seth Harrelson
Classic Physique – Class C
1. David Kolo
2. Annou Gui
3. Chris Papasavvas
4. Justin Huyghue
5. Aleksandr Progressov
6. Casey Wilson
7. Alireza Shirin
8. Valentine Stephanou
9. Serdar Teker
10. Ryan Delf
11. Bartley Weaver
12. Dylan Ash
13. Leland Wakamatsu
14. Kevin Noval
15. Ahmad Alhaqshi
16. Enjie Xu
17. Michael McQuarie
18. Frank Meekins
19. Michael Moses
20. Jerry Robinson
21. Christopher Spivey
22. Chris Van Pelt
23. Gursewak Singh Virk
24. Detrick Washington
25. Marquis Johnson
26. Keith Elmore
*******************

The 2019 IFBB Arnold Classic & Arnold Sports Festival are Presented by Classic Productions.
www.arnoldsportsfestival.com
www.arnoldclassicbrasil.com.br
www.arnoldclassiceurope.es
www.arnoldclassic.com.au
www.arnoldclassicafrica.com

This Event is Officially Sanctioned by the IFBB Professional League.
President
Jim Manion
Event Promoters
Jim Lorimer
Bob Lorimer
Classic Productions

Meet Director
Arnold Schwarzenegger
Amateur Contest Producers
Bob Lorimer
Mike Davies
Event Chair
Bob Lorimer
Expo & Events Coordinator
Paul Nagle
Expo & Events Director
Kathy Nagle
Director of Communications
Brent LaLonde
Strongman Contest
Dr. Jan Todd
Public Relations
Lorz Communications
Matt Lorz
Masters of Ceremony
Tony Doherty
Clint Richards
Amanda Latona

Strongman MCs
Mark Henry
Matt Iseman

Head Judge
Steve Weinberger
Photography for Pro DVDs
Jason Breeze jasonbreeze.com
Video footage
LIVE! TECHNOLOGIES
Columbus, Ohio
www.reallivepros.com
The NPC Arnold Amateur
Masters of Ceremony
Shawn Ray
Amanda Latona

Head Judges
Gary Udit
Sandy Williamson
On Stage Expeditors
Rick Bayardi
Andy Bartolovich
Back Stage Expeditors
Cory Elzey
Evette Cano
Photographer for Amateurs
Carl Wade
GMV would like to thank:
Bob Lorimer
Brent LaLonde
Matt Lorz
Shawn Loevenguth
Live! Technologies
Alyssa Messner
NPC News Online
Jason Breeze
Wayne Gallasch for extra video content
Richard Baldwin for interviews.
****************

2019 Live! Technologies Crew List.
Arnold Sports Festival, USA
Event Producer
Shawn Loevenguth

Assistant Event Producer
Alyssa Messner

Stage Managers
Beth Siracuse
Autumn Cleveland
Samantha Barnes

FOH Audio Engineer
Steve Jones

Audio Engineer
Kevin Brown

FOH Lighting Technician
Michael Hesmond

Lighting Technician
Jordan Auge

Video Director
Ian Martin
Video Technician
Julian Dorsett

Tape Operator
Travis Haag

Camera Operators
Jim Miller
Eric Obert
Randy Silcott

Head Carpenter
Dave Steinmetz

Carpenters
Rick Scholz
Shawn Scholz
Set Design
Jocelyn McDaniel

Expo Stage:

Site Supervisor
Doug Maynard

Audio Technician
Gus Caulk

Lighting Technician
Matt Reid

Video Director
Casey Payne
Tape Operator
Schehera McKissack

Camera Operators
Art Hearl
Steve Mitchell
General Technician
Oscar Smith
Seth Powell

ENG Team
Jerman Abney
Grant Lawhorn
Tyler Chapman
Catherine Quamme
Lincoln Meikle
Travis Fishburn
Jarred Lawson
Joshua Chandler
Jamie Comisford
****************

GMV Editing
Wayne Gallasch
Ollie Parke
Authoring & Cover Design
Ollie Parke
DVD & Blu-Ray Produced by
GMV PRODUCTIONS
Australia
WEB:
GMV.COM.AU
GMVBODYBUILDING.COM
© WORLD COPYRIGHT 2019.