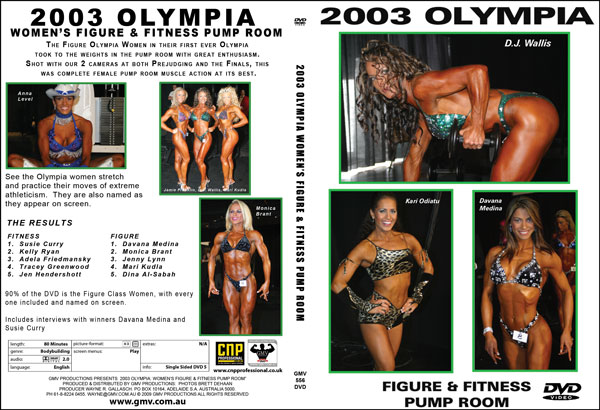 Preview clip

2003 Olympia: Figure and Fitness Pump Room

Also on Digital Download.

The Figure Olympia women in their first ever Olympia took to the weights in the Pump Room with great enthusiasm. Shot with our 2 cameras at both Prejudging and Finals, this was complete female muscle action at it's best. 90% of the DVD is the Figure Class women, with everyone included and named on the screen.
In addition the Fitness Olympia women stretch and practice their moves of extreme athleticism. They are also named as they appear.

Includes interviews with the winners Davana Medina and Susie Curry.

An interesting fact. Dina Al-Sabah competed in this first ever FIGURE OLYMPIA. She also competed in the first ever BIKINI OLYMPIA in 2010!
Click here to see her appearance in 2010 in the Women's Olympia DVD which is A-1359DVD.
PHOTO GALLERY FROM THE MAKING OF THIS DVD.

Running time: 80 mins

See also our 2003 MS. OLYMPIA/FIGURE OLYMPIA contest DVD, A-1074DVD.
See also our 2003 MS. OLYMPIA/FIGURE OLYMPIA/FITNESS OLYMPIA 2 DVD SET, A-1074DVDSP.
See also our 2003 FITNESS OLYMPIA contest DVD, A-1075DVD.

See also our 2003 COMPLETE PREJUDGING OF THE MS. OLYMPIA, GMV-557DVD.
See also our 2003 MS. OLYMPIA PUMP ROOM, GMV-555DVD.
See also our 2003 COMPLETE PREJUDGING OF THE FITNESS & FIGURE OLYMPIA, GMV-558DVD.

2003 Figure Olympia Results:

1 Davana Medina
2 Monica Brant
3 Jenny Lynn
4 Mari Kudla
5 Dina Al-Sabah
6 D.J. Wallis
7 Jamie Franklin
8 Aleksandra Kobielak
9 Sharon Kouvaras
10 Hannah Park
11 Elaine Goodlad
12 Theil Bradford
2003 Fitness Olympia Results

1 Susie Curry
2 Kelly Ryan
3 Adela Friedmansky
4 Tracey Greenwood
5 Jen Hendershott
6 Anna Level
7 Klaudia Kinska
8 Stacy Hylton
9 Julie Palmer
10 Jenny Worth
11 Kim Klein
12 Stacy Simons
13 Shannon Meteraud
14 Kim Odiatu

* Available in NTSC (region free)