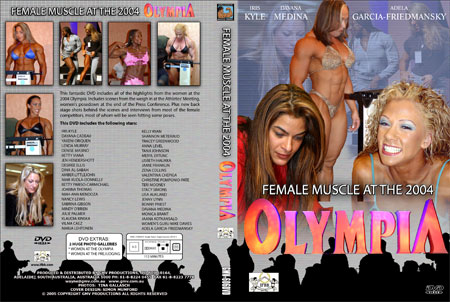 Click here for main preview clip. Click here for Denise Masino posing clip.

Female Muscle at the 2004 Olympia
Also on Digital Download.

This fantastic DVD includes all of the highlights from the women at the 2004 Olympia. See some of the most gorgeous women on this planet!

Includes scenes from the weigh in at the Athletes' Meeting, Women at the Press Conference and with women's posedown at the end with Iris v Yaxeni. The contents are huge and varied!



Click here for the 2004 Olympia Women's 2 DVD set, A-1090DVDSP.

Plus new back stage shots, interviews at Meet the Olympians, and posing highlights from most of the female competitors as follows:

The Stars:
IRIS KYLE
DAYANA CADEAU
YAXENI ORIQUEN
LENDA MURRAY
DENISE MASINO
ADELA GARCIA-FRIEDMANSKY
BETTY VIANA
JEN HENDERSHOTT
DESIREE ELLIS
DINA AL-SABAH
AMBER LITTLEJOHN
MARI KUDLA-DONNELLY
BETTY PARISO-CARMICHAEL
JOANNA THOMAS
MAH-ANN MENDOZA
NANCY LEWIS
SABRINA GIBSON
MINDY O'BRIEN
JULIE PALMER
KLAUDIA KINSKA
VILMA CAEZ
MARJA LEHTONEN
KELLY RYAN
SHANNON METERAUD
TRACEY GREENWOOD
ANNA LEVEL
TANJI JOHNSON
MERYL ERTUNC
LISBETH HALIKKA
JAMIE FRANKLIN
ZENA COLLINS
VALENTINA CHEPIGA
CHRISTINE POMPONIO-PATE
TERI MOONEY
STACY SIMONS
LISA AUKLAND
JENNY LYNN
BONNY PRIEST
DAVANA MEDINA
MONICA BRANT
JAANA KOTKANSALO
WOMEN'S GURU MIKE DAVIES
*Interviewers were Kenny Kassel, Tina Gallasch & Clive Jaques.

Running time: 112 mins

Special Features :

* INCLUDES A HUGE PHOTO GALLERY

NTSC DVD, OPEN REGION