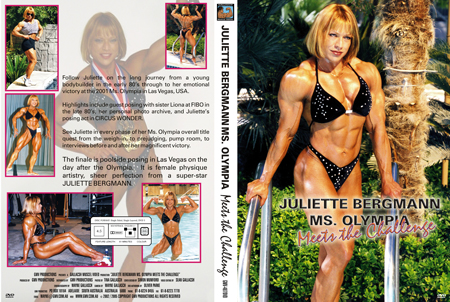 Click here for preview clip

Juliette Bergmann - Ms. Olympia Meets the Challenge
Also available on Digital Download.

Follow Juliette on the long journey from a young Dutch bodybuilder in the early 80's through to her emotional victory at the 2001 Ms. Olympia in Las Vegas, USA. Highlights include guest posing with sister Liona at FIBO in the late 80's, her personal photo archive, and Juliette's posing act in CIRCUS WONDER. Juliette is on-screen 99% of the time in this DVD which is a Juliette Special for all of her fans.
See Juliette in every phase of her Ms. Olympia overall title quest from the weigh-in, to prejudging, pump room, to interviews before and after her magnificent victory. The finale is Juliette poolside posing in Las Vegas on the day after the Olympia. It is female physique artistry, sheer perfection from a super-star JULIETTE BERGMANN.

All Las Vegas camerawork is by GMV's Wayne Gallasch and all Las Vegas poolside and backstage photography is by Tina Gallasch and is available for purchase on request. tina@gmv.com.au

Click here for details on Juliette's first video, now on DVD, TRAINING WITH JULIETTE BERGMANN, V-014DVD.

Juliette Bergmann Contest History

1983
Gold Cup - NBBF, LightWeight, 2nd
Grand Prix Holland - NBBF, LightWeight, 3rd
Holland Iron Maiden - NBBF, LightWeight, 2nd
Holland Nationals, LightWeight, 3rd
1984
Grand Prix Holland - NBBF, LightWeight, 1st
Holland Nationals, LightWeight, 2nd
1985
European Amateur Championships - IFBB, LightWeight, 1st
Grand Prix Holland - NBBF, LightWeight, 1st
Olympia - IFBB, 14th
World Amateur Championships - IFBB, LightWeight, 1st
1986
Grand Prix Los Angeles - IFBB, 2nd
Ms International - IFBB, 2nd
Los Angeles Pro Championships - IFBB, 2nd
Olympia - IFBB, 6th
World Pro Championships - IFBB, Winner
1987
Olympia - IFBB, 9th
World Pro Championships - IFBB, 7th
1988
Olympia - IFBB, 13th
1989
World Pro Championships - IFBB, 15th
2001
Olympia - IFBB, LightWeight, 1st
Olympia - IFBB, Overall Winner
2002
Olympia - IFBB, LightWeight, 1st
2003
Olympia - IFBB, LightWeight, 1st
* Available in NTSC (region free)