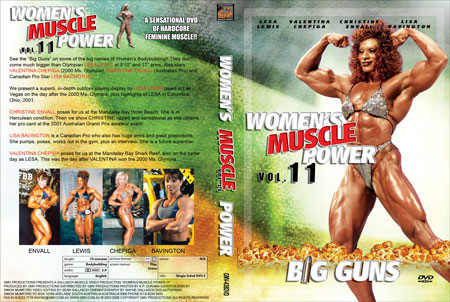 Click here for preview.

Women's Muscle Power # 11 - Big Guns
Also available on Digital Download.



See the "Big Guns" on some of the big names of Women's Bodybuilding!! LESA LEWIS - VALENTINA CHEPIGA - CHRISTINE ENVALL - LISA BAVINGTON.
They don't come much bigger than Olympian Lesa Lewis at 5'10" and 17" arms. Also stars Valentina Chepiga (2000 Ms. Olympia), Christine Envall (Australia's newest Pro) and Canadian Pro star Lisa Bavington.
We present a superb, in-depth outdoor posing display by Lesa Lewis taped in Las Vegas on the day after the 2000 Ms. Olympia, plus highlights of Lesa in Columbus, Ohio, 2001.
Christine Envall poses for us at the Mandalay Bay Hotel Beach. She is in Herculean condition. Then we show Christine ripped and sensational as she obtains her pro card at the 2001 Aussie Grand Prix amateur event.

Lisa Bavington is a Canadian Pro who also has huge arms and great proportions. She pumps, poses, works out in the gym, plus an interview. She is a future superstar.
Valentina Chepiga poses for us at the Mandalay Bay Shark Reef, also on the same day as Lesa. This was the day after she won the 2000 Ms. Olympia.
See the COMPLETE LIST OF WOMEN'S MUSCLE POWER DVDs here.
Running time: 75 mins

* Available in NTSC DVD (region free)