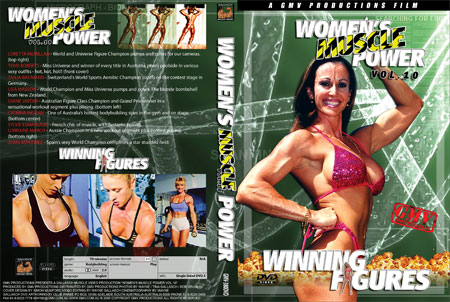 Women's Muscle Power # 10 Winning Figures.

Digital Download
A FEAST OF FANTASTIC FEMININE FIGURE & FITNESS MUSCLE! With many International Champions of FIGURE.

* LORETTA McMILLAN - Current World & Universe Figure champion pumps and poses for our cameras.

* TERRI ROBERTS - Winner of every title in Australia plus NABBA Miss Universe, poses poolside in various sexy outfits - hot, hot, hot!! (*See note below.)

* TANJA BAUMANN - Switzerland's World Sport Aerobic Champion sizzles on the contest stage in Germany.

* LISA MASSON World Champion and Miss Universe pumps and poses. The blonde bombshell from New Zealand.

* DIANE JARDIM Australian Figure Class Champion and Grand Prix winner in a sensational workout segment plus posing.

* CATRINA INGRAM - Australia's hottest new bodybuilding star in the gym and on stage.

* SYLVIE ESMANJAUD - French chic of muscle, with fantastic posing.

* LORRAINE MARCH - Aussie Champion in a new workout segment plus contest posing. JUANI MARTINEZ - Spain's sexy World Champion
completes a star studded field.
See the COMPLETE LIST OF WOMEN'S MUSCLE POWER DVDs here.

*TERRI ROBERTS is pictured front cover. Her list of contests is below.

Terri Roberts Contest History..
A 33 years career.
All contests were SABBA/NABBA/WFF Federations.

1984 Adelaide Physique Classic (APC) - DNP
1994 APC 1st over 35
1994 Australia 1st over 35
1994 South Australia 2nd
1994 Australasia 2nd
1995 Whyalla Classic 2nd
1995 South Australia 1st
1995 Australia 4th
1996 South Australia 2nd
1996 Australasia 2nd
1997 Australia 4th
1997 NABBA Worlds 5th
1997 Australasia 1st
1997 Universe 4th
1998 Australasia 2nd
1998 Universe 5th
1999 South Australia 1st
1999 Australasia 1st & Overall Winner
1999 Universe 2nd
2000 Australia 2nd
2000 Worlds 2nd (and 1st Worlds Couples)
2001 Australia 1st & Overall Winner
2001 Worlds 2nd
2001 WFF Universe 1st Superbody
2001 Universe 1st class 2
2004 Worlds 3rd Masters
2004 Universe 4th
2005 Australia 2nd
2005 Universe 5th
2007 Australia 2nd
2008 South Australia 2nd
2008 Australia 2nd over 35
2009 Southern Hemisphere 2nd
2009 Australia 2nd
2009 Universe DNP
2010 South Australia 1st & Overall Winner
2010 Australia 2nd
2012 Australia 2nd over 35
2017 Adelaide Grand Prix Overall winner
2017 Southern Hemisphere - DNP

Running time: 70 mins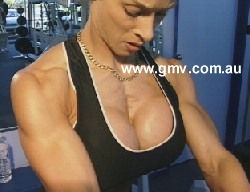 Diane Jardim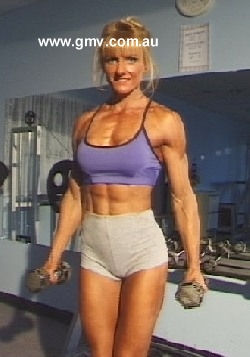 Lorraine March
Loretta McMillan
* Available in NTSC (region free)

Customers who viewed this DVD also viewed:






Click here for GMV Productions complete list of Female Muscle and Fitness DVDs.