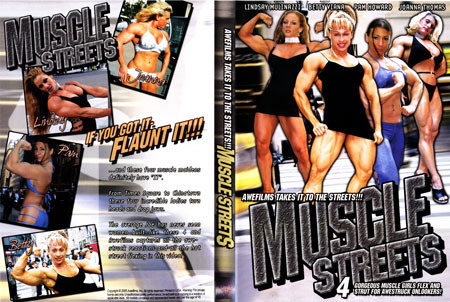 Click here for preview clip


Muscle Streets 4
(Dual price US$34.95 or A$44.95 in Australia. Shopping cart defaults to the US$ price)

Featuring:
Lindsay Mulinazzi, Betty Viana, Pam Howard & Joanna Thomas.

If you got it-FLAUNT IT!!...and these four muscle maidens definitely have "IT". From Times Square to China Town these four incredible ladies turn heads and drop jaws. The average Joe has never seen women built like these 4 and we capture the awe-struck reactions and all the HOT street flexing in this DVD!

Please click here to see BETTY VIANA ADKINS place 2nd in the 2008 Ms. OLYMPIA, A-1287DVD.

* Available in NTSC ONLY (region free)

All customers outside of Australia/New Zealand will be charged in US dollars. If the item has dual pricing (that is in Australian and US dollars), all customers outside of Australia and New Zealand will only be charged the US dollar price.
Unfortunately, our site cannot cope with dual pricing and will default to the US dollar price. Regardless of this, all customers will be charged the correct price.
Please refer to our FAQ section for any other questions, click here.