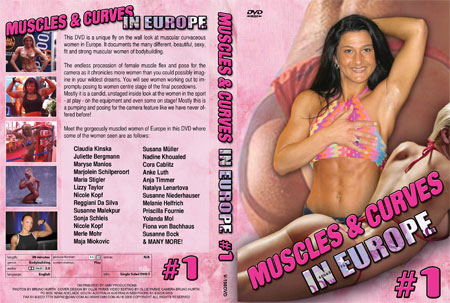 Click here for preview.

Muscles & Curves in Europe # 1
Also available on Digital Download.

This DVD is a unique fly on the wall look at muscular curvaceous women in Europe. It documents the many different, beautiful, sexy, fit and strong muscular women of bodybuilding.

The endless procession of female muscle flex and pose for the camera as it chronicles more women than you could possibly imagine in your wildest dreams.
You will see women working out to impromptu posing to women centre stage of the final posedowns.

Mostly it is a candid, unstaged inside look at the women in the sport - at play - on the equipment and even some on stage! Mostly this is a pumping and posing for the camera feature like we have never offered before!
Meet the gorgeously muscled women of Europe in this DVD where some of the women seen are as follows:

Claudia Kinska
Juliette Bergmann
Maryse Manios
Marjolein Schilperoort
Maria Stigler
Lizzy Taylor
Nicole Kopf
Reggiani Da Silva
Susanne Malekpur
Sonja Schleis
Nicole Kopf
Merle Mohr
Maja Miokovic
Susana Müller
Nadine Khoualed
Cora Cablitz
Anke Luth
Anja Timmer
Natalya Lenartova
Susanne Niederhauser
Melanie Helfrich
Priscilla Fournie
Yolanda Mol
Fiona von Bachhaus
Susanne Bock
& MANY MORE!

100 minutes of fantastic female action.

NTSC DVD, OPEN REGION