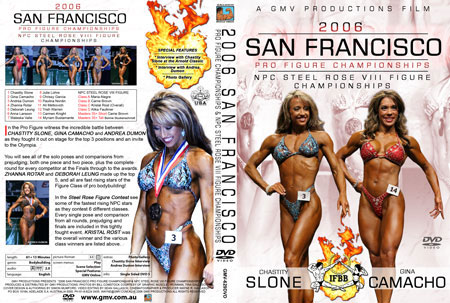 2006 San Francisco Pro Figure Championships and NPC Steel Rose VIII Figure Championships.

Held is the intimate and perfect for bodybuilding Chabot College Performing Arts Center in Hayward, Northern CA, this venue was perfect for our GMV team as well as the many fans.

In the Pro Figure witness the incredible battle between CHASTITY SLONE, GINA CAMACHO and ANDREA DUMON as they fought it out on stage for the top 3 positions and an invite to the Olympia. Pose for pose, comparison by comparison we have never seen such a tightly fought contest. This will go down in the record books as a first ever pro victory for the magnificent CHASTITY SLONE! This takes nothing away from all of the other great competitors in this top class field of 14 athletes.

You will see all of the solo poses and comparisons from prejudging, both one piece and two piece, plus the complete round for every competitor at the Finals through to the awards.
ZHANNA ROTAR and DEBORAH LEUNG made up the top 5, and all are fast rising stars of the Figure Class of pro bodybuilding!
In the Steel Rose Figure contest see some of the fastest rising NPC stars as they contest 6 different classes. Every single pose and comparison from all rounds, prejudging and finals are included in this tightly fought event. KRISTAL ROST was the overall winner and the various class winners are listed below.
Special Features:
* Interview with winner Chastity Slone
* Photo Gallery
Running time 61 mins + 13 mins = 74 mins.
Photos by Bill Comstock courtesy Graphic Muscle/Iron Man and Tina Gallasch.

Results:
2006 San Francisco Pro Figure
1 Chastity Slone, USA
2 Gina Camacho, USA
3 Andrea Dumon, USA
4 Zhanna Rotar, USA
5 Deborah Leung, Canada
6 Anna Larsson, Sweden
7 Waleska Valle, USA
8 Julie Lohre, USA
9 Chrissy Garcia, USA
10 Paulina Nordin, Sweden
11 Ali Metkovich, USA
12 Trish Warren, USA
13 Carmen Knight, Great Britain
14 Myriam Bustamante, USA
2006 NPC Steel Rose # 8 Figure Championships
Class A
1. Maria Alegre
Class B
1. Carrie Brown
Class C
1. Kristal Rost (Overall)
Class D
1. Alika Faulkner
Masters 35+ Short
1. Carrie Brown
Masters 35+ Tall
1. Bonnie Stuckenschmidt (Overall)
Available in NTSC DVD, OPEN REGION