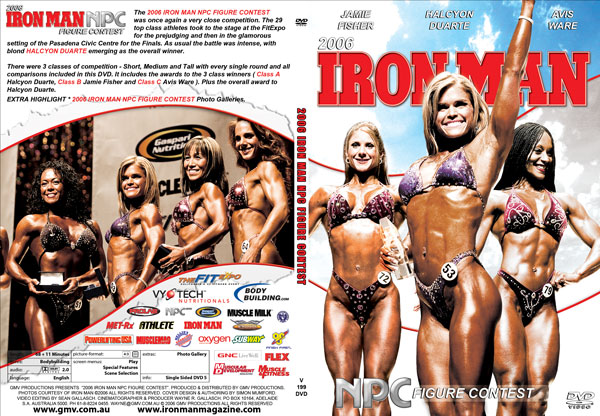 Click here for preview.

2006 Iron Man NPC Figure Contest
The 2006 IRON MAN NPC FIGURE CONTEST was once again a very close competition. The 29 top class athletes took to the stage at the FitExpo for the prejudging and then in the glamorous setting of the Pasadena Civic Centre for the Finals.
As usual the battle was intense, with blond HALCYON DUARTE emerging as the overall winner. There were 3 classes of competition - Short, Medium and Tall with every single round and all comparisons included in this DVD.

PHOTO GALLERY.

It includes the awards to the 3 class winners (Class A - Halcyon Duarte, Class B - Jamie Fisher and Class C - Avis Ware ). Plus the overall award to Halcyon Duarte.
EXTRAS:
2006 IRON MAN NPC FIGURE CONTEST PHOTO GALLERIES:
There are separate prejudging and finals photo galleries in the DVD.

Click here for our COMPLETE LIST OF ALL IRON MAN PRO RELATED DVDs.
The Results:
Overall Winner: Halcyon Duarte
Class A
1. Halcyon Duarte
2. Diana Tinnelle
3. Masae Parker
4. Patty Farrow
5. Lynn Widdowson
NP. Franci Alberding
NP. Maria Alegre
NP. Cinthya Beltran
NP. Dolores Burlingame
NP. Christine Camacho
NP. Mimi M. Dew
NP. Sandra Ejnes
NP. Kim Fletcher
NP. Susan Fuson
NP. Dena Gunnoe
NP. Jennifer Keaton
NP. Kerstin Khalfani
NP. Roxana Kreklo
NP. Tracey Martin
NP. Angelica Moore
NP. Karen Mullarkey
NP. Melanie Nakajiv
NP. Ann Pratt
NP. Jana Stewart
NP. Soumaya Wilmore

Class B
1. Jamie Fisher
2. Anne Holbrook
3. Venus Ramos

Class C
1. Avis Ware
2. Megan Payan
3. Tamee Marie
4. Shari Yates
5. Michelle Wauro