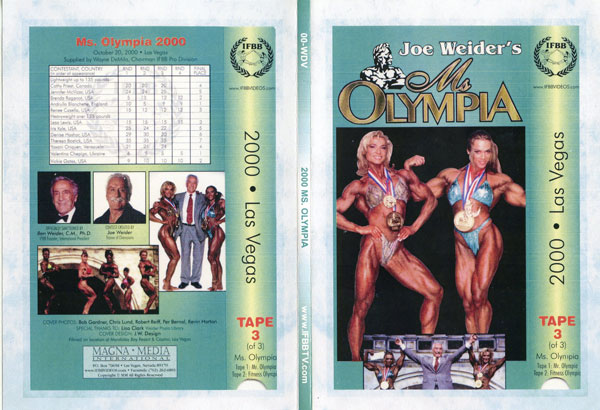 2000 Ms. Olympia (Historic DVD)

2000 MS. OLYMPIA. For the first time ever, there are TWO Ms. Olympia champions! Andrulla Blanchette of England is the first lightweight (under 135 pounds) Ms. Olympia, while newcomer Valentina Chepiga of the Ukraine won with a nearly perfect score in the heavyweight Ms. Olympia.

LIGHTWEIGHTS: Starring Andrulla Blanchette (1), Brenda Raganot (2), Renee Casella (3), Cathy Priest (4), Jennifer McVicar (5).

HEAVYWEIGHTS: Starring Valentina Chepiga (1), Vickie Gates (2), Lesa Lewis (3), Yaxeni Oriquen (4), Iris Kyle (5), Denise Hoshor (6), Th-resa Bostick (7). This 85 minute DVD includes prejudging highlights.

This is an authorized and licensed copy made directly from the broadcast-quality master tape.
2000 Ms. Olympia Results
*No overall Ms. Olympia this year.
+135 lbs Class
1 Valentina Chepiga Ukraine
2 Vickie Gates USA
3 Lesa Lewis USA
4 Yaxeni Oriquen Venezuela
5 Iris Kyle USA
6 Denise Hoshor USA
7 Th-Resa Bostick USA
-135 lbs Class
1 Andrulla Blanchette England
2 Brenda Raganot USA
3 Renee Casella USA
4 Cathy LeFrancois-Priest Canada
5 Jennifer McVicar USA

Running time: 85 minutes.


To see more of Valentina Chepiga, please click here for GMV-389DVD.








To see more of Andrulla Blanchette, please click here for GMV-045DVD.






Available in NTSC DVD Only (Region Free)

Customers who viewed this DVD also viewed:








Click here for GMV Productions complete list of Female Muscle and Fitness DVDs.