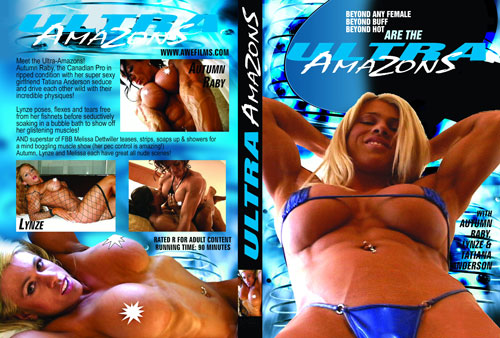 Ultra Amazons - Melissa Dettwiller, Autumn Raby, Lynze & Tatiana Anderson

Please confirm you are Over 18 if ordering this DVD. PREVIEW CLIP.

*TO ORDER, PLEASE EMAIL TINA@GMV.COM.AU FOR A PAYPAL INVOICE.

See 4 amazing women who can only be described as Ultra-Amazons!

Autumn Raby, the Canadian Pro in ripped condition with her super sexy bodybuilder girlfriend Tatiana Anderson . They seduce and drive each other wild with their incredible physiques.

Lynze poses, flexes and tears free from her fishnets before seductively soaking in a bubble bath to show off her glistening muscles.

And finally the superstar of female bodybuilding, Melissa Dettwiller teases, strips, soaps up and showers for a mind boggling muscle show that only she can deliver. Her pec control is amazing!

Autumn, Lynze and Melissa each have great all nude scenes!

Rated R for Adult Content
Running time: 90 minutes

Autumn Raby has 2 bodybuilding DVDs of her very own.
My Flexing Season Vol. 1

* Available in NTSC ONLY (region free)

Customers who viewed this DVD also viewed:







Click here for GMV Productions complete list of Female Muscle and Fitness DVDs.