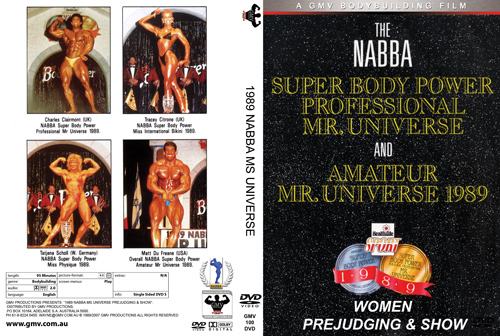 1989 NABBA Universe: The Women - Prejudging & Show

Digital Download.

This was the last Universe to be held in the famous Wembley Conference Centre. It was a wonderful venue for bodybuilding and was the theatre for the 1982 Mr Olympia contest and many subsequent English GPs.

It was also the first time we used our brand new broadcast equipment to record a Universe event! Prior to the evening show we interviewed top competitors, men and women, plus the mighty REG PARK.

In the Figure Class, TRACEY CITRONE of England had the perfect combination of symmetry, condition and style to edge out the Austrian champion BEATA PLANK.

PHOTO GALLERY.

We wrote at the time that it was a contest you will never forget. I feel those words where prophetically correct as I still often recall the events of that wonderful contest today. In the Women's Physique Class winner TATJANA SCHOLL and SABINE WICK, both from Germany, were out of sight with physiques from another planet! They were huge and ripped with muscular backs, arms, legs, abs - you name it they have it.

Sensational newcomer from Italy RAFFAELA BRUCK was so unlucky. Any other year she would have been the winner with her amazing V-shape taper and fantastic condition. She had class, style and symmetry rivalling that of Juliette Bergmann. All 3 women posed in the European G-string style bikini which is so popular in UK and Europe.

When the smoke had cleared, Australia's defending champion LEISA CAMPBELL had to settle for 4th place, such was the quality of this contest. It also saw a record number of Aussie women competing with 4 in the FIGURE Class and 3 in the WOMEN'S PHYSIQUE Class.

The DVD includes the complete posing routines of every single competitor and at the show you see the posing routines of all top 6 finalists in each class through to the exciting posedowns and final awards.


1989 NABBA Mr. Universe: Men - The Show

This was the last Universe to be held in the famous Wembley Conference Centre in London.

102 superbly muscled and buffed athletes - the largest field of competitors ever seen at the Universe - gathered from all over the world to battle it out for the top titles. In the AMATEUR DIVISION, the Short Class 3 winner was the current Mr. America - MATT DUFRESNE.


The complete Women's results listing every competitor:

MISS BIKINI - FIGURE

1. Tracey Citrone - England
2. Beate Plank - Austria
3. Mary Scott - Scotland
4. Stephanie Wehr - West Germany
5. Elizabeth Resch - Austria
6. Karen Titherington - England
7. Sarah Staunton - England
8. Jackie McKnight - Australia
9. Jeanette Harper - Australia
10. Alison Eyre - Australia
11. Judith Campbell - Australia
12. Pascale Van Uxem - Belgium
13. Giselle Bedin - France (tie with Patricia Potter)
13. Patricia Potter - Ireland (tie with Giselle Bedin)
15. Karen Hughes - England
16. Cathy Simian - France
UNPLACED
Petro Thysse - South Africa
Ana Auncon Viano - Spain
MISS BIKINI - PHYSIQUE
1. Tatjana Scholl - West Germany
2. Sabine Wick - West Germany
3. Raffaela Bruck - Italy
4. Leisa Campbell - Australia
5. Irene Nickole - Australia
6. Tania Panza - Italy
7. Ella Hank - West Germany
8. Jackie Cook - Australia
9. Beverley Hahn - England
10. Rina Howard - South Africa
11. Yvonne Balzan - Malta
12. Roswitha Janatsch - Austria
UNPLACED
Pam Davies - England
Maria Santos Raposo - Spain
Kathy Wilton - Australia
Yvette Danq - Belgium
* Available in NTSC DVD Only (Region Free

)
Customers who viewed this DVD also viewed:







Click here for GMV Productions complete list of Female Muscle and Fitness DVDs.