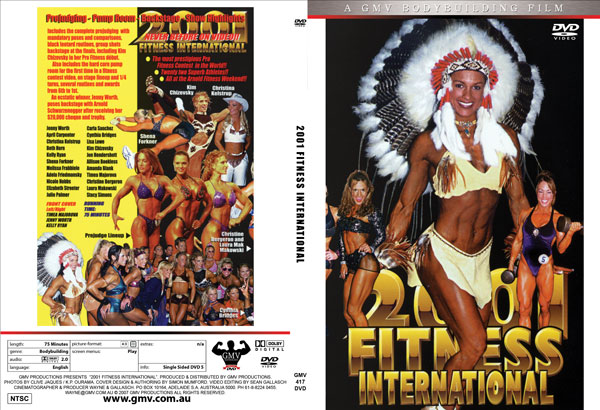 2001 Fitness International
Also on Digital Download. Preview clip.
* The most prestigious Pro Fitness Contest in the World!!
* 22 Superb Athletes!!
* All at the Arnold Fitness Weekend!!

Includes the complete prejudging with mandatory poses and comparisons, black leotard routines, group shots backstage at the finals, including Kim Chizevsky in her Pro Fitness debut.
Also includes the hard core pump room for the first time in a fitness contest video, on stage lineup and ¼ turns, several routines and awards from 6th to 1st.

An ecstatic winner, Jenny Worth, poses backstage with Arnold Schwarzenegger after receiving her $20,000 cheque and trophy.

Seen in this DVD:


Jenny Worth

April Carpenter

Christina Kelstrup

Beth Horn

Kelly Ryan

Shena Forkner

Melissa Frabbiele

Adela Friedmansky (Garcia)

Nicole Hobbs

Elizabeth Streeter

Julie Palmer

Carla Sanchez

Cynthia Bridges

Lisa Lowe

Kim Chizevsky

Jen Hendershott

Allison Bookless

Amanda Blank

Timea Majorova

Christine Bergeron

Laura Makowski

Stacy Simons

2001 FITNESS INTERNATIONAL RESULTS


1. Jenny Worth USA

2. Kelly Ryan USA

3. Adela Friedmansky (Garcia) USA

4. Jenny Hendershott USA

5. Timea Majorova Slovakia

6. Kim Chizevsky USA

7. Shena Forkner USA

7. Mandy Blank USA

9. Melissa Frabbiele USA

10. Nicole Hobbs USA

11. Elizabeth Streeter USA

12. Alison Bookless USA

13. Laura Makowski USA

14. Cynthia Bridges USA

15. Stacy Simons USA

16. April Carpenter USA

17. Lisa Lowe USA

18. Carla Sanchez USA

19. Christine Bergeron Canada

20. Christina Kelstrup Denmark

20. Julie Palmer USA

22. Beth Horn USA

DVD CONTENT:

Prejudging * Pump Room * Backstage * Show Highlights.

Running time:

75mins

Our other 2001 Arnold Classic Weekend DVDs are as follows:

2001 Arnold Classic Prejudging, Finals and Pump Room

,

click here

for GMV-412DVD

2001 Ms International, complete Prejudging

,

click here

for GMV-415DVD

2001 Arnold Classic Men at the Expo

,

click here

for GMV-414DVD

2001 Ms. International Pump Room & Contest Posing

,

click here

for GMV-416DVD

2001 Arnold Weekend - The Women at the Expo

,

click here

for GMV-413DVD
GMV has shot video at the Arnold Classic in these years: 2001, 2002, 2006, 2007, 2008, 2009 & 2010. And many more years.
No known Arnold Classic video/DVD exists from the years 2003 to 2005.

See our COMPLETE ARNOLD CLASSIC DVD INDEX LISTING here.

NTSC DVD, OPEN REGION
Customers who viewed this DVD also viewed:






Click here for GMV Productions complete list of Female Muscle and Fitness DVDs.