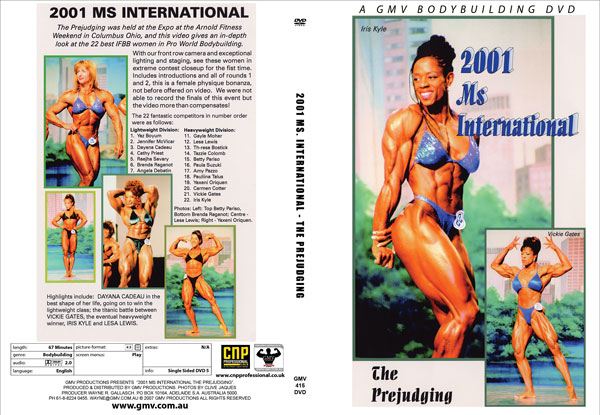 Preview clip.

2001 MS INTERNATIONAL - THE PREJUDGING

Also on Digital Download.
The 2001 Prejudging was held at the Expo at the Arnold Fitness Weekend in Columbus Ohio. This DVD gives a complete and in-depth look at the 22 best IFBB women in Pro World Bodybuilding.

With our front row camera and exceptional lighting and staging, see these women in extreme contest closeup for the fist time at the Arnold. Includes introductions and all of rounds 1 and 2, making this is a female physique bonanza, not before offered on video. We were not able to record the finals of this event but this video more than compensates! It brings you the nitty gritty of the Ms International of 2001in close-up.

Running time: 67 mins

The 22 fantastic competitors you will see in this number order were as follows:

Lightweight Division:
1. Yaz Boyum
2. Jennifer McVicar
3. Dayana Cadeau (Class Winner)
4. Cathy Priest
5. Raejha Savary
6. Brenda Raganot
7. Angela Debatin
8. Monica Martin
9. Peggy Schoolcraft
10. Denise Masino

Heavyweight Division:
11. Gayle Moher
12. Lesa Lewis
13. Theresa Bostick
14. Tazzie Colomb
15. Betty Pariso
16. Paula Suzuki
17. Amy Pazzo
18. Pauliina Talus
19. Yaxeni Oriquen
20. Carmen Cotter
21. Vickie Gates (Class Winner)
22. Iris Kyle

Highlights include:
DAYANA CADEAU in the best shape of her life, going on to win the lightweight class; the titanic battle between VICKIE GATES (the eventual heavyweight winner), IRIS KYLE and LESA LEWIS.

See our COMPLETE ARNOLD CLASSIC DVD INDEX LISTING here.
2001 Ms. International Results
March 2, 2001 at Columbus, Ohio

Overall Winner:
Vickie Gates USA

Lightweight
1 Dayana Cadeau Canada
2 Brenda Raganot USA
3 Angela Debatin Brazil
4 Cathy LeFrancois-Priest Canada
5 Denise Masino USA
6 Yaz Boyum USA
7 Jennifer McVicar USA
8 Raejha Savary Canada
9 Peggy Schoolcraft USA
10 Monica Martin Brazil

Heavyweight
1 Vickie Gates USA
2 Iris Kyle USA-California
3 Lesa Lewis USA
4 Yaxeni Oriquen Venezuela
5 Betty Pariso USA
6 Gayle Moher USA
7 Tazzie Colomb USA
8 Amy Pazzo USA
9 Th-resa Bostick USA
10 Paula Suzuki USA
11 Carmen Cotter New Zealand
12 Pauliina Talus Finland
Our other 2001 Arnold Classic Weekend DVDs are as follows:

2001 Arnold Classic Prejudging, Finals and Pump Room, click here for GMV-412DVD
2001 Fitness International, click here for GMV-417DVD
2001 Arnold Classic Men at the Expo, click here for GMV-414DVD
2001 Ms. International Pump Room & Contest Posing, click here for GMV-416DVD
2001 Arnold Weekend - The Women at the Expo, click here for GMV-413DVD
GMV has shot video at the Arnold Classic in these years: 2001, 2002, 2006, 2007, 2008, 2009 & 2010. We also have 2011.
No known Arnold Classic video/DVD exists from the years 2003 to 2005.
NTSC DVD, OPEN REGION