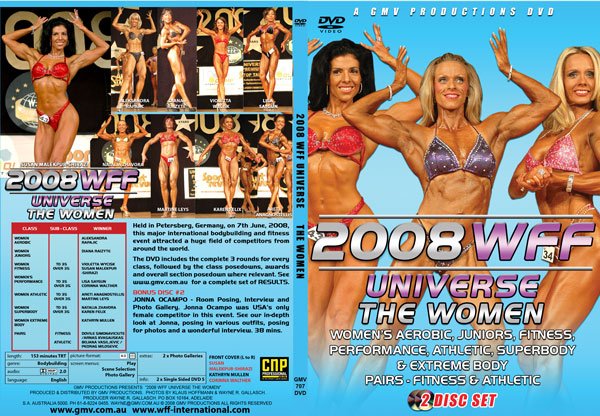 Preview clip.

2008 WFF Universe - The Women 2 DISC SET

Contest Disc 1 on Download.
Held in Petersberg, Germany, on 7th June, 2008, this major international bodybuilding and fitness event attracted a huge field of competitors from around the world. In this DVD you will see the complete posing routine of every single competitor in every class and every Pairs routine.
This Women's Disc #1 covers all the action from the women's classes and Pairs listed below:
WOMEN'S AEROBIC
WOMEN'S JUNIORS
WOMEN'S FITNESS TO 35/OVER 35
WOMEN'S PERFORMANCE TO 35/OVER 35
WOMEN'S ATHLETIC TO 35/OVER 35
WOMEN'S SUPERBODY TO 35/OVER 35
WOMEN'S EXTREME-BODY
PAIRS-FITNESS
PAIRS-ATHLETIC

The DVD includes the complete 3 rounds for every class, followed by the class posedowns, awards and overall section posedown where relevant. The 3 rounds being the lineup for every class, then the complete posing routines of each competitor followed by comparisons.
RUNNING TIME OF DISC #1: 114 mins.
BONUS DISC #2
JONNA OCAMPO - Room Posing, Interview and Photo Gallery.
Jonna Ocampo was USA's only female competitor in this event. See our in-depth look at Jonna, posing in various outfits, posing for photos and a wonderful interview.

RUNNING TIME OF DISC #2: 40 mins. DISCONTINUED AS DISC 2 DOWNLOAD.
TRT for both discs: 154 mins.

Both Discs contain separate PHOTO GALLERIES. See below re photographers.
WFF class winner's photos courtesy Klaus Hoffmann. All other photos by Wayne Gallasch.
Please click here for a complete set of RESULTS for MEN & WOMEN.
Please click here for the MEN'S DVDs, GMV-710DVDSP.
WOMEN'S & PAIRS' RESULTS AS SEEN IN THIS DVD SET.
WOMEN AEROBIC
1 Aleksandra Rapajic
2 Bojana Vasiljevic
3 Natasa Maksimovic
4 Jonna Ocampo

WOMEN JUNIORS
1 Diana Raizyte
2 Oksana Vokina
3 Katarina Fabianova
4 Barbara Belancova
5 Adrienne Tibballs

WOMEN FITNESS TO 35
1 Violetta Wycisk
2 Yvonne Wetzler
3 Clare Burrell
4 Ann-Kristin Van Husen

WOMEN FITNESS OVER 35
1 Susan Malekpur-Shirazi
2 Katie Farrell
OVERALL- WINNER WOMEN FITNESS: SUSAN MALEKPUR-SHIRAZI - Germany
WOMEN PERFORMANCE TO 35
1 Lisa Saygun
2 Dovile Simonaviciute
3 Annie Guillet
4 Eva Sveinsdottir

WOMEN PERFORMANCE OVER 35
1 Corinna Walther
2 Anita Nicolaou
3 Danijela Kolakovic
4 Laska Varkaris
5 Iris Kraft

OVERALL- WINNER WOMEN PERFORMANCE: CORINNA WALTHER - Germany

WOMEN ATHLETIC TO 35
1 Areti Anagnostellis

WOMEN ATHLETIC OVER 35
1 Martine Leys

OVERALL- WINNER WOMEN ATHLETIC: ARETI ANAGNOSTELLIS - Australia
WOMEN SUPERBODY TO 35
1 Natalia Zhavora
2 Sabine Cortinovis

WOMEN SUPERBODY OVER 35
1 Karen Felix

OVERALL- WINNER WOMEN SUPERBODY: KAREN FELIX - France

WOMEN EXTREME-BODY
1 Kathryn Mullen
2 Taylor Young
PAIRS-FITNESS
1 Dovile Simonaviciute / Arnas Kvasauskas
2 Diana Raizyte / Mantas Jankauskas
3 Sabine Cortinovis / Stephane Richeda
4 Katie Farrell / Stuart Roe
5 Barbara Belancova / Jozef Bomba
6 Tatjana Gromyko / Yuriy Yeromenko

PAIRS-ATHLETIC
1 Bojana Vasiljevic / Pedrag Milosevic
2 Corinna Walther / Andreas Trienbacher
3 Iris & Harald Kraft
NTSC DVD, OPEN REGION