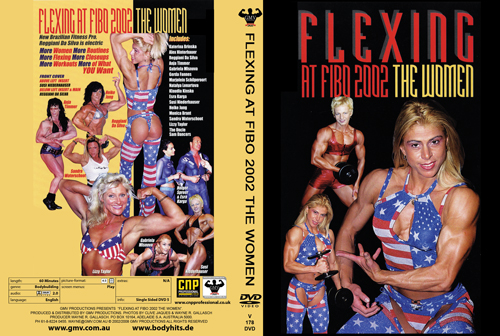 Click here for preview


Flexing at FIBO 2002 - The Women
** More Women
** More Routines
** More Flexing
** More Closeups
** More Workouts
** More of What YOU Want to see
This annual event was held at the huge Essen Exhibition Centre in Essen, Germany, from April 18-21st. It is the world's largest bodybuilding and fitness Expo. There are 8 main halls and each hall is packed with various shows and products to please every possible taste in bodybuilding and fitness. This Expo is not just another fitness trade show - it is a life experience. There were so many stars in 2002 that we made separate MEN'S and WOMEN'S DVDs.

Includes workouts, posing shows and interviews with the following female stars:

Regiane Da Silva
Anja Timmer
Gabriela Mlsnova
Gerda Fannes
Marjolein Schilperoort
Natalya Lenartova
Klaudia Kinska
Esra Karga
Susi Niederhauser
Heike Jung
Monica Brant
Sandra Waterschoot
Lizzy Taylor
Katerina Brinska
Alex Hinterbauer
and
THE UNCLE SAM DANCERS.

See my complete FIBO Women's Report below.
Click here for the COMPLETE INDEX OF FIBO DVDs.

Brazilian Fitness Pro, now living in Germany, Regiane Da Silva is electric!! (See main picture front cover above). We now have our own DVD on Regiane, see below.


REGIANE DA SILVA: IFBB PRO FITNESS - THE LATIN SENSATION

Regiane Da Silva burst onto the Professional scene in 2006, after a stellar rise through the amateur ranks. She has competed in USA since 2006, where her career has taken off.

Her best placing ever was 4th last year at the Arnold Classic Fitness International, but who knows where this amazing athlete will place this year.


FIBO 2002 - The Men

** More Men ** More Muscle ** More Flexing ** More Closeups ** More Workouts ** More Stars. There are 8 main halls and each hall is packed with various shows and products to please every possible taste in fitness. Expo is not just another fitness trade show - it is a life experience.

There were so many stars in 2002 that we made separate MEN'S and WOMEN'S DVDs. Check out the preview clip interview by Clive Jaques with up and coming young bodybuilding star Mustapha Bellaha.


2002 FIBO Report - The Women by Wayne Gallasch

What is FIBO? It's the world's largest bodybuilding and fitness expo, now dubbed as "FIBOlympia in Essen, Germany." There was a real touch of the Olympic spirit with German Winter Olympics Ice Queen Anni Friesinger adding a touch of gold to the FIBO 2002 scene. She exchanged her golden skates for training shoes to talk about her fitness regime.
This year's event from April 18 to 21 was held in 11 separate halls and attracted a crowd of 70,000. I would rate the Sunday's crowd the largest I have ever seen at FIBO. It made quite a challenge to move and relocate our 2 video teams from hall to hall without missing any of the action. Of the 450 exhibitors, the ones promoting hard core weight training and bodybuilding were the most popular with European Women's fitness athletes from Germany and Slovakia in particular enjoying a very high profile. More on this later as I believe we recorded some new young bodybuilders and fitness competitors who will be pro superstars of the future.
THE WEIDER POSING SHOW
The Weider posing team posed 3 times on both Saturday and Sunday making a fantastic feast of muscle for their fans to enjoy. Now to the women of the Weider Show. The star was German Professional HEIKE JUNG. She gave a powerful display in a style and condition reminiscent of KIM CHIZEVSKY at her best. Starting in a black cape she soon revealed a world class physique.

She was greatly advanced from the physique size and condition in the footage sent us to edit by her boyfriend several years ago! See our DVD GMV-256DVD.
Belgian pro GERDA FANNES impressed me with her style, shape, size and excellent condition. These names above are presently unknown in USA but I hope that GMV can help to change this situation by promoting the many wonderful physique and fitness stars of Europe.
MC of the Weider Show was the wonderfully loud and exuberant Harry De Jonge of Holland. He even took his top off and posed in one of the shows. Harry helps make FIBO the vibrant, exciting, unique event that it is. The only small negative was the ridiculous pink and /or blue lights used to light much of the posing. This is bodybuilding and not a disco or rock concert. The strobing and flashing lighting was somewhat insulting to both the pro bodybuilders and the fans during their posing routines on the main show stage.
Bodybuilders and body painters HOLGER SPREER and his lady, the beautiful fitness competitor ESRA KARGA certainly opened my eyes! Both topless, Holger wore just trunks, and for Esra just a bikini bottom, with their upper bodies painted to represent tank tops. They are known as "Human Eclipse".
I also taped German bodybuilder and kick boxing champion ISSA FADI. He was one tough dude in fantastic condition. Also selling photos was DAWN SUTHERLAND, fresh from her recent Ms International Pro debut at the Arnold Fitness Weekend. It was a shame she was not booked to perform on any stage.
We spoke to DORIAN YATES who was promoting his 2002 Dutch Pro GP with partner Papa Mike. We then taped 4 top Dutch bodybuilders thanks to Papa Mike and they were STEVEN DE WINDT, PHILIEP VAN NUFFEL, and 2 women MARJOLEIN SCHILPEROORT and SANDRA WATERSCHOOT. Philiep actually represents Belgium in contests.
We also shot a feature at FIBO (workout, posing in various outfits and interview) with LIZZY TAYLOR. Lizzy is quite a star in Germany and we first met at my Legends Reunion in October 2000 in California. On the SVH video stand I spotted WFF World Junior Champion POLI MOUTEVELIDIS, just as we were packing up the equipment after 4 exhausting days. I also spotted WFF female star SUZI MALEKPUR-SHIRAZI. Oh well, you can't capture everyone and this year was a record haul of bodybuilders that we did manage to tape.
THE ALLSTARS STAGE
My old friend and co-owner of AllStars, Stephan Korte, always gives us every assistance from our front of stage, on stage and rear of stage taping positions. He also provided a small gym area where we could shoot workouts and pumping up.

THE WOMEN
REGGIANI DA SILVA Brazil
SUSI NIEDERHAUSER Austria
ALEX HINTERBAUER Germany
GERDA FANNES Belgium
GABRIELA MLSNOVA Slovakia
KLAUDIA KINSKA Slovakia
NATALYA LENARTOVA Slovakia
KATERINA BRINSKA Slovakia

We shot gym workouts or special pumping and posing sequences with many of these stars, and highlights will appear in each of the separate men's and women's FIBO videos to be called FLEXING AT FIBO 2002.
With the women, SUSI NIEDERHAUSER was in her all time best condition as she prepared for her pro show debut in Texas several weeks later. (She won her class in the Texas event and gained her invitation to the Ms Olympia at her first pro show!) Her arms and abs were particularly outstanding and I was most impressed by her rock hard condition and the appealing package she presents as the new look preferred in women's bodybuilding. I wish her all the best in her pro career.

There were 2 new fitness women who absolutely amazed me with their incredible physiques (not a word usually associated with fitness) and their stunning routines. REGGIANI DA SILVA from Brazil and now living in Madrid is destined to be a superstar - not only in fitness but in movies as well. Her routine is electric and she throws a switch and goes into overdrive when she hits the stage. Personality, looks, perfect skin, brilliant routine and a body that could win NABBA Universe Figure titles is just a very modest description of this rising star.
The other fitness star who greatly impressed me was GABRIELA MLSNOVA. She performed a gypsy style routine full of power, grace, style and pure sex appeal. Her physical shape was also extraordinary and with the best calves I saw at FIBO this year, she could also be a star in Figure Class or Women's Bodybuilding, such are her genetics. Both these women are quite tall. Watch for their names as they obtain more publicity in the next year or so.
Also spotted at the AllStars booth was MARJA LEHTONEN of Finland.

THE UNIVERSAL STAGE
This stage was superbly MC'd by 1998 Fitness Olympia winner MONICA BRANT, always in very good condition and excellent on the 'mike'. Her star posers were JOE DeANGELIS, GIOVANNY THOMPSON, THOMAS DEVANT, ARNAUD PLAISANT, DANNY HINDALOV, ALAIN BELIGUE plus current NABBA Universe Women's physique champion ANJA TIMMER. This show is always fun to tape and a little less formal than the other show stages.
A special thanks to my hard working team of Clive Jaques and my two sons Sean and Justin. Also thanks to Willy Zdenek, Harald Kohler, Thomas Klose and Dennis Schaeffer for their help and support.
Now to the editing which will be a wonderful challenge with so many new stars to fit into this years 2 videos of only 90 minutes.
NTSC DVD, OPEN REGION