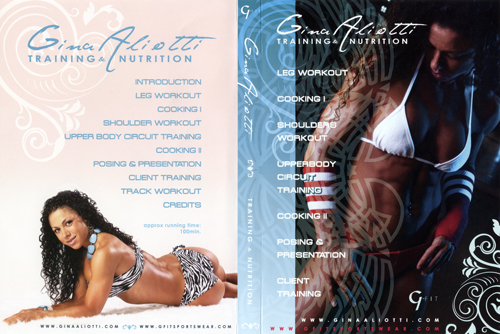 Click here for preview.


Gina Aliotti – Training & Nutrition

Tips on nutrition – training – motivation – fitness – performance and competition.
This exclusive new training DVD runs approximately 100 minutes. Gina is a Pro Figure champion and the information contained is applicable to every woman who lifts weights, or wants to improve and sculpt her shape and physique. The DVD includes all aspects of weight training, one-on-one client training, healthy cooking and diet advice, posing and presentation plus a track workout.
Watch Gina train her amazing legs, shoulders and perform a pre-contest upper body circuit as she prepares for one of the biggest shows of the year, The Arnold Classic Figure International.
Please click here to see Gina winning this contest in 2008 in our DVD which is GMV-695DVDSP. See also our 2009 Figure International DVD.

Whether in the gym, at the track or in the kitchen, learn how Gina does what she does and sculpts her body into one of the top IFBB Figure Professionals on the scene today. See how Gina performs some of her favourite exercises and learn how she has become the young Figure Professional Champion she is today.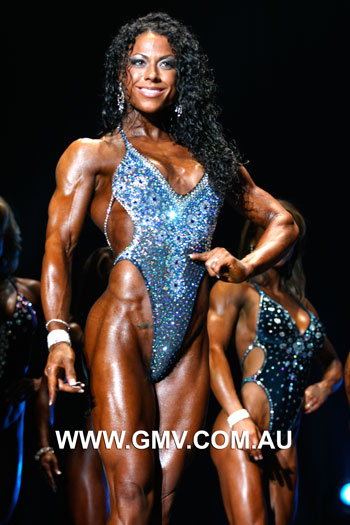 DVD CONTENTS:
Introduction
Leg Workout
Cooking Part 1
Shoulder Workout
Upper Body Circuit Training
Cooking Part 2
Posing & Presentation
Client Training
Track Workout (Cardio)
Credits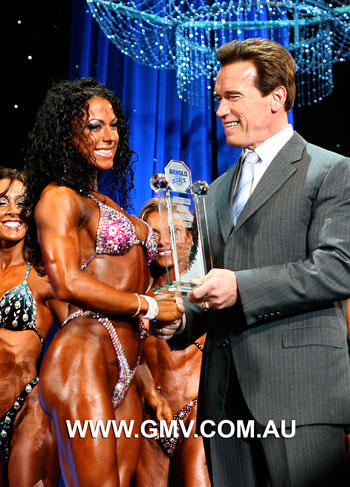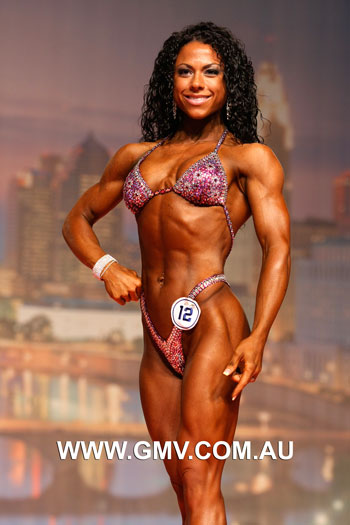 Gina Aliotti Contest History:
2004
Border States Classic - NPC, Figure Medium, 1st
San Francisco Championships - NPC, Figure C, 3rd
2005
San Diego Championships - NPC, Figure Medium-Tall, 1st
San Diego Championships - NPC, Figure Overall Winner
USA Championships - NPC, Figure D, 1st
2006
California Pro Figure - IFBB, 4th
Colorado Pro Championships - IFBB, Figure, 7th
Olympia - IFBB, Figure, 6th
Palm Beach Pro Figure - IFBB, Figure, 2nd
Tournament of Champions Pro Figure - IFBB, Winner
2007
Ms International - IFBB, Figure, 6th
Olympia - IFBB, Figure, 2nd
Palm Beach Pro Figure - IFBB, Figure Winner
Tournament of Champions Pro Figure - IFBB, Winner
2008
Ms International - IFBB, Figure Winner
Olympia - IFBB, Figure, 2nd
Tournament of Champions Pro Figure - IFBB, Winner
2009
Ms International - IFBB, Figure, 2nd
Olympia - IFBB, Figure, 2nd

Running time: 100 mins
NTSC DVD, OPEN REGION