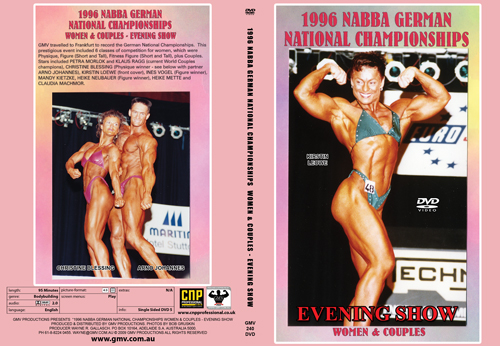 1996 NABBA German National Championships: The Women & Couples - Evening Show


With 3 million bodybuilders, Germany is the second strongest bodybuilding country in the world after USA. Accordingly 11 classes were needed to cater for the huge number of competitors making this easily the largest number we have seen in a single contest.
Held in the famous Jahrhunderthalle in Frankfurt on June 1st, 1996, GMV covered this incredible event featuring 175 outstanding competitors in total - male and female. Separate DVDs have been prepared for both Men and Women from the Evening Show. Due to time constraints at such a huge event, we were not able to produce Prejudging DVDs from this contest. The posing routines of all finalists in each women's class are included, plus all awards and posedowns. Please click
here
for THE MEN from this event,
GMV-239DVD.

Held on the same night as part of the show was the
1996 9th Miss World Grand Prix.
This was a Figure event of superlative standard featuring the best figure women in the world. For all of the details and
RESULTS
from this
1996 Figure Grand Prix
, please
click here for GMV-227DVD.
The Show finished at 2.15am after 7 and a half hours of non-stop action!! Nothing is left out in this incredible 95 minute Women's German Championships DVD.
This prestigious event also included
6 classes of competition
for women
PLUS Couples
. They were as follows:
Physique Short & Tall Class
Figure Short & Tall Class
Fitness Figure Short & Tall Class
Couples
The main stars included Petra Morlock and Klaus Ragg (current World Couples champions), Christine Blessing (Physique Winner), Kirstin Loewe, Ines Vogel (Fitness Figure Winner), Mandy Kietke, Heike Neubauer (Figure Winner), Heike Mette and Claudia Machmor. Two of the female stars are pictured on the cover above. Second place in the Couples went to Christine Blessing and Arno Johannes who are pictured rear cover.
OVERALL PHYSIQUE WINNER:
Christine Blessing
OVERALL FIGURE WINNER:
Heike Neubauer
OVERALL FITNESS FIGURE WINNER:
Ines Vogel
COUPLES WINNERS:
Petra Morlock & Klaus Ragg
1996 9th Miss World Figure Grand Prix

It was obvious from the first call out that the Australian girls were going to do well, and it eventually became a battle between Susana Palma of Spain and Australia's Diane Jardim for the top honour.

Diane was the winner of this particular battle in an extremely tough line-up. The German audience was very gracious in accepting the international lineup, and called for their favourite competitor regardless of the country of origin.
NTSC DVD, OPEN REGION