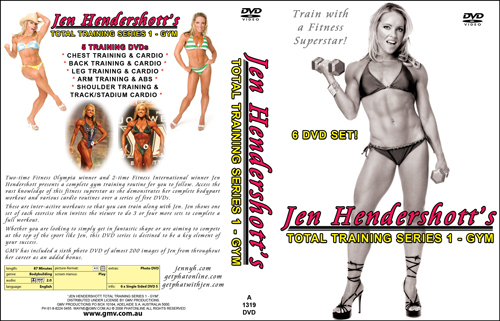 Jen Hendershott's Total Training Series 1 – GYM TRAINING
Two-time Fitness Olympia winner and two-time Fitness International champion (Arnold Classic event) Jen Hendershott presents a completely new gym training series for you to follow. Access the vast knowledge of this fitness superstar as she demonstrates her complete bodypart workout and various cardio routines over a series of five DVDs. In this Series 1, all 5 DVDs are based on training in the gym. Series 2 will be based on doing your training at HOME plus nutrition and recipe explanations and Series 3 will be based on POSING, PRESENTATION & IMPORTANT TIPS.

These are inter-active workouts so that you can train along with Jen. In each DVD, Jen shows one set of each exercise then invites the viewer to do 3 or four more sets to complete a full workout. Each individual DVD may be only 15 to 20 minutes long but due to Jen doing one set, and the viewer perhaps doing another 3 or 4 more sets, the total workout may well be from 60 to 80 minutes long. It is up to each individual how hard they wish to push themselves.

Whether you are looking to simply get in fantastic shape or are aiming to compete at the top of the sport like Jen, this DVD series is destined to be a key element of your success. Jen Hendershott is without doubt the most qualified and successful professional fitness competitor in the world.

GMV has included a FREE BONUS sixth disc PHOTO DVD of almost 200 contest and pump room images of Jen taken by us from throughout her career. Some other studio images were kindly supplied courtesy Jen Hendershott.

The 5 training DVDs as a set in Series 1 are as follows:

* CHEST TRAINING & CARDIO
* BACK TRAINING & CARDIO
* LEG TRAINING & CARDIO
* ARM TRAINING & ABS
* SHOULDER TRAINING & TRACK/STADIUM CARDIO

RT: 87 mins total coaching time by Jen.

BONUS PHOTO DISC #6 - Approx 200 photos. Photos by Wayne Gallasch and studio photos courtesy Jen Hendershott.

Click here to view Jen's winning Routine from the 2009 Arnold Classic Fitness International.

Click here for details on Jen's new DVD set: Total Training Series 2 - Training at home with Jen Hendershott, A-1320DVD.

Click here for details on Jen's new DVD set: Total Training Series 3 - Posing and Contest Prep, A-1321DVD.
FLASH NEWS JUST RECEIVED FROM JEN – August 2009
"The fitness industry has been very good to me. It is time for me to give back. I love working with people who aspire to improve themselves. I will focus on my new supplement company PGN, my training program Get Phat Online, Phat Camp, Get Phat Promotions and the many other projects that I am currently working on. I am not retiring but rather taking some time to work on the many other things that I am passionate about."
Jen has been a competitive fitness athlete for over 12 years. She is the current reigning Fitness Olympia champion and Fitness International Champion as at August 2009.
Please click here to see Jen as she wins her latest title in the 2009 ARNOLD CLASSIC COMPLETE WOMEN'S 2 DVD SET, GMV-741DVDSP.
Please click here to see Jen as she wins her latest Fitness Olympia title in the 2008 OLYMPIA WOMEN'S DVD, A-1287DVD.

Please click here to see the 2009 WOMEN'S OLYMPIA DVD, A-1325DVD. (Jen did not compete in the 2009 Fitness Olympia).
Please click here to see our COMPLETE LISTING OF ALL WOMEN'S OLYMPIA DVDs.

Pick up the 2009 August issue of Iron Man magazine.
Jen will be the feature cover model and have a beautiful spread inside Iron Man that demonstrates her true athletic ability.
Congrats Jen! You are a true Champion!

DVD cover design by Ollie Parke, copyright GMV Productions, August 2009. DVDs distributed under license by GMV. Studio photos courtesy Jen Hendershott, contest pix courtesy Wayne Gallasch.
Contest History:
1997 NPC Mike Francois World Gym Classic, 1st
1997 NPC Junior National Championships, 2nd
1997 NPC Nationals Championships, 4th
1998 NPC USA Fitness Championships 10th, Routine Winner
1998 NPC North Americans, 2nd, Routine Winner
1998 NPC Nationals Championships, 7th, Routine Winner
1999 NPC USA Fitness Championships, 1st (Pro qualifier)
2000 IFBB Ms. Fitness International, 5th
2000 IFBB Jan Tana Fitness Classic, 4th
2000 IFBB Pittsburgh Pro Show, 4th
2000 IFBB Ms. Fitness Olympia, 7th
2001 IFBB Ms. Fitness International, 4th
2001 IFBB Jan Tana Fitness Classic, 2nd
2001 IFBB Pittsburgh Pro Show, 2nd
2001 IFBB Ms. Fitness Olympia, 6th
2002 IFBB Ms. Fitness International, 3rd
2002 IFBB New York Pro Show, 2nd
2002 IFBB Southwest Pro Show, 2nd
2002 IFBB Jan Tan Fitness Classic, 4th
2002 IFBB Ms. Fitness Olympia, 5th
2003 IFBB Ms. Fitness International, 5th
2002 IFBB GNC Show Of Strength, 4th
2003 IFBB Ms. Fitness Olympia, 5th
2003 IFBB GNC Show Of Strength, 3rd
2004 IFBB Ms. Fitness International, 3rd
2004 IFBB GNC Show Of Strength, 3rd
2004 IFBB Fitness Olympia, 2nd
2005 IFBB Ms. Fitness International, 1st
2005 IFBB Ms. Fitness Olympia, 1st
2006 IFBB Ms. Fitness International, 3rd
2006 IFBB Ms. Fitness Olympia, 3rd
2007 IFBB Ms. Fitness International, 2nd
2007 IFBB Ms. Fitness Olympia, 3rd
2008 IFBB Ms. Fitness Olympia, 1st
2009 IFBB Ms. Fitness International, 1st
NTSC DVDS, OPEN REGION