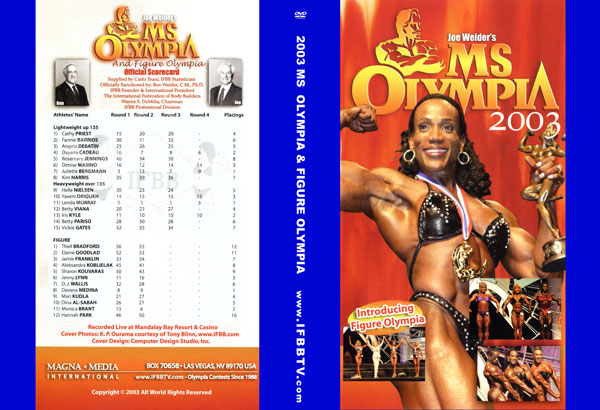 THIS IS A SPECIAL COMBINATION of 2 Women's Events on one MASSIVE DVD! Ms. Olympia and the FIRST EVER FIGURE OLYMPIA!

Murray and Medina are the 2 new champions for 2003!


Lenda Murray reigns supreme as Ms. Olympia defeating some of the world's most muscular women. It also contains a premiere event -
the first ever FIGURE OLYMPIA contest
, won by the sensational DAVANA MEDINA. Davana becomes the first Figure Olympia champion, defeating former Fitness Olympia winner Monica Brant for the title.
For a complete set of results, see below.



This DVD is also part of a 2 disc DVD set of the 3 Women's events of the 2003 Olympia. For full details on this DVD set which includes the 2003 MS. OLYMPIA, 2003 FIGURE OLYMPIA & 2003 FITNESS OLYMPIA, please click here for A-1074DVDSP.

For full details on the 2003 FITNESS OLYMPIA DVD, please click here for A-1075DVD.


See also our 2003 COMPLETE PREJUDGING OF THE MS. OLYMPIA, GMV-557DVD.
See also our 2003 FIGURE & FITNESS OLYMPIA PUMP ROOM, GMV-556DVD.
See also our 2003 COMPLETE PREJUDGING OF THE FITNESS & FIGURE OLYMPIA, GMV-558DVD.
See also our 2003 MS. OLYMPIA PUMP ROOM, GMV-555DVD.

Running time: 90 mins

2003 Ms OLYMPIA Results

Lightweights:

1 Juliette Bergmann - Netherlands
2 Dayana Cadeau - Canada
3 Denise Masino - USA
4 Cathy Priest - Canada
5 Angela Debatin - Brazil
6 Fanny Barrios - Venezuela
7 Kim Harris - USA
8 Rosemary Jennings - USA

Heavyweights:

1 Lenda Murray (Overall winner) - USA
2 Iris Kyle - USA
3 Yaxeni Oriquen - Venezuela
4 Betty Viana - Venezuela
5 Helle Nielsen - Denmark
6 Betty Pariso - USA
7 Vickie Gates - USA

2003 FIGURE OLYMPIA Results

1 Davana Medina - USA
2 Monica Brant - USA
3 Jenny Lynn - USA
4 Mari Kudla - USA
5 Dina Al-Sabah - Kuwait
6 Jaime Franklin - USA
7 D. J. Wallis - USA
8 Aleksandra Kobielak - Poland
9 Sharon Kouvaris - USA
10 Hannah Park - USA
11 Elaine Goodlad - Canada
12 Theil Bradford - USA

NTSC DVD, OPEN REGION