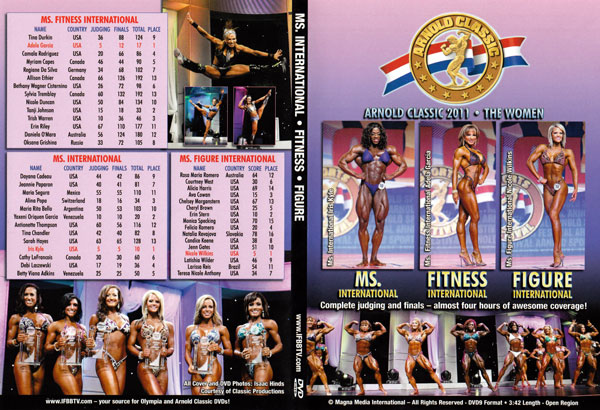 Click here for the WOMEN'S PHOTO GALLERY

2011 Arnold Classic - The Women

Ms. International, Fitness International, & Figure International
Columbus, Ohio March 4th & 5th, 2011
This disc contains complete coverage of all WOMEN'S prejudging AND finals, plus awards presentations of these three contests featuring the IFBB's diverse competitive divisions for professional female athletes.

43 different competitors, led by -
Iris Kyle (1), Yaxeni Oriquen Garcia (2), Alina Popa (3), Debi Laszewki (4), Betty Viana Adkins (5) and Cathy LeFrancois (6) in Bodybuilding;
Adela Garcia (1), Tanji Johnson (2), Trish Warren (3), Camala Rodriguez (4), Myriam Capes (5), and Bethany Wagner Cisternino (6) in Fitness; and
Nicole Wilkins (1), Erin Stern (2), Ava Cowan (3), Felicia Romero (4), Cheryl Brown (5) and Courtney West (6) in Figure.

All athletes, all comparisons, all routines, all awards are included in this comprehensive DVD. 3 hours 42 minutes on one disc in Open Region, suitable for all DVD players. Photos courtesy jasonbreeze.com and garyphillipsphotography.com
See our CONTEST REPORT here.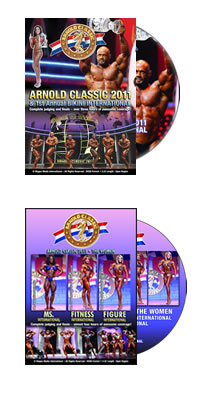 (The men's disc, 2011 ARNOLD CLASSIC has been released on disc #1, please click here for details.)
The copies are on DVD9 discs (same as the current Olympia DVDs)
(The remaining two discs coming out in a month or so will be Arnold Classic Amateurs and Arnold Classic Strongman, probably not till mid to late-July.)
Running time: MS./FITNESS/FIGURE INTERNATIONAL - 222 mins

Click here for some MORE PHOTOS & COMPLETE RESULTS ALL CLASSES.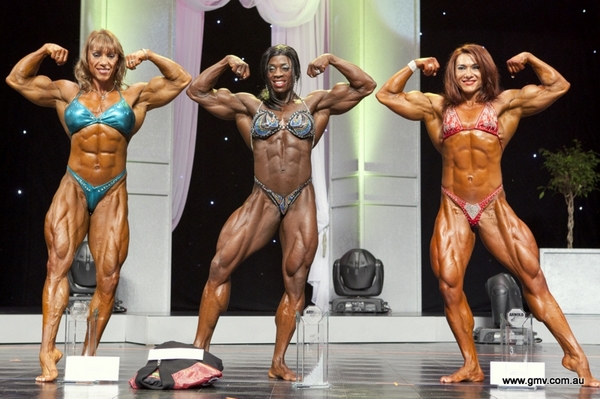 2011 Arnold Classic - Women's Bodybuilding, Figure & Fitness Results
Columbus, Ohio March 4th, 2011
Women's Bodybuilding
1. Iris Kyle - USA
2. Yaxeni Oriquen-Garcia - Venezuela
3. Alina Popa - Switzerland
4. Debi Laszewski - USA
5. Betty Viana-Adkins - Venezuela
6. Cathy LeFrancois - Canada
7. Jeannie Paparone - USA
8. Tina Chandler - USA
9. Dayana Cadeau - USA
10. Maria Rita Bello - Argentina
11. Maria Segura - Mexico
12. Antoinette Thompson - USA
13. Sarah Hayes - USA
FITNESS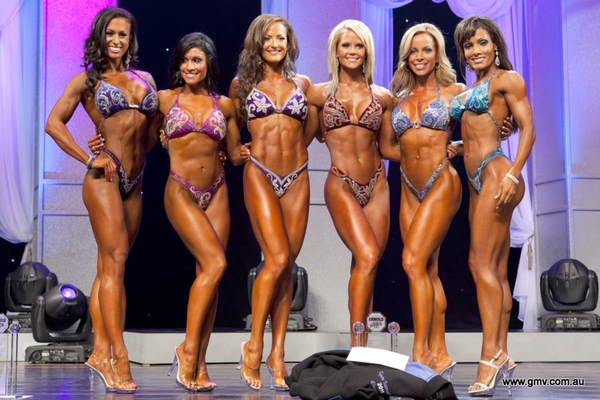 1. Adela Garcia - USA
2. Tanji Johnson - USA
3. Trish Warren - USA
4. Camala Rodriguez - USA
5. Myriam Capes - Canada
6. Bethany Wagner - USA
7. Regiane Da Silva - Germany
8. Oksana Grishina - Russia
9. Tina Durkin - USA
10. Nicole Duncan - USA
11. Erin Riley - USA
12. Daniela O'Mara - Australia
13. Allison Ethier - Canada
13. Sylvia Tremblay - Canada

FIGURE
1. Nicole Wilkins - USA
2. Erin Stern - USA
3. Ava Cowan - USA
4. Felicia Romero - USA
5. Cheryl Brown - USA
6. Courtney West - USA
7. Teresa Anthony - USA
8. Candice Keene - USA
9. Latisha Wilder - USA
10. Jennifer Gates - USA
11. Larissa Reis - Brazil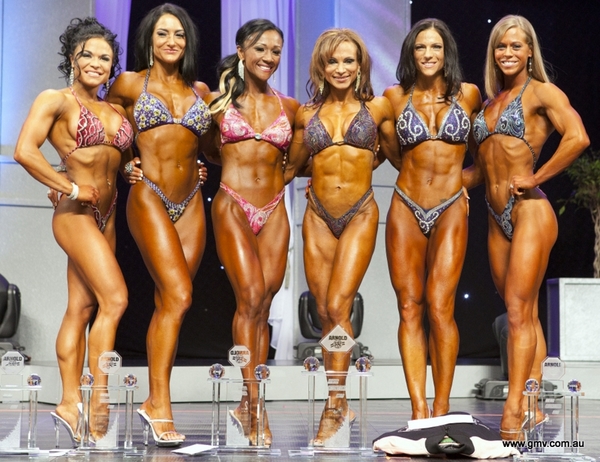 12. Rosa-Maria Romero - Australia
13. Chelsey Morgenstern - USA
14. Alicia Harris - USA
15. Monica Specking - USA
16. Natalia Revajova - Slovakia





A-1365DVD
Adela Garcia –
From Tragedy to Triumph


NTSC DVD, OPEN REGION