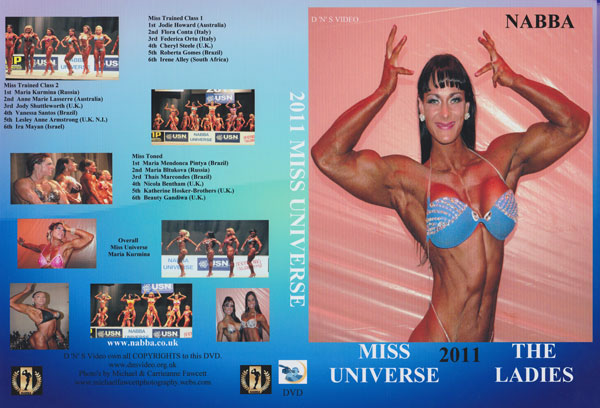 See preview clip here.

2011 NABBA Universe: The Women - Prejudging & Show
(Dual Price US$39.95 or A$44.95)

Held in Southport, England on October 29th, the 2011 NABBA Universe celebrated competition between some of the world's best figure competitors. The 2011 NABBA Universe Women's Prejudging & Show brings you the complete NABBA Universe event for women. This year a new class was introduced. It was the Toned Figure Class.
See the complete posing routine of all competitors at the PREJUDGING, line-ups of Round 1 and every single comparison from Round 3 for all 3 classes - TRAINED FIGURE CLASSES 1 & 2 and MISS TONED FIGURE.
At the evening SHOW, you will see the posing routines of all top 6 competitors, plus the OVERALL FIGURE CLASS POSEDOWN and awards.
Includes the OHF Best Presentation Award to Maria Tereza Mendonca Pintya of Brazil.

The OVERALL MISS FIGURE UNIVERSE posedown was won by Maria Kuzmina - Russia. Pictured front cover above.
See our 2011 NABBA Universe Report by Wayne Gallasch with help from Alex Mac.
Click here to see some WOMEN'S PHOTOS FROM THIS CONTEST by Alex McKenna, alexmac.biz
THE BEEF MAGAZINE Available here at the App Store

Running time: 104 mins

This is a DNS Production.
Click here for the 2011 NABBA UNIVERSE MEN'S PREJUDGING, A-1398DVD.
Click here for the 2011 NABBA UNIVERSE MEN: THE SHOW, A-1399DVD.

Please click here for the 60TH ANNIVERSARY NABBA UNIVERSE DINNER, GMV-800DVD.
Please click here for our THE COMPLETE LISTING OF ALL NABBA UNIVERSE DVDs - MEN & WOMEN from 1970 to now.
Please click here for THE COMPLETE LIST OF ALL NABBA UNIVERSE WINNERS - MEN & WOMEN.
Please click here for THE COMPLETE SET OF 2011 UNIVERSE RESULTS FOR MEN & WOMEN.

WOMEN'S RESULTS:
MISS FIGURE CLASS 2
1. Jodie Howard Australia
2. Flora Conte Italy
3. Federica Ortu Italy
4. Cheryl Steel UK
5. Roberta Lopes Gomes Brazil
6. Irene Alley South Africa
NP
Jo Brown Scotland/UK
Kaye O'Neil New Zealand
Carla Jinks UK
Kelly Freeman UK
Karolina Holubcova Czech Rep
Alicia Zayas Spain
Linda Cassidy N. Ireland/UK
MISS FIGURE CLASS 1
1. Maria Kuzmina Russia
2. Anne-Marie Lasserre Australia
3. Jody Shuttleworth UK
4. Vanessa Coelho dos Santos Brazil
5. Lesley-Ann Armstrong N. Ireland/UK
6. Ira Mayan Israel
NP
Karen Jeffrey Australia
Joanne Sperring UK
Delene Watkins South Africa
Anna Ojala Finland
Leanne McGlynn N. Ireland/UK
Pamela Higgins UK
Louise Wormley UK
Rosangela Aparecida Leocadia Brazil
MISS TONED FIGURE
1. Maria Tereza Mendonca Pintya Brazil
2. Maria Beltukova Russia
3. Thais Pereira Marcondes Brazil
4. Nicola Bentham UK
5. Catherine Hosker-Brothers UK
6. Beauty Gandiwa UK
NP
Kim Byrne UK
Jennie Mayberry Rep. of Ireland
Cristina Menini Italy
Kay Goodwin UK
Bronwynne Schickerling South Africa
Jade Kealy Rep. of Ireland
Kristine Alksne Latvia
Kathryn Clough South Africa
Vanessa Sewell UK
Laura Smith UK
Lesley Blanchard UK
NTSC DVD, OPEN REGION
Important GMV Dual pricing policy.
* All customers outside of Australia/New Zealand will be charged in US dollars. If an imported item has dual pricing, (that is in Australian and US dollars), all customers OUTSIDE of Australia and New Zealand will only be charged the US dollar price.

Unfortunately, our site cannot automatically cope with dual pricing based on your country of residence and will default to the US dollar price on the order form you see displayed. Regardless of this, all customers will be manually charged the correct price based on the above.
To refer to our FAQ section for this and any other questions, please click here.