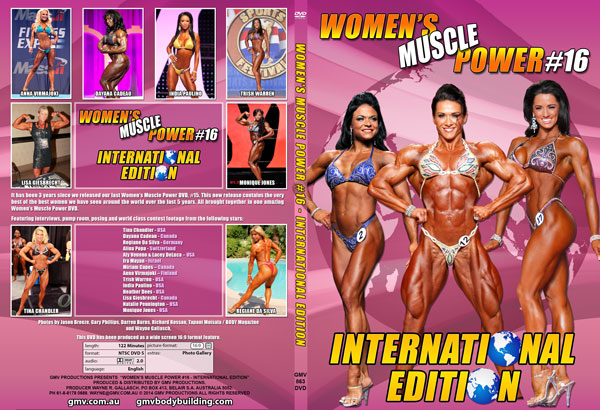 Click here for preview.
Women's Muscle Power #16 – International Edition
It has been 3 years since we released our last Women's Muscle Power DVD, #15. This new release contains the very best of the best women we have seen around the world over the last 5 years. All brought together in one amazing Women's Muscle Power DVD.

See the LARGE PHOTO GALLERY.
Featuring interviews, pump room, photo shoots, posing and some world class contest footage from the following stars:
Alina Popa - Switzerland
Aly Veneno & Lacey DeLuca – USA
Ira Mayan - Israel
Miriam Capes – Canada
Anna Virmajoki – Finland
Trish Warren - USA
India Paulino - USA
Heather Dees - USA
Tina Chandler - USA
Dayana Cadeau - Canada
Regiane Da Silva - Germany
Lisa Giesbrecht - Canada
Natalie Pennington – USA
Monique Jones - USA

This DVD has been produced as a wide screen 16:9 format feature.

See the COMPLETE WOMEN'S MUSCLE POWER SERIES LISTING here.
Extras:
PHOTO GALLERY
Photos by Jason Breeze, Gary Phillips, Darren Burns, Richard Rossan, Tapani Moisala / BODY Magazine and Wayne Gallasch.
Running time: 122 mins
Special thanks to all the contest promoters, interviewers John Hansen and Phil Carman and the GMV camera team.
NTSC DVD, OPEN REGION