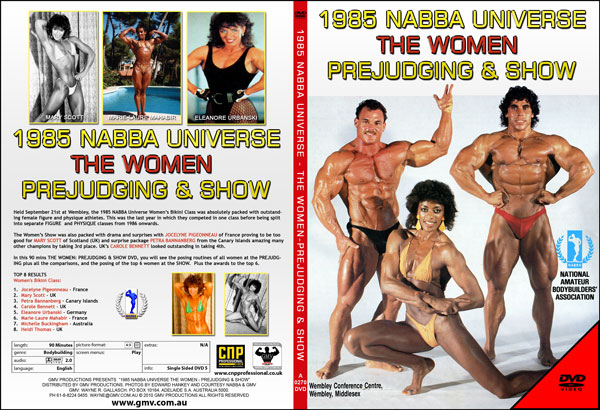 1985 NABBA Universe: The Women - Prejudging & Show

Also on Download. Preview clip.

Held September 21st at Wembley, the 1985 NABBA Universe Women's Bikini Class was absolutely packed with outstanding female figure and physique
athletes. This was the last year in which they competed in one class before being split into separate FIGURE and PHYSIQUE classes from 1986 onwards.
The Women's Show was also packed with drama and surprises with JOCELYNE PIGEONNEAU of France proving to be too "symmetrical and muscular" for MARY SCOTT of Scotland (UK) and surprise package PETRA BANNANBERG from the Canary Islands amazing many other champions by taking 3rd place. UK's CAROLE
BENNETT looked outstanding in taking 4th.
In this 90 mins DVD THE WOMEN: PREJUDGING & SHOW DVD, you will see the posing routines of all women at the PREJUDGING plus all the comparisons, and the posing of the top 6 women at the SHOW. Plus the awards to the top 6.

See below for COMPLETE WOMEN'S RESULTS.
The RESULTS:

Women's Bikini Class
1. Jocelyne Pigeonneau - France
2. Mary Scott - UK
3. Petra Bannanberg - Canary Islands
4. Carole Bennett - UK
5. Eleanore Urbanski - W. Germany
6. Marie-Laure Mahabir - Guadeloupe
7. Michelle Buckingham - Australia
8. Heidi Thomas - UK
DNP:
Leslie Whitehouse - UK
Gabrielle Klug - Austria
Rozy Mazzoli - Italy
Robina Harvey - UK
Leisa Campbell - Australia
Patricia Hallighan - Eire
Denise Waddington - UK
Diana Sasio - USA
Aggie van Vegeberg - Holland
Helma Gohr - W. Germany
Lily Caridi - Australia
Linda Cypreun - Guadeloupe
Elizabeth Adamec - Austria
Karen Green - UK
The DVD also introduces future champions in Marie-Laure Mahabir, Leisa Campbell and Eleanore Urbanski.
Marie-Laure Mahabir went on to be a very successful Ms Olympia competitor. Click here to see her own training feature, GMV-110DVD.
and click here for the ELEANORE URBANSKI DVD, V-074DVD.
Please click here for the DVD featuring LEISA CAMPBELL, GMV-256DVD.
We also have a DVD on superstar MARY SCOTT. Please click here for GMV-071DVD.

To order the 1985 NABBA Universe: Men's Prejudging, please click here for A-0268DVD.
To order the 1985 NABBA Universe: Men - The Show, please click here for A-0269DVD.

NTSC DVD, OPEN REGION