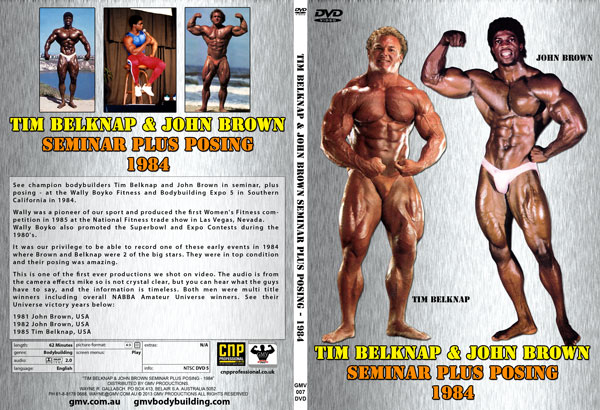 Tim Belknap & John Brown Seminar plus Posing - 1984

Digital Download.
See champion bodybuilders Tim Belknap and John Brown in seminar, plus posing - at the Wally Boyko Fitness and Bodybuilding Expo 5 in CA.
The Expo took place at the Disneyland Hotel Convention Centre on July 21st and 22nd, 1984.
Wally was a pioneer of our sport and produced the first Women's Fitness competition in 1985 at the National Fitness trade show in Las Vegas, Nevada.
Wally Boyko also promoted the Superbowl and Expo Contests during the 1980's.

It was our privilege to be able to record one of these early events in 1984 where Brown and Belknap were 2 of the big stars. They were in top condition and their posing was amazing. These two superstars of the sport gave fascinating insights into diet, training, posing and competition from their perspective points of view.
Tim Belknap described how he became so massive and ripped (235 lbs in this DVD), while John Brown discusses various ways top pro bodybuilders can earn good money from the sport of bodybuilding. Both stars pose individually with Brown's new routine being simply incredible with break-dancing and an impersonation of Michael Jackson - with muscle! Brown has also been the star of FIBO on many occasions.
Belknap was in no way left behind, as he showed why he is probably the world's best, most massive shorter physique.
Taped with the cooperation and consent of Wally Boyko Productions, Inc.
This is one of the first ever productions we shot on video. The audio is from the camera effects mike so is not crystal clear, having a slight echo, but you can hear what the guys have to say, and the information is timeless. Both men were multi title winners including overall NABBA Amateur Universe winners. See their Universe victory years below:
1981 John Brown, USA
1982 John Brown, USA
1985 Tim Belknap, USA
Running time: 62 mins
NTSC DVD, OPEN REGION