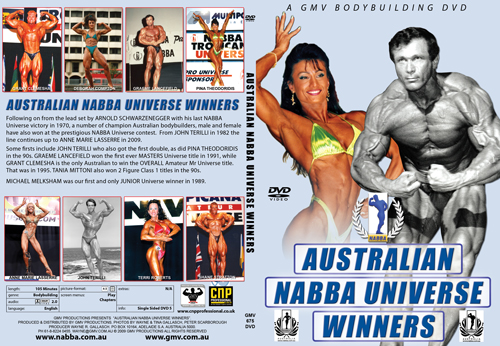 AUSTRALIAN WINNERS AT THE NABBA UNIVERSE
The NABBA Universe is the oldest continually running international contest in the world.

It has been an interesting and patriotic pleasure digging into our GMV archives to find the footage needed to produce this very special DVD. It pays tribute to all our great Aussie NABBA champions, men and women who have won titles at the NABBA Universe contest in England.
Many younger people in Australia, and in fact in most of the rest of the world, have no idea of the exploits of these wonderful Aussie bodybuilding stars. History has now been preserved in this tribute DVD.
We added Arnold winning at the 1970 NABBA Pro Universe as our inspiration at the very beginning. He was an inspiration to our athletes also step up to the NABBA winner's circle. Arnold is followed in the DVD by all the Aussie male winners of a Universe title followed by all the female winners of this prestigious title.
Every athlete listed below is named on screen and is selectable from the DVD menu making this an excellent resource to study the posing style of your favourite champion. The NABBA Universe as it is known today commenced in 1948 in London. It took from 1948 till 1982 till Australia produced our first ever winner, in JOHN TERILLI.

Here now is the list of all Australian NABBA Universe winners. For information on entering NABBA contests in Australia, please contact Graeme Lancefield through the NABBA Australia web site at www.nabba.com.au All footage was supplied by GMV Productions www.gmv.com.au
Cover photos by Wayne & Tina Gallasch and Peter Scarborough.

Running time: 105 mins

See our COMPLETE INDEX LISTING HERE OF ALL OUR NABBA UNIVERSE DVDs.
See our HISTORY OF THE MR & MS AUSTRALIA OVERALL WINNERS & DVDs.
See below for the complete list of our Australian Winners at the NABBA UNIVERSE.
These champions have all won the Overall title or won their class titles at the NABBA Universe.
See special note below re Brian Buchanan in 1995.

(THE AUSSIE WINNER'S AT THE NABBA UNIVERSE - HIGHLIGHTED BELOW, HAVE A FEATURE DVD)
MEN

1982 John Terilli - Class 2

1986 Sammy Ioannidis - Class 3

1989 Gary Lewer - Class 1

1989 Michael Melksham - Junior

1991 Graeme Lancefield - Masters

1993 Kevin O'Grady - Class 1

1994 John Terilli - Professional

1995 Grant Clemesha - Class 1
and Overall Amateur Mr Universe

1995 Shane Stratton - Class 3

2013 Lee Priest - Class 4
and Overall Mr Universe

SPECIAL NOTE: Brian Buchanan won the Professional Class this year,
representing Australia. As he only lived in Australia (from UK) for a
relatively short number of years, it was deemed unfair to include him in
this DVD as a true Australian Universe winner.

That makes our only men's winners: GRANT CLEMESHA, LEE PRIEST,
JOHN TERILLI, GRAEME LANCEFIELD & MICHAEL MELKSHAM.
Plus the Amateur Class winners above.

GRANT CLEMESHA and LEE PRIEST our only OVERALL AMATEUR
MR. UNIVERSE WINNER.

WOMEN

1988 Leisa Campbell - Overall Physique

1990 Bronwyn O'Brien - Overall Figure

1992 Anita Lawrence - Overall Figure

1993 Deborah Compton - Overall Physique

1993 Tania Mittoni - Figure Class 1

1994 Andrea Izard - Overall Physique

1995 Tania Mittoni - Figure Class 1

1996 Pina Theodoridis - Overall Figure

1998 Pina Theodoridis - Overall Figure

1999 Taylor Young - Overall Physique

2000 Loretta McMillan - Figure Class 2

2001 Terri Roberts - Figure Class 2

2009 Anne-Marie Lasserre - Figure Class 1

2011 Jodie Howard - Figure Class 2






| | |
| --- | --- |
| Terri Roberts | Pina Theodoridis |
| Shane Stratton | Graeme Lancefield |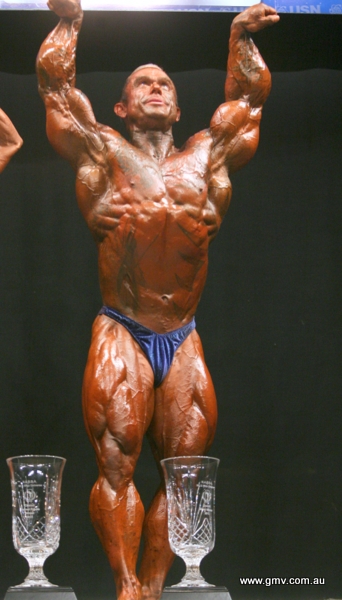 NTSC DVD, OPEN REGION