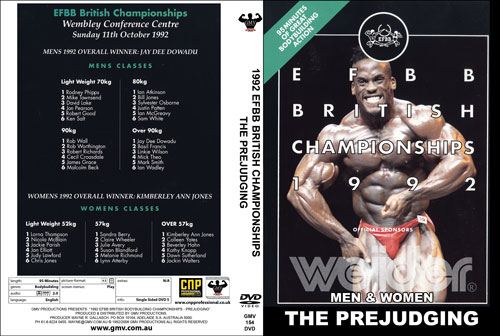 1992 EFBB British Championships: Prejudging: Men & Women

Also available on Digital Download.

On 11th October, 1992 the Wembley Conference Centre experienced a full house for the annual EFBB British Championships. The prejudging ran smoothly throughout the day with so many different classes for both men and women. You will see all 72 competitors pose with 49 men competing in 4 different weight classes and 23 women competing in 3 weight classes.
As you will see all of the competitors pose again in the evening SHOW DVD, you will see the top 6 in every class posing for 1 minute in this Prejudging DVD, and the other unplaced competitors are each shown posing for a slightly shorter time. This is a Classic British Contest from the early 90s.

Includes Round 1 comparisons for all classes plus all key comparisons in Round 2. In the sensational Heavyweight Class, the lineup was worthy of a Pro Grand Prix. Accordingly we show 4 sets of key comparisons, such was the standard of this amazing lineup of 10 incredible monster guys.
See 95 pulsating minutes of tense prejudging action as the athletes battle it out as they try to win their class and then vie for the Overall titles and Pro cards for Men and Women.

For the COMPLETE RESULTS, see below.

Please click here for THE SHOW DVD from this event, GMV-155DVD.


1992 EFBB British Championships: The Show

The OVERALL MEN'S Posedown was between the 4 fantastic class winners in DAWODU, WALL, PHIPPS and ATKINSON with J.D. triumphant. However things did not run smoothly in the Men's Heavyweight Class with 4th placed Mick Theo storming off stage refusing to accept his trophy. He then came back on stage, grabbed the 1st place trophy and hurled it onto the floor before storming off stage again. He was later suspended for 2 years. When JD was announced the overall winner, about 20 of his friends and well-wishers stormed on stage and completely swamped him, lifting him up in the air, singing and dancing. Scenes I have never ever witnessed before!
Running time:
95mins
MEN'S CLASSES
UNDER 70KG CLASS (LIGHTWEIGHT)

1. Rodney Phipps
2. Mike Townsend
3. David Lake
4. Jon Pearson
5. Robert Good
6. Ken Salt
NP
Stewart Musgrove
Justin Cota
Bruce Leader
Graham Benwell
James Gutteridge
UNDER 80KG CLASS (MIDDLEWEIGHT)
1. Ian Atkinson
2. Billy Jones
3. Sylvester Osborne
4. Justin Patten
5. Ian McGreavy
6. Sam White
NP
Mark Hopes
Stephen Barnes
Cavan Derby
Paul Megwa
Paul Tomkins
Savas Kyriacou
David McCarthy
Ken Clark
Darren Oram
Mickey DunnWinston Williams
Ian State
UNDER 90KG CLASS (LIGHT-HEAVYWEIGHT)
1. Rob Wall
2. Rob Worthington
3. Robert Richards
4. Cecil Croasdale
5. James Gracie
6. Malcolm Beck
NP
Phil Davis
Paul House
Derek Morton
Michael Locan
OVER 90KG CLASS (HEAVYWEIGHT)
1. J.D. Dawodu
2. Basil Francis
3. Linkie Wilson
4. Mick Theo
5. Mark "Rhino" Smith
6. Ian Wadley
NP
Phil Louis
Simon Morgan
Tony Brown
Paul Hyre
OVERALL EFBB BRITISH MEN'S CHAMPION: J.D. DAWODU
WOMEN'S CLASSES
UNDER 52KG CLASS (LIGHTWEIGHT)
1. Lorna Thompson
2. Nicola McBlain
3. Jackie Parish
4. Jan Elliott
5. Judy Lawford
6. Chris Jones
NP
Michelle Barber-Ebbs
Julie George
Sarah Wessendorf
Clare Baycock
UNDER 57KG CLASS (MIDDLEWEIGHT)
1. Sandra Berry
2. Claire Wheeler
3. Julie Avery
4. Susan Blandford
5. Melanie Richmond
6. Lynn Atterby
OVER 57KG CLASS (HEAVYWEIGHT)
1. Kimberley-Anne Jones
2. Colleen Yates
3. Beverley Hahn
4. Kathy Knopp
5. Dawn Sutherland
6. Jackie Walters
7. Leonie Cotter
OVERALL EFBB BRITISH WOMEN'S CHAMPION: KIMBERLEY-ANNE JONES
To see J.D. take 4th place in the 2001 Iron Man Pro Invitational, please click here for V-171DVD.
To see Basil Francis in his own DVD, please click here for GMV-355DVD.
To see Kimberley-Anne Jones in her own DVD, please click here for GMV-216DVD.

NTSC DVD, Region Free.