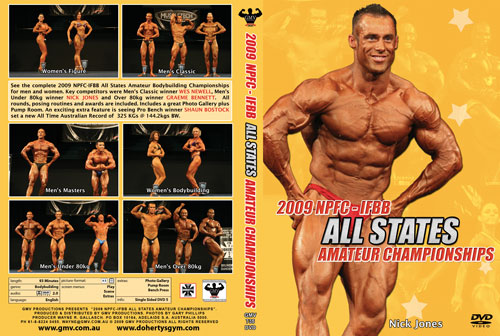 2009 NPFC-IFBB All States Amateur Bodybuilding Championships

See the complete 2009 NPFC-IFBB All States Amateur Bodybuilding Championships for men and women. The star competitors were Men's Classic winner WES NEWELL, Men's Under 80kg winner NICK JONES and Over 80kg winner GRAEME BENNETT. All rounds are included from prejudging to posing routines and awards.
Of special note Nick Jones has won major titles in almost every bodybuilding federation and this was his IFBB debut. Graeme Bennett has won major titles in the EFBB in UK.
Also includes a superb Photo Gallery with 148 photos mostly by Robert Szabo, plus Pump Room footage. Other photos by Gary Phillips and Wayne Gallasch.
An extra feature is seeing Pro Bench winner Shaun Bostock set a massive new All Time Australian Record of 325kgs @ 144.2kgs BW.
This contest was held as part of the 2009 IFBB Pro Australian Grand Prix. Please click here for details on the Pro DVD which is GMV-734DVD.
Nick Jones is pictured front cover above.


2009 Australian Pro Grand Prix

See the complete Pro event from the pump room to the prejudging, all the posing routines, exciting posedown and awards at the Finals. Plus guest posing by the top 3 amateur men at this the 9th Aussie Grand Prix staged by Tony Doherty. This was the best quality field of US stars ever seen at the Aussie GP. KAI GREENE had won the 2009 Arnold Classic a week before, and SILVIO SAMUEL had just won the 2009 Iron Man Pro a few weeks prior to that. These are two of the hottest physiques in the World having just won the opening 2 Pro Shows of 2009, along with X-Man TONEY FREEMAN.



GMV-734DVD | $39.95
2009 NPFC-IFBB All States Amateur Championships Results.
Dallas Brooks Hall, March 14th, 2009.
MEN'S MASTERS

1. MICHAEL MACKAY
2. MICHAEL GREGORIOU
WOMEN'S FIGURE
1. RHONDA BRYERS
2. ERIKA DERBY
WOMEN'S BODYBUILDING
1. HELEN ALOIAI
2. JENNY MORRIS
MEN'S CLASSIC
OVERALL WINNER: NICK JONES
1. WES NEWELL
2. LEIGH CARMICHAEL
3. LUKE TRAINOR
SEAN PUALIC
CHRIS GOFFETT
RYAN QUINN
CHRIS KANTARAS

MEN'S UNDER 80KG
1. NICK JONES
2. BRENDAN McLEAN
3. JASON WELLS
MEN'S OVER 80KG

1. GRAEME BENNETT
2. ERIC McENTYRE
3. ARIEL DENCIO
4. GLEN WEBSTER
2009 Pro Bench Results
1st. Shaun Bostock (NZ) 325kgs @ 144.2kgs (All Time New Australian Record)
2nd. Nemo Strimic (Serbia) 280KGs @ 120.2kgs (New Australian Record)
3rd. Marty Girvan (Aus) 230KGs @ 125.2Kgs
4th. Daniel Portelli (Aus) 220KGs @ 128.2Kgs
5th. Daniel Di Piscalli (Aus) 210KGs @ 86.8Kgs
6th. Clint Gregan (Aus) 200KGs @ 98.7Kgs
7th. Steve Brown (Aus) 200KGs @ 109.3Kgs
Referees: Geoff Barclay (Bear), Charlie Coleiro, Frank Mormile.

Thankyou to Tony Doherty, loaders and spotters and George at MSR for transporting all the lifting equipment in the rain. Thankyou also to the sponsors MUSCLETECH and DOHERTY'S 24/7.
Running Times & Extras:
All States Contest: 75 mins

Pump Room: 15 mins

Pro Bench Press: 3 mins

Photo Gallery - 148 photos
TRT: 93 mins
NTSC DVD, OPEN REGION