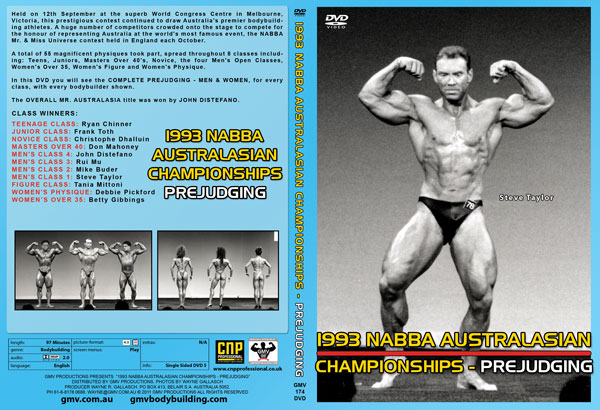 1993 NABBA Australasian Championships - The Prejudging: Men & Women
Held on 12th September at the superb World Congress Centre in Melbourne, Victoria, this prestigious contest continues to draw Australia's premier bodybuilding athletes year after year. 1993 was no exception. A huge number of competitors crowded onto the stage to compete for the honour of representing Australia at the world's most glamorous titles - the Mr. & Miss Universe contest held in England each October. They want to follow in the footsteps of the all time greats, such as Arnold, Frank Zane, Sergio Oliva, Bill Pearl and many many more.
Steve Taylor is pictured front cover above.
A total of 55 magnificent physiques took part - the best from all over Australia, spread throughout 8 classes, including: Teens, Juniors, Masters Over 40's, Novice, the four Men's Open Classes, Women's Over 35, Women's Figure and Women's Physique.
And of course the all-important OVERALL MR. AUSTRALASIA title was won this year by JOHN DISTEFANO.

In this DVD you will see the COMPLETE PREJUDGING - MEN & WOMEN, for every class, where every bodybuilder is shown.
In the Teenage Class, RYAN CHINNER was a brilliant first time winner for the Northern Territory.
FRANK TOTH convincingly won the Junior (Under 21 years) class.
DON MAHONEY did it again in the Masters Over 40 class.
The Novice winner, CHRISTOPHE DHALLUIN from W.A., was carved out of granite - the hardest man in the contest. Sensational!

The Women's Divisions made it a triple header for W.A., with DEBBIE PICKFORD beating South Australia's HEATHER ADAMS by a whisker in the Physique section. TANIA MITTONI was a convincing winner in the Figure Division. Tania was the Physique winner in 1991. A remarkable double.
A defined BETTY GIBBINGS took out the Women's Over 35 Class.
When it came to the Men's Open Classes, two class titles went to South Australia in STEVE TAYLOR and MIKE BUDER with JOHN DISTEFANO winning the Short Class and overall title.
Timorese Asian RUI MU (from north of Darwin) was the surprise packet winning Class 3 with his elegant Zane like physique. Truly a night to remember!!
Both DVDs namely the PREJUDGING and SHOW contain all competitors.

Please click here for the COMPLETE SHOW DVD - MEN & WOMEN, GMV-175DVD.

1993 NABBA AUSTRALASIA CONTEST RESULTS
September 12th, 1993 Melbourne, VIC.

THE MEN
TEENAGE CLASS
1. Ryan Chinner
2. Mike Lohmann
3. Damian Jamieson
4. Chris Mikulec

JUNIOR CLASS
1. Frank Toth
2. Matthew Papandrea
3. Paul Sampson
4. John Reynolds
5. Jamie Blomeley

NOVICE CLASS
1. Christophe Dhalluin
2. Paul Ilias

MASTERS OVER 40
1. Don Mahoney
2. David Renouf
3. Dennis Dye
4. Dominic Cosenza
5. Doug Powell
6. Rhett Panizza
7. Robert Sedge

MEN'S CLASS 4
1. John Distefano
2. Quinn Lay
3. Craig Petersen
4. Tony Rocca
5. Jack Maru

MEN'S CLASS 3
1. Rui Mu
2. Mario Phlorides
3. Barry Whitnell
4. John Geraghti
5. Dean Ward

MEN'S CLASS 2
1. Mike Buder
2. Mark O'Connor
3. Bernie Friedli
4. Brett Thorne

MEN'S CLASS 1
1. Steve Taylor
2. Peter Rydell
3. Warrick Simmonds
4. George Rigas
5. Rod Kruger
6. Lawrence Smart
7. Michael Wiss
8. Brendon Cahill
9. John Rizzo

OVERALL MR AUSTRALASIA
1. John Distefano - VIC
2. Quinn Lay - NT
3. Steve Taylor - SA

THE WOMEN
OVER 35 CLASS
1. Betty Gibbings
2. Jeanette Harper
3. Carol Christie

FIGURE CLASS
1. Tania Mittoni
2. Merise Miragliotta
3. Anna Spring
4. Tracy Watt
5. Donna Barry
6. Heather Lindsay
7. Karen Edwards

WOMEN'S PHYSIQUE
1. Debbie Pickford
2. Heather Adams
3. Darrell Williams
4. Suzette Ford

Running time: 97 mins

NTSC DVD, OPEN REGION