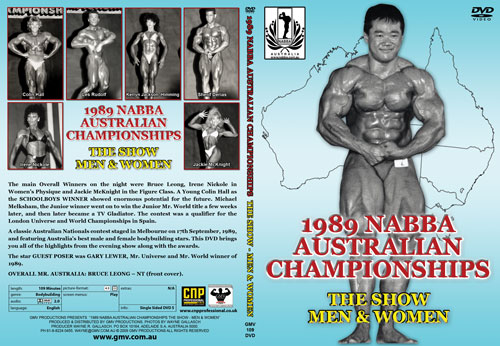 1989 NABBA AUSTRALIAN CHAMPIONSHIPS - THE SHOW

Digital Download.

Men and Women.

The main Overall Winners on the night were Bruce Leong, Irene Nickole in Women's Physique and Jackie McKnight in the Figure Class. A Young Colin Hall as the SCHOOLBOYS WINNER showed enormous potential for the future. Michael Melksham, the Junior winner went on to win the Junior Mr. Universe title a few weeks later, and then later became a TV Gladiator.
The contest was a qualifier for the London Universe and World Championships in Spain.

A classic Australian Nationals contest staged at the Dallas Brooks Hall in Melbourne on 17th September, 1989, and featuring Australia's best male and female bodybuilding stars. This DVD brings you all of the highlights from the evening show along with the awards. The event attracted around 80 top competitors and includes pumping scenes and brief interviews with some of the stars. Shot with 2 cameras.
The star GUEST POSER was GARY LEWER, Mr. Universe and Mr. World winner of 1989.

OVERALL MR. AUSTRALIA: BRUCE LEONG – NT (pictured front cover above.)

Please click here for more details on the MEN'S PREJUDGING DVD, GMV-107DVD.
Please click here for more details on THE WOMEN'S PREJUDGING, GMV-108DVD.

Running Time: 109 mins.

Please click here for Gary Lewer's first training DVD GMV-048DVD and click here for his second DVD, GMV-104DVD.
Please click here for Kevin O'Grady's DVD, GMV-334DVD.
Please click here for Don Mahoney's DVD, GMV-219DVD.
Please click here for Michael Melksham's DVD, GMV-253DVD.
Please click here for Peter Wall – Junior Mr. World's DVD, GMV-197DVD.
Please click here for Gennaro Ferra's DVD, GMV-254DVD.
Please click here for Irene Nickole's DVD, GMV-198DVD.
Please click here for Jackie McKnight Vol. 1, V-090DVD and click here for Vol. 2, V-095DVD.
CLASS WINNERS:
THE MEN

SCHOOLBOYS:
Colin Hall – QLD
TEENAGE:
Darren Garvie – QLD
JUNIOR CLASS:
Michael Melksham – VIC
MASTERS:
Doug Powell – NSW
NOVICE MEN:
Kevin Adams – QLD
MEN'S OPEN SHORT CLASS:
Bruce Leong – NT (OVERALL)
MEN'S OPEN MEDIUM CLASS:
Gennaro Ferra – VIC
MEN'S TALL CLASS:
Les Rudolf – VIC
THE WOMEN
WOMEN'S PHYSIQUE: Irene Nickole – SA
FIGURE CLASS: Jackie McKnight – QLD
WOMEN'S OVER 35: Anna Allwood – SA
WOMEN'S NOVICE: Tina Daniels – SA
MEN'S RESULTS:
SCHOOLBOYS
1 Colin Hall - QLD
2 Michael Reid – VIC
3 Paul Cook – VIC
TEENAGE CLASS
1 Darren Garvie – QLD
2 Nick Harding – SA
3 Rick Morgan – VIC
JUNIOR CLASS
1 Michael Melksham – VIC
2 Peter Wall – NSW
3 Sherif Derias – VIC
MASTERS
1 Doug Powell – NSW
2 Don Mahoney – VIC
3 Jeff Gibbings – WA
MEN'S NOVICE
1 Kevin Adams – QLD
2 Joey Nambuski - QLD
3 Gary Himing – VIC
MEN'S OPEN SHORT CLASS
1 Bruce Leong – NT
2 Gino De Chellis – VIC
3 Richard Dziadowicz – WA
MEN'S OPEN MEDIUM CLASS
1 Gennaro Ferra – VIC
2 Enzo Giuffre – Qld
3 Barry Whitnell – VIC
MEN'S OPEN TALL CLASS
1 Les Rudolf – VIC
2 Kevin O'Grady – NSW
3 Tony Struck – QLD
4 Steve Taylor – SA
WOMEN'S RESULTS
WOMEN'S PHYSIQUE
1 Irene Nickole – SA
2 Kerryn Jackson – VIC
3 Jacqui Cook – VIC
FIGURE CLASS
1 Jackie McKnight - QLD
2 Vicky Zarmarian – WA
3 Judy Campbell – QLD
4 Donna McQueen – VIC
5 Judy Green – VIC
6 Jeanette Harper – NSW
WOMEN'S OVER 35
1 Anna Allwood – SA
2 Pam Reid – SA
3 Catherine Connelly – WA
WOMEN'S NOVICE
1 Tina Daniels – SA
2 Suzanne Jaensch - SA
3 Angie Rogerson – VIC
NTSC DVD, OPEN REGION