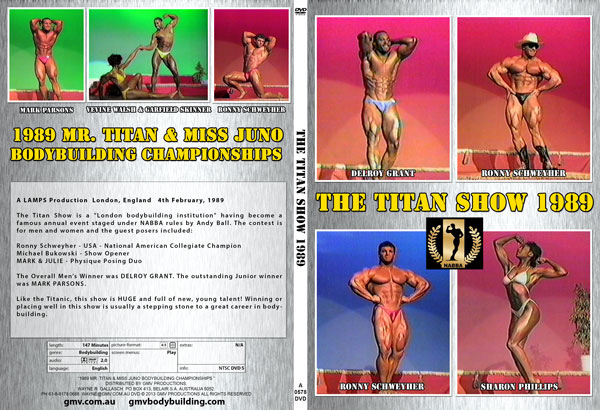 Preview clip.
The Titan Show 1989


1989 Mr. Titan & Miss Juno Bodybuilding Championships
A LAMPS Production London, England 4th February, 1989

The Titan Show is a "London bodybuilding institution" having become a famous annual event staged under NABBA rules by Andy Ball. The contest is for men and women and the guest posers included:
Ronny Schweyher - USA - National American Collegiate Champion.
Michael Bukowski - Show Opener.
MARK & JULIE - Physique Posing Duo.
The Overall Men's Winner was DELROY GRANT. The outstanding Junior winner was MARK PARSONS.
Like the Titanic, this show is HUGE and full of new, young talent! Winning or placing well in this show is usually a stepping stone to a great career in bodybuilding.
Running time: 147 mins
1989 Mr. Titan & Miss Juno Bodybuilding Championships - Results
A LAMPS Production London, England 4th February, 1989
OVERALL WINNER: Delroy Grant - Mr. Titan 1989
1st Timers
1. Tony Famer
2. Marino Franchi
3. Patrick Brown
4. Jonathan Bloohn
5. Hugh Steadman
6. David Byfield
DNP:
Erroll Haylett
Femi Odulari
Rodney Phipps
Wayne Pinto
Rachid Zougari
Miss Physique
1. Sharon Phillips
2. Vevine Walsh
3. Rebecca Wheeler (Best Presentation)
Junior Men
1. Mark Parsons (Best presentation)
2. Alec Gordon
3. Troy Stellitano
4. Paul Carter
5. Earl Nicholls
6. Grant Simmons
Men's Masters
1. John Brennan
2. John Inwood (Best presentation)
3. Allan Clark
Men's Short Class
1. Martin Lewis
2. Pradio Kumar Chatterjee
3. Victor Gainelli
4. James Gutteridge (Best Presentation)
5. George Brown
6. Paul Gamble
Men's Medium Class
1. Garfield Skinner
2. Charles Burton
Miss Figure
1. Elaine Harper (Best Presentation)
2. Brenda Morton
Men's Medium/Tall Class
1. Delroy Grant (Overall Mr. Titan 1989)
2. Desmond Lewis
3. Lee Foskett
4. Tyrone Wildman
5. Eldon Bruno Jr,
6. Alan Clarke
Men's Tall Class
1. Matthew Partridge
2. Ian Lester
Couples
1. Vevine Walsh & Garfield Skinner
Guest Posers
Star Guest Poser: Ronny Schweyher - USA - National American Collegiate Champion
Michael Bukowski - Show Opener
MARK & JULIE - Physique Posing Duo
NTSC DVD, OPEN REGION