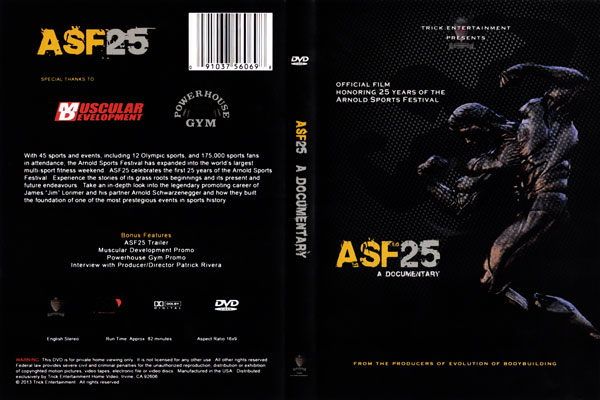 Click here for preview clip
ASF25 - A Documentary -
Official Film Honoring 25 Years of the Arnold Classic
(Note Dual Price: Regular Price outside of Australia/New Zealand is US$24.95; Australia and New Zealand A$34.95: Shopping cart defaults to US$ price.)
Shawn Ray Productions & Trick Entertainment present -
"25 Year Anniversary DVD Special" with interviews of Past and Present Champions of the Arnold Classic and Ms. International Championships!
With 45 sports and events, including 12 Olympic sports, and 175,000 sports fans in attendance, the Arnold Sports Festival has expanded into the world's largest multi-sport fitness weekend. ASF25 celebrates the first 25 years of the Arnold Sports Festival.
Experience the stories of its grass roots beginnings and its present and future endeavours. Take an in-depth look into the legendary promoting career of James "Jim" Lorimer and his partner Arnold Schwarzenegger and how they built the foundation of one of the most prestigious events in sports history.
Bonus Features:
ASF25 Trailer
Muscular Development Promo
Powerhouse Gym Promo Interview with Producer/Director Patrick Rivera
"Hear commentary from the winners while we watch some of their Championship Posing Routines at the Arnold Classics, and hear them reflect on their victories and growth of the Arnold Classic Sports Festivals over the years....."
Pro Arnold Classic MC, Lonnie Teper was interviewed for this documentary at Golds Gym Venice! LT has been at the MC since 1993 at the ASC!
What else is included in this DVD!
1 on 1 interviews with Arnold and Jim Lorimer
Some actual Contest Footage
EXPO
Athlete interviews
Some other sports of the ASF are also covered
Interviewed winners include -
Flex Wheeler, Vince Taylor, Kai Greene, Branch Warren, Shawn Ray, Kevin Levrone, Adela Garcia, Ronnie Coleman, Rich Gaspari, Mike Ashley, Victor Martinez, Iris Kyle, Jay Cutler, Yaxeni Oriquen etc.
From the Producers of Evolution of Bodybuilding.


Evolution of Bodybuilding - The Movie

Hear it straight from the Legends themselves with their stories of success and heartbreak. EVOLUTION OF BODYBUILDING offers a unique and closeup look at what it takes to compete in the "Mr. Olympia".
This DVD takes you on a magic journey from Larry Scott explaining the origin of the Mr. Olympia contest, through many of the past winners such as Frank Zane to Lee Haney, Dorian Yates, Ronnie Coleman and Jay Cutler to the current Mr. Olympia Phil Heath.



A-1397DVD | $29.95
Aspect Ratio
- 16:9
Running time: 82 mins.
See our COMPLETE LISTING OF ALL ARNOLD CLASSIC DVDs.
NTSC DVD, OPEN REGION
Important GMV Dual pricing policy.
* All customers outside of Australia/New Zealand will be charged in US dollars. If an imported item has dual pricing, (that is in Australian and US dollars), all customers OUTSIDE of Australia and New Zealand will only be charged the US dollar price.

Unfortunately, our site cannot automatically cope with dual pricing based on your country of residence and will default to the US dollar price on the order form you see displayed. Regardless of this, all customers will be manually charged the correct price based on the above.
To refer to our FAQ section for this and any other questions, please click here.