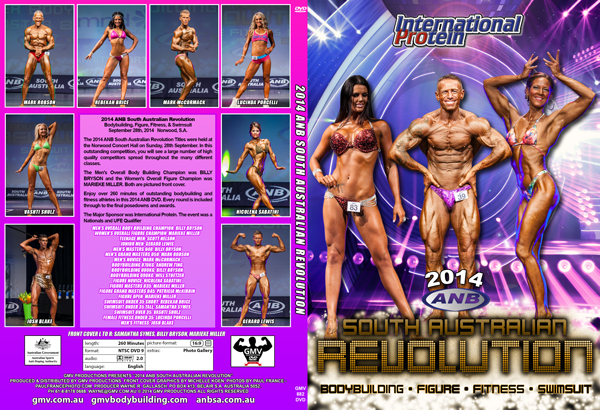 Click here for DVD preview.


2014 ANB South Australian Revolution

Bodybuilding Classes on HD Digital Download. Bodybuilding Preview.
Fitness, Figure & Swimsuit Classes on HD Digital Download. Women's Preview.
Bodybuilding, Figure, Fitness, & Swimsuit
September 28th, 2014 Norwood, S.A.

The 2014 ANB South Australian Revolution Titles were held at the Norwood Concert Hall on Sunday, 28th September. In this outstanding competition, you will see a large number of high quality competitors spread throughout the many different classes.
The Men's Overall Body Building Champion was BILLY BRYSON and the Women's Overall Figure Champion was MARIEKE MILLER. Both are pictured front cover. Bill is an absolute legend in S.A. having won many titles over the years.
Enjoy over 260 minutes of outstanding bodybuilding and fitness athletes in this 2014 ANB DVD. Every round is included through to the final posedowns and awards.
The Major Sponsor was International Protein. The event was a Nationals and UFE Qualifier.

Click here for the PHOTO GALLERY.
Men's Overall Body Building Champion: Billy Bryson
Women's Overall Figure Champion: Marieke Miller
Class Winners:
Teenage Men: Scott Nelson
Junior Men: Gerard Lewis
Men's Masters O40: Billy Bryson
Men's Grand Masters O50: Mark Robson
Men's Novice: Mark McCormack
Bodybuilding U70kg: Andrew Ting
Bodybuilding U80kg: Billy Bryson
Bodybuilding U90kg: Will Stoetzer
Figure Novice: Nicolena Sabatini
Figure Masters O35: Marieke Miller
Figure Grand Masters O45: Patricia McKibbin
Figure Open: Marieke Miller
Swimsuit Under 35 Short: Rebekah Brice
Swimsuit Under 35 Tall: Samantha Symes
Swimsuit Over 35: Vashti Shulz
Female Fitness Under 35: Lucinda Porcelli
Men's Fitness: Josh Blake
Format: Shot in Wide Screen 16:9
Running time: 260 minutes
Extra Scenes: Photo Galleries
Photos by Paul France Photography paulfrancephoto.com
2014 ANB South Australian Revolution
Bodybuilding, Figure, Fitness, & Swimsuit
Sunday, September 28th, 2014 Norwood, S.A.

Men's Overall Body Building Champion: Billy Bryson
Women's Overall Figure Champion: Marieke Miller
Bodybuilding Results
Teenage
1. Scott Nelson
2. Bradley Wanke
3. Brento Bird
4. Nicholas Jose
Junior
1. Gerard Lewis
2. Brandon Lee
Men's Masters O40
1. Billy Bryson
2. Will Stoetzer
3. Michael Deane
Men's Grand Masters O50
1. Mark Robson
Figure Novice
1. Nicolena Sabatini
2. Kathy Isaacson
3. Lessa Jay Tee
4. Melissa Limberis
4. Patricia McKibbin
4. Megan Knight
4. Crystal Trace
4. Kathy Bower
4. Leonie Misko
Men's Novice
1. Mark McCormack
2. Andrew Ting
3. Matthew Caon
4. Nicholas Jose
4. Bradley Wanke
4. Lincoln Chen
4. Paul Lewis
4. Adam Baker
Figure Masters O35
1. Marieke Miller
2. Lisa Allan
3. Kathy Isaacson
4. Helen Dix
Figure Grand Masters O45
1. Patricia McKibbin
2. Kathy Bower
Bodybuilding U70kg
1. Andrew Ting
2. Scott Nelson
3. Lincoln Chen
Figure Open
1. Marieke Miller
2. Nicolena Sabatini
3. Mellisa Limberis
4. Lisa Allan
4. Michelle Koen
4. Crystal Trace
Bodybuilding U80kg
1. Billy Bryson
2. Mark McCormack
3. Gerard Lewis
4. Mark Robson
4. Kyle Duncan
4. Ben Barge
4. Marcus Warlosz
4. Matthew Caon
Bodybuilding U90kg
1. Will Stoetzer
2. Adam Baker
3. Tom Sutherland
4. Mick Deane
*********************************
Fitness & Swimsuit Classes
Swimsuit U35 Short Class
1. Rebekah Brice (Qualifies for UFE)
2. Jasmine Cartlidge
3. Christie Marie Rozaklis
4. Monique Vicary
5. Law Faddoul
6. Aleksandra Rewark
6. Maree Kiosses
6. Chantha Lake
6. Jessica Dixon
Swimsuit U35 Tall Class
1. Samantha Symes (Qualifies for UFE)
2. Candice Pine
3. Sami Allan
4. Jessica Duldig
5. Donna Looft
6. Bec Pahl
6. Daniela Vidov
6. Charmaine Tabe
6. Nicole Reeves
6. Jacqui Ogilvy
6. Sahar Marvasti
6. Liv Homann
6. Alana Harvey
6. Carly Graham
6. Jemma Gladwin
6. Sunny Rene
6. Ruby Fagan-Schmidt
Swimsuit Model O35
1. Vashti Schulz (Qualifies for UFE)
2. Joanne Bezzina
Female Fitness U35
1. Lucinda Porcelli (Qualifies for UFE)
2. Elle Blackwell
3. Sally Drouin
4. Tammie Harford
5. Peta McEvoy
6. Fiona Milliken
6. Briony Schnaars
6. Sammy Nut
Men's Open Fitness
1. Josh Blake (Qualifies for UFE)
2. Rocky Said
3. Brad Shepherdson
4. Lucas Williamson
5. Kieran Reinboth
6. Cain Gava
6. Nathan Pollard
6. Scotty Broadbridge
Fitness & Swimsuit Class Winners:
Josh Blake
Lucinda Porcelli
Vashti Schulz
Samantha Symes
Rebekah Brice
********************
Major Sponsor
International Protein
Sponsors
Mass Nutrition - Morphett Vale
Bulk Nutrients
Black & Blue
Living Beauty
Dayni Baker
Animalism
Shape-Up
Mannatech
Just Add Muscle
MC
Terri Stone
Head Judge
Alison Moyle
Judges
Duncan Rankine
Dayni Baker
Gemma Dawson
Janelle McLean
Graham Jenkins
Tommy Settimio
Dab Koronis
Contest Promoter
David Salamon
anbsa.com.au
hyperfittnutrition.com
Special Thanks
Michelle Koen
Aaron Braithwaite
DJ Josh
Paul France
Felisha Salamon
Norwood Town Hall
Steve Grigoriadis
Rodney Keyaerts
Front Stage Photography
Paul France
paulfrancephoto.com
Videography, Editing, DVD Graphics & Authoring
Ollie Parke
Event Graphics
Michelle Koen
NTSC DVD, OPEN REGION