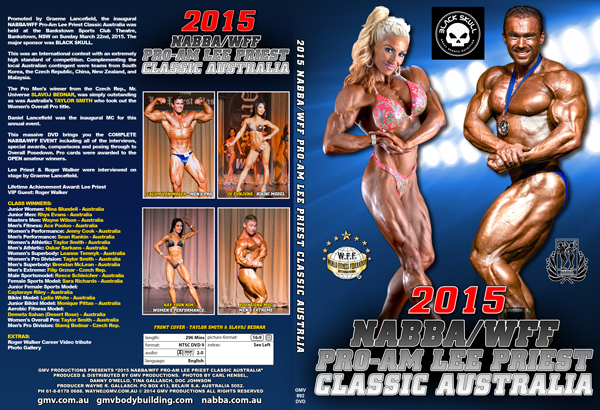 DVD preview clip.
Men's Download preview.
Women's Download preview.
2015 NABBA/WFF Pro-Am Lee Priest Classic Australia
Also on Digital Download - THE MEN.
Also on Digital Download - THE WOMEN.
Promoted by Graeme Lancefield, the inaugural NABBA/WFF Pro-Am Lee Priest Classic Australia was held at the Bankstown Sports Club Theatre, Bankstown, NSW on Sunday March 22nd, 2015. The major sponsor was BLACK SKULL.
This was an International contest with an extremely high standard of competition. Complementing the local Australian contingent were teams from South Korea, the Czech Republic, China, New Zealand, and Malaysia.

The Pro Men's winner from the Czech Rep., Mr. Universe SLAVOJ BEDNAR, was simply outstanding as was Australia's TAYLOR SMITH who took out the Women's Overall Pro title.
Daniel Lancefield was the inaugural MC for this annual event.

The HUGE PHOTO GALLERY.
This massive DVD brings you the COMPLETE NABBA/WFF EVENT including the interviews, Lee Priest and Roger Walker, special awards, comparisons and posing through to Overall Posedown. Pro cards were awarded to the OPEN amateur winners.
Lee Priest & Roger Walker were interviewed on stage by Graeme Lancefield.
Lifetime Achievement Award: Lee Priest (See Lee's Contest History, Bio and Photo Gallery here at GMV-533DVD.)
VIP Guest: Roger Walker (See Roger's Contest History here.)
Class Winners:
Junior Women: Nina Blundell - Australia
Junior Men: Rhys Evans - Australia
Masters Men: Wayne Wilson – Australia
Men's Fitness: Ace Pooloo - Australia
Women's Performance: Jenny Cook - Australia
Men's Performance: Sean Rankine - Australia
Women's Athletic: Taylor Smith - Australia
Men's Athletic: Oskar Sarkans - Australia
Women's Superbody: Lee Anne Temnyk - Australia
Women's Pro Division: Taylor Smith – Australia
Men's Superbody: Brendan McLean - Australia
Men's Extreme: Filip Grznar - Czech Rep.
Male Sportsmodel: Reece Schleicher - Australia
Female Sports Model: Sara Richards - Australia
Junior Female Sports Model: Caylaraye Riley – Australia
Bikini Model: Lydia White - Australia
Junior Bikini Model: Monique Pittas – Australia
Aerobic Fitness Model: Demeta Sahan (Desert Rose) – Australia
Women's Overall Pro: Taylor Smith – Australia
Men's Pro Division: Slavoj Bednar - Czech Republic
(The 2 Pro winners pictured front cover.)
Extras:
Roger Walker - Career video tribute
Photo Gallery
Photographers:
CARL HENSEL
DANNY D'MELLO
TINA GALLASCH
DOC JOHNSON
This contest was shot in Wide Screen using full HD technology.
Running time: 296 mins
2015 NABBA/WFF Pro-Am Lee Priest Classic Australia - Complete Results
Bankstown, NSW, Australia March 22, 2015
Junior Women
1. Nina Blundell - Australia
2. Leila Boyd - Australia
3. Hayley Kettle - Australia
Junior Men
1. Rhys Evans - Australia
2. Corey Polkinghorne - Australia
3. Ben Ducunto - Australia
4. Taize Calder - Australia
5. Jackson Li - Australia
Masters Men
1. Wayne Wilson - Australia
Men's Fitness
1. Ace Pooloo - Australia
2. Keelan Peck - Australia
3. Brad McDonald - Australia
4. Christian Schisas - Australia
5. James Rees - Australia
6. Brett Shepherd - NZ
Women's Performance
1. Jenny Cook - Australia
2. Hay Yoon Kim - South Korea
3. Marianne Watson - Australia
Men's Performance
1. Sean Rankine - Australia
2. Bassam Marhaba - Australia
3. Vincenzo Mantovani - Australia
4. Duane Meredith - Australia
5. Jake Baldachino - Australia
6. James Vertzayias - Australia
Women's Athletic
1. Taylor Smith - Australia
2. Tracy West - Australia
3. Brittany Carracher - Australia
4. Sarah Simonsen - NZ
Men's Athletic
1. Oskar Sarkans - Australia
2. Heesung Jang - South Korea
3. Paul Jayilian - Australia
4. James Garner - Australia
5. Chee Chen Syze - Malaysia
6. Stan Turek - Australia
6. KyeTagell - Australia
Women's Superbody
1. Lee Anne Temnyk - Australia
2. Ahn Bo-Kyung - South Korea
3. Zal Ismail - Australia
Women's Pro Division
1. Taylor Smith - Australia
Men's Superbody
1. Brendan McLean - Australia
2. Chris Chambers - Australia
3. Daniel Fel - Australia
4. Trent Cove - Australia
5. Ahmed Eizayal - Australia
6. Arnold Kerde - Australia
Men's Extreme
1. Filip Grznar - Czech Rep.
2. Ross Moloney - Australia
3. Alex Simays - NZ
4. Yoon Jong Muc - South Korea
5. Obi Akirtajy - Australia
6. Chris Razmovski - Australia
7. Sivaj Attimad - Australia
Men's Pro Division
1. Slavoj Bednar - Czech Rep.
2. Filip Grznar - Czech Rep.
3. Calum Von Moger - Australia
4. Oskar Sarkans - Australia
5. Brendan McLean - Australia
6. Kwon YoungDoo - South Korea
6. Ki Hae Nam - South Korea
6. Zhai Yan Fang - China
6. Ace Pooloo - Australia
Male Sportsmodel
1. Reece Schleicher - Australia
2. Warren Young - NZ
3. Dean Wilcox - Australia
Female Sports Model
1. Sara Richards - Australia
2. Charlotte Hyndman - Australia
3. Marisa D'almeida - Australia
4. Janet Allan - Australia
5. Meghan Gorman - NZ
6. Taylor Besanko - Australia
Junior Female Sports Model
1. Caylaraye Riley - Australia
Bikini Model
1. Lydia White - Australia
2. Ju EunJung - South Korea
3. Jayne Duff - Australia
4. Marlee Dornom - Australia
5. Minji Kim - South Korea
6. Emma Rogerson - Australia
6. Rebecca Semens - Australia
Junior Bikini Model
1. Monique Pittas - Australia
Aerobic Fitness Model
1. Demeta Sahan (Desert Rose) - Australia
Women's Overall Pro: Taylor Smith - Australia
***************************************

WFF Pro Card recipients:

Men's Fitness: Ace Pooloo
Women's Performance: Jenny Cook
Women's Athletic: Taylor Smith
Men's Athletic: Oskar Sarkans
Women's Superbody: Lee Anne Temnyk
Men's Superbody: Brendan McLean
Men's Extreme: Filip Grznar
Male Sportsmodel: Reece Schleicher
Female Sports Model Open: Sara Richards
Junior Female Sports Model: Caylaraye Riley
Bikini Model: Lydia White
Junior Bikini Model: Monique Pittas
Aerobic Fitness Model: Demeta Sahan ( Desert Rose )
NTSC DVD, OPEN REGION